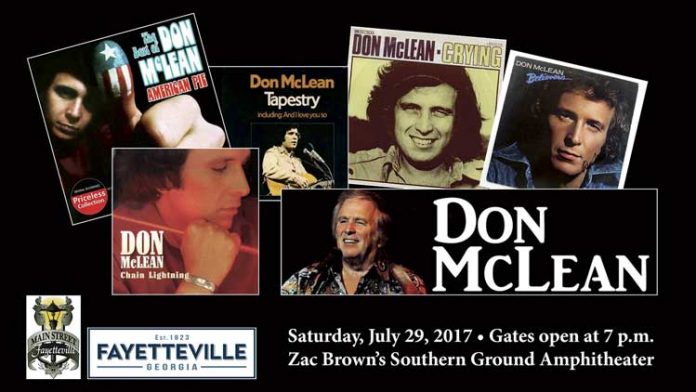 Don McLean, who was catapulted to superstardom after releasing his 1971 song "American Pie", will perform in concert Saturday night, July 29, at Zac Brown's Southern Ground Amphitheater in historic downtown Fayetteville.
"We're expecting a sell-out crowd, but we do still have tickets available," Main Street Fayetteville Director Brian Wismer said Monday.
Gates open at 7 p.m., and opening act "Shades of Blue" will warm up the crowd at 8. McLean will take the stage at 9.
Tickets can be purchased at southerngroundamp.com or by calling 770-719-4173.
McLean's hit "American Pie" is one of the most recognized songs in the country, earning itself a place in American cultural history. The original recording has been preserved in the United States Library of Congress in Washington, D.C. The Recording Industry Association of America has placed "American Pie" as number five on its Songs of the Century chart for the 20th century.
However, McLean is no one-hit wonder. Any one of his other hits, including "Since I Don't Have You", "Castles in the Air", "Vincent (Starry, Starry Night)" and "Crying", would have ensured his status as an American music icon.
Saturday's concert is the fourth of five in the 2017 Summer Concert Series at Zac Brown's Southern Ground Amphitheater, which is owned by the Fayetteville Downtown Development Authority and managed by the Main Street Tourism Association. The fifth concert in the series will feature John Kay & Steppenwolf on Saturday, Aug. 12.
The Eagles tribute band Hotel California is scheduled to perform at the amphitheater on Saturday, Sept. 2, and is produced by The Bear FM.
Learn more about these and other events by visiting southerngroundamp.com.