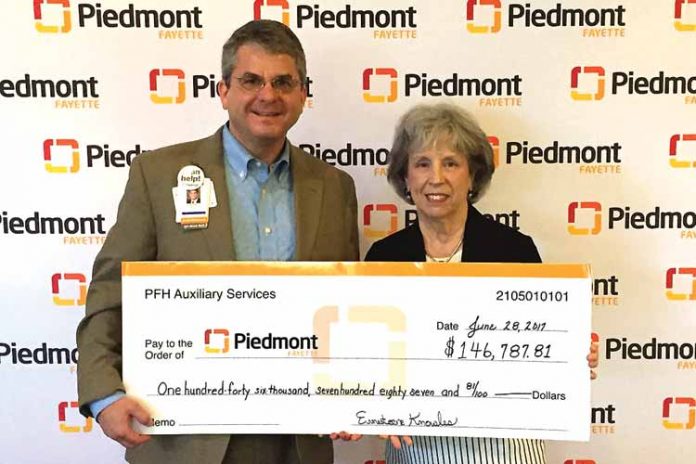 Piedmont Fayette Hospital will celebrate its 20th anniversary this September and when they do they will certainly honor the efforts of the Piedmont Fayette Auxiliary, which has been instrumental since the hospital's inception.
The group, nearly 250 members strong, volunteers in multiple departments at Piedmont Fayette, seven days a week, and also raises money that supports the non-profit hospital and provides scholarships to students in the community interested in pursuing careers in healthcare.
At their recent luncheon, the Auxiliary presented a check for $146,787 to Piedmont Fayette CEO Michael Burnett.
"Our purpose at Piedmont Fayette is to make a positive difference in every life we touch,' said Burnett. "We are able to do that, in part, because of generous gifts like this, but also because of the work you do every day."
The Piedmont Fayette Hospital Auxiliary was founded in 1997.
Members assist the hospital in numerous service areas including emergency services, the Thomas F. Chapman Cancer Wellness Center, the information desks, Family Care and the courtesy golf cart shuttle among many others. Over the past 20 years, the Auxiliary's gifts have gone towards the purchase of important medical equipment for the cardiovascular department and the neonatal intensive care unit among others.
There are opportunities open to adults, ages 18 and older, five days a week, with some service areas available seven days a week, nights and weekends. If you are interested in joining this amazing team of volunteers, call 770-719-7098 or visit piedmont.org.