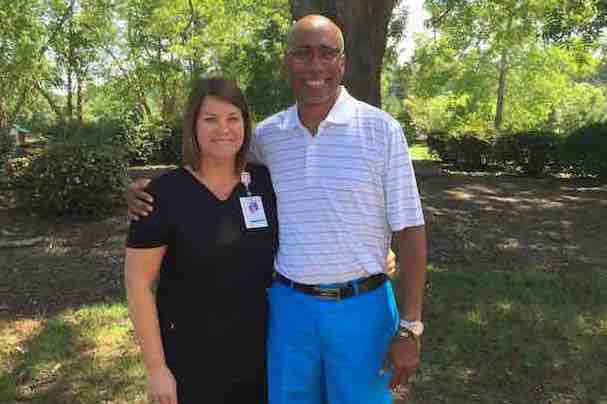 In August of 2016, Rick Davison, the director of junior and youth competition for the United States Tennis Association, had multiple strokes. He started working with Jennifer Douglas, a speech pathologist, while he was a patient at Piedmont Fayette Hospital, and has worked with her as an outpatient since last fall.
Since his strokes, Rick has been dealing with aphasia and apraxia. Aphasia is impairment in the ability to use words and apraxia is difficulty initiating and executing the voluntary movement patterns to produce speech. Basically, the words that Rick wants to say are on the tip of his tongue, but it is hard for him to get them out. He agrees that it is every bit as frustrating as it sounds.
In addition to his work at Piedmont Fayette, Rick also attended an intensive aphasia program at the University of Central Florida in Orlando called Aphasia House. He worked for four hours a day, four days a week for six weeks on both written and verbal language skills while he was there. He is going back for another three weeks later this summer. Rick faces each of these sessions with the intensity of an athlete, motivated to consistently improve and get better.
"It's hard work, but I'm a hard worker," Rick said, adding that his goal is to get back to work. "I loved my job. I was happy to go to work every day."
Over the years, Rick saw countless numbers of Georgia's young tennis players take to the courts, improve and succeed. He always wanted to see his players and coaches give their best effort, knowing that good results would often follow. Douglas sees Rick bring that same mentality to his recovery and she is inspired by all that he has accomplished so far.
"Rick has given 200 percent every time he has come in for therapy," Douglas said. "He never gives up and he has incredible support from his family. It's a dream to have a family that is so supportive and motivating for one of our patients."
Rick's wife, Shelita, and his children, Danielle and Derrick, have all helped with exercises and drills to aid his recovery. His daughter, Danielle, is amazed at her father's progress thus far.
"He's really been able to gain a lot of independence back, using a lot of resources to make his interactions successful," Danielle said. Those resources can sometimes include notepads, his phone or applications on an iPad.
June was Aphasia Awareness Month and Rick's goal for a year from now is to be back to 100 percent. When Danielle asks if he will settle for 85 percent, Rick says no.
"I want to be working – talking and writing," Rick said. "100 percent."
That's the athlete and coach speaking. Every coach knows that victories often come from the work one does before the match and Rick Davison has never been afraid of hard work.
Pictured are Rick Davison and Jennifer Douglas.