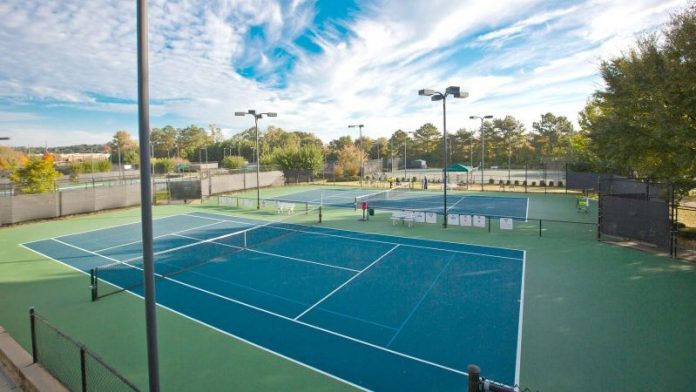 The USTA today announced that the Peachtree City Tennis Center is one of 12 winners in the 36th annual USTA Facility Awards program, which recognizes excellence in the construction and/or renovation of tennis facilities throughout the country. The Peachtree City Tennis Center will be honored at the Next Generation: A Tennis Innovation Workshop at the Renaissance Orlando at SeaWorld in Orlando, FL, Oct. 11-15.
The Peachtree City Tennis Center supports the vision and programming efforts of growing the game of tennis through USTA branded pathways. With more than 100 Adult teams, PTC is committed to not only adult play, but also wheelchair and junior tennis. Between collegiate, national junior, state and adult tournaments, the facility averages an estimated 35,000 unique visitors a year.
"Great tennis facilities like the Peachtree City Tennis Center help us to grow the game at the grass-roots level, and we are proud to recognize them for their ongoing impact on the sport of tennis," said Kurt Kamperman, USTA Chief Executive Community Tennis and the USTA National Campus. "The Peachtree City Tennis Center has embraced many of our tennis initiatives and kept the sport at the forefront of its community each year."
To be considered for an award, facilities must be under the jurisdiction of a park and recreation department, an educational institution, a nonprofit corporation or be a private or commercially owned and operated facility that offers both USTA and public programming designed to help grow tennis.
Facilities were judged on the following criteria: overall layout and adaptation to site; excellence of court surface and lights; ease of maintenance; accommodations for players, spectators and press/officials; aesthetics; graphics (including the use of signs and landscaping); amenities such as casual seating for spectators, food services and social areas; and the facilities' participation in USTA programs.
Nominated facilities were voted on in the following categories: Public Courts that are either small tennis centers with 2-10 courts or large tennis centers with 11 or more courts; Educational Institutions; and Private Facilities that support the USTA and other "growth of the game" programs open to the public.
All 2017 award winners will receive a wall plaque and an all-weather sign, which can be mounted at the facility. Certificates of award will be made available to park and recreation departments, schools and those professionals responsible for the design, construction and maintenance of the facility. In addition, a one-year complimentary membership to the USTA will be awarded to each winning facility.
The 2017 USTA Facility Awards Program winners are:
Public Courts: Small Tennis Centers (2 to 10 courts)
Ida Stone Jones Community Tennis Center, Bristol, Tenn.
Huether Family Match Pointe, Sioux Falls, SD
Public Courts: Large Tennis Centers (11 or more courts)
Cooper Creek Tennis Center, Columbus, Ga.
Bitsy Grant Tennis Center, Atlanta, Ga.
Rancho Penasquitos Tennis Center, San Diego, Calif.
Upper Main Line YMCA, Berwyn, Penn.
Peachtree City Tennis Center, Peachtree, Ga.
Educational Institution
Rockingham Community College Tennis Courts, Wentworth, N.C.
Private Facilities
Dataw Island Club Tennis Center, St. Helena Island, S.C.
Overland Park Racquet Club, Overland Park, Kan.
Bentwood Country Club, San Angelo, Texas (Featured Facility)
Cape Fear Country Club, Wilmington, N.C.