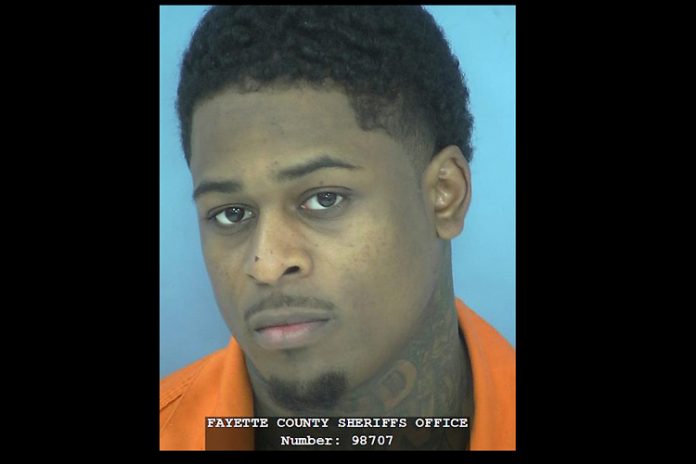 An Atlanta man involved in the Nov. 30 burglary of the Simply Mac store in Peachtree City has received 25 years in prison.
Johntavis Bailey, 24, last week in Fayette County Superior Court pled guilty to smash and grab burglary, theft by receiving stolen property, fleeing and attempting to elude officers, use of a license plate to conceal identity and obstruction of an officer, according to District Attorney Ben Coker.
As a result of the trial in Judge Fletcher Sams' court, Bailey was sentenced to 25 years with the first 20 years to be served in prison, said Coker.
Coker said Bailey pled guilty to backing a stolen car into Simply Mac in Peachtree City on Nov. 30 and engaging officers in a high-speed chase after the burglary.
Three co-defendants have cases still pending on the trial calendar, Coker said.
In the early morning hours of Nov. 30, a Peachtree City officer responded to a burglary in progress that involved several suspects backing a stolen Jeep Grand Cherokee through the front door of the Simply Mac computer store in The Avenue retail area, Peachtree City Police Department spokesperson Odilia Bergh said at the time.
Bergh said officers arrived to find the crime in progress, and a vehicle pursuit ensued which resulted in the suspect's vehicle crashing into the tree line off of Crestwood Lane and Hwy. 74 in Tyrone.
Two suspects were taken into custody without further incident and a third fled on foot, Bergh said.
A large number of local police officers, Fayette County sheriff's deputies and K-9 units combed the area.
Bergh said the third suspect was found leaving the area at approximately 8 a.m. as a passenger in a vehicle driven by a female acquaintance.
"These two individuals were then pursued by Tyrone and Fayette County Sheriff's officers and subsequently wrecked close to the BP gas station at Hwy. 74 approaching the overpass at I-85," said Bergh.