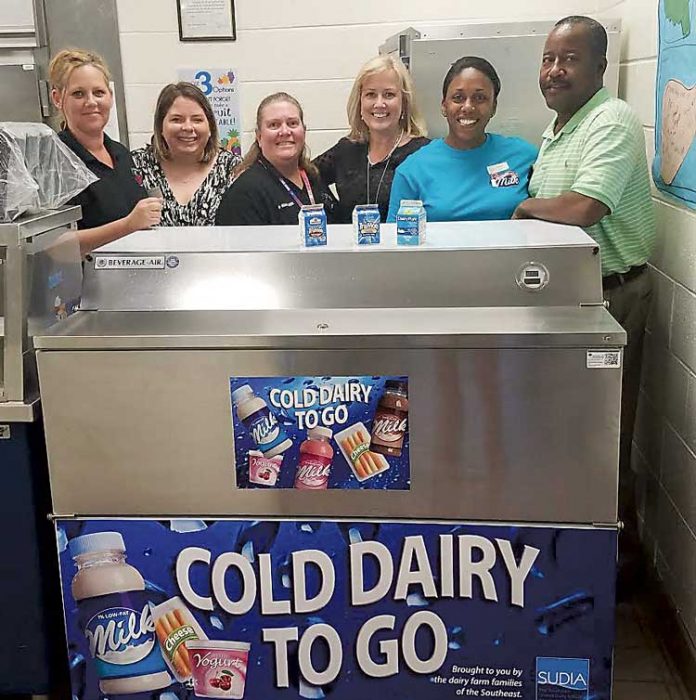 Students at Robert J. Burch Elementary are enjoying a larger selection of milk thanks to a new milk cooler that was purchased by a grant from the Southeast United Dairy Industry Association (SUDIA).
Worth nearly $3,000, the cooler holds 12 cases of milk, offering students a choice of skim, and fat-free chocolate, vanilla and strawberry milk at both breakfast and lunch. The old cooler could only hold four cases of milk.
School Nutrition Program staff member Christina Martin applied for the grant in an effort to keep up with demand for milk at the school. She says Burch has the highest student participation in both breakfast and lunch of all of Fayette County's elementary schools.
"Since the new milk cooler makes milk more accessible to the students, they will be drinking more milk. The breakfast program continues to grow, and we are anticipating an increase with the new milk cooler," says Martin.
The purpose of the SUDIA grant is to assist schools in the purchase of equipment that will enhance the long-term implementation of school breakfast and lunch programs.
Proudly showing off the new milk cooler at Robert J. Burch Elementary, which was made possible through a grant sponsored by Southeast United Dairy Industry Association (SUDIA), is (L to R) Michelle Johnson, school nutrition program assistant; Christina Martin, school nutrition program administrative assistant; Robin Phillips, school nutrition program manager; Dr. Felecia Spicer, Burch principal; Alicia Page, SUDIA representative; and Leo Riley, school nutrition program lead manager.