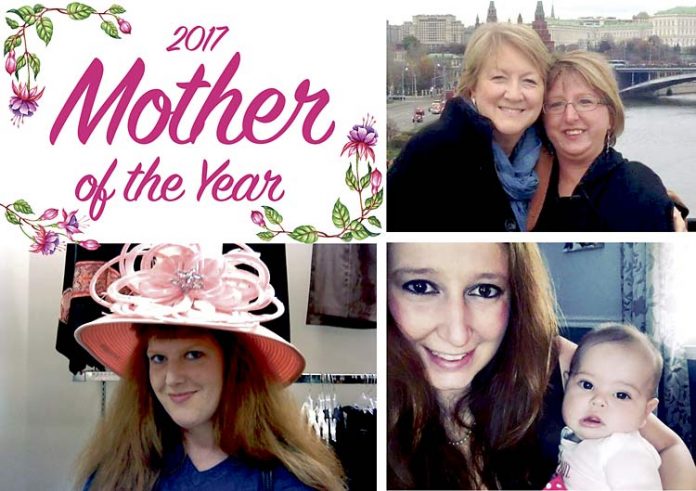 The Citizen and Fayette Woman are pleased to announce the winners of the 14th annual Mother of the Year contest.
The winner in the 55 and over age category is Carol Kurpiel of Peachtree City. Carol was nominated by her daughter, Ashley Keeney, who said, "She taught me the meaning of charity, compassion, confidence, and selflessness,"
Ms. Kurpiel is the mother of three adopted-at-birth children, one of whom has a very rare and unique disease. Wiith the help of a mother's love and nurturing, daughter Ashley grew up fearless knowing her strength was in her individuality.
"I've been attached at the hip to this wonderful woman," Ashley wrote. " She is the last to serve herself and the first to step up to the plate when anyone is in need."
Click here to read the winning nomination for Carol Kurpiel
Tyrone resident Vicki Carter is the Mother of the Year in the 36 to 55 age category.
Three of her children all wrote to tell us about their mom.
"She embodies all the characteristics of a great educator, guide, and teacher," son, Lucas Carter, wrote.
Vicki homeschooled all four of her children while earning her master's degree. Now she spends her time teaching at Southern Crescent Technical College.
"She has always pushed us to defy the odds that are stacked against us," daughter Mikaila wrote. "When you face a hard obstacle, you have to be willing to scrape your knees a little to grow from it."
Click here to read the winning nomination for Vicki Carter
This year's winner in the 35 and under category is Brandy Peterson of Fayetteville.
Brandy was nominated by her husband, Ryan, who said she flipped his world upside down.
Two days after their daughter, Evelyn, was born, the couple found out their baby had a metabolic disorder."
"Brandy took learning everything about Evelyn like it was her sole purpose in life,"  her husband wrote. He added that her faith never wavers.  When Ryan spends weeks at a time with the National Guard, Brandy spends every moment caring for their infant and on the weekends she cares for her three step-children like her own.
Click here to read the winning nomination for Brandy Peterson
"It is never easy to select winners for the Mother of the Year contest," Joyce Beverly, publisher of Fayette Woman, said Monday. "We had so many amazing nominations. I continue to be astounded at the exceptional women in our community."
The Citizen and Fayette Woman are joined in sponsoring the 2017 contest by 21 sponsors who generously contributed hundreds of dollars worth of prizes and gift certificates to these deserving moms.
"We could not do this without our partners," Beverly said. "This is just one of the many ways each of these local businesses continuously gives back to this community. We appreciate them so much."
Valuable prize packages for the three winning moms are provided this year by:
Art of Landscaping, Atlanta Market Furniture and Accessories, Bedazzled Flower Shop, Boulignini Boutique, Branch and Vine, City Cafe and Bakery, Gobi Photography, Ici Paris Day Spa and Salon, Kanricks Jewelers, Massage Envy, Merle Norman; One Magnolia Lane, Salone Di Capelli, Salt MedSpa Halotherapy, Smith & Davis, Skin Care at 5th Ave.,Theo's Automotive Inc., Tidal Wave, Trilogy Health and Wellness Center, Willie Jewell's BBQ, and Your Pie.