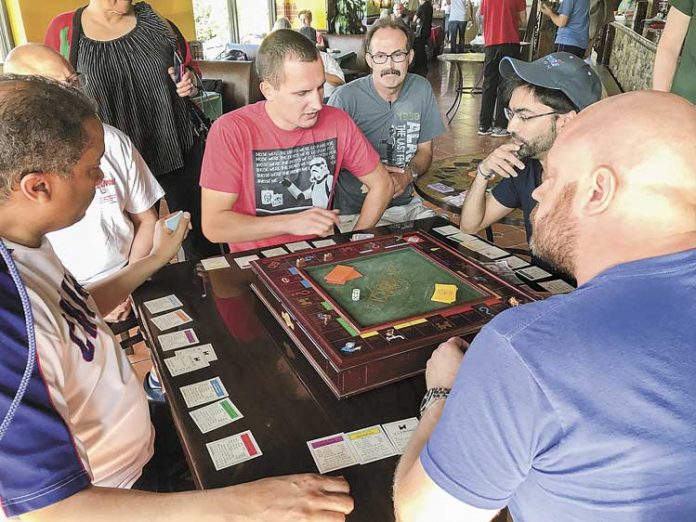 The ninth annual Peachtree City Monopoly tournament held April 22 drew 128 contestants from across the region and the nation.
"This local annual tournament has now grown to become the largest, most recognized tournament in the country other than the U.S. National Tournament which is held about every five years," said organizer Eric Imker. "Players from all over the country flew into Atlanta to participate including as far away as California where players from five different cities came. Twenty different cities in Georgia were represented and well as 50 contestants from Peachtree City."
Twenty-nine-year-old Brian West of Dacula became the first three-time winner in tournament history, said Imker.
"It was an amazing display of skill, and cunning was used to out maneuver nearly 128 other contestants at this year's event to win the $100 first place cash prize," said Imker.
Second place went to Matt Griffin, of Tyrone, a former winner of the tournament, winning $50 cash. Third and fourth places went to Osman Faruqi, of Fairburn, and Melvin Respress from Chicago, both winning $25 each.
"Initially the tournament started with a goal of having $1,000 in cash and prizes but by tournament day that total had become an astonishing $3,500," said Imker. "It was all given away during the tournament while still having no entry fee in this official Hasbro tournament."
The first qualifying round started at 9:45 a.m. and consisted of 32 tables with a maximum of four players per table. A second qualifying round was played with again over 100 players with 32 winners advancing to the quarterfinals. The quarterfinals consisted of 16 tables with all 64 winners of the qualifying rounds competing to win their way into the semi-final. The semi-final had four tables with the 16 quarterfinal winners. Those four winners met on the championship table, Imker said.
"Brian West (in the finals) was having the most luck with the other players landing on his improved properties and gaining a lead he was able to maintain with several lucky rolls of the dice at the end of the game," Imker said. "Matt Griffin, still hanging on, passed the former second and third place players who were paying Brian West rents enabling Matt to finish just ahead in second place. This was one of the most amazing comebacks in the history of the tournament."
Explaining the awarding of prizes, Imker said tournament prizes were given out during all five 75 minute rounds. In the first qualifying round each of the 32 tables had four random prizes. The contestants at each table were told to determine amongst themselves the best way to distribute them. Over $1,600 in prizes were given away in this fashion.
Also during the first round another $1,300 in 27 random door prizes ranging from $20 restaurant gift certificates to a $199 new tennis racket were given away to lucky contestants whose names were drawn out of a hat.
During the second qualifying round, said Imker, 11 random "Director's Choice" gifts were given away to contestants showing extra sportsmanship.
The winner of each quarterfinal won $10 cash while the semifinalist winners competed to win their way to the final table where $200 in cash prizes awaited.
Imker said celebrity players included Brian Valentine from Washington D.C., the current U.S. champion and 2015 U.S. representative to the World championship in Macau, China where he came in third place. Also playing were Kevin Tostado from San Diego, Calif., the director/producer of the movie "Under the Boardwalk" (which received 4 Emmy awards from the Pacific Chapter of the National Academy of Television Arts and Sciences), as well as several actors from that movie. Winners of five of the previous eight annual tournaments also participated.
"The generosity of local Peachtree City businesses made this tournament successful," Imker said, adding that Hasbro donated five board games for the tournament. "Everyone had a great time with the emphasis being on just having a fun time, catching up with friends who came from out of town and meeting new friends."
Organizers have said next year's 10th Annual Peachtree City Monopoly Tournament is scheduled for April 14, 2018 at a location in Peachtree City to be determined.
Interested players who did not play this year may send an email to PTCMonopoly@gmail.com to get an automatic invitation a couple months before the tournament.