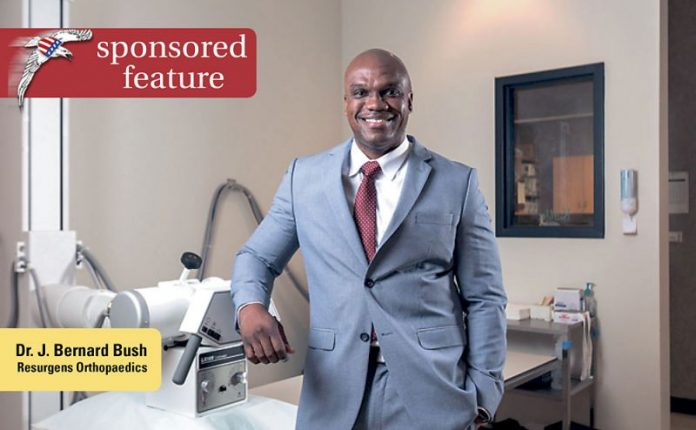 Sponsored Feature
Many Resurgens Orthopaedics patients don't require surgery, but one of the practice's key points of pride is its ability to offer safe, convenient, technologically advanced surgery and rehabilitation facilities for those who do.  Three of the four area offices – Fayetteville, Morrow, and McDonough – include a top-notch rehabilitation center, staffed with experienced, highly-trained physical therapists, certified hand therapists, and athletic trainers. Their newest outpatient surgery center in Fayetteville is set to open summer 2017. This center, along with their Morrow surgery facility, allows specialists to perform more outpatient procedures while reducing the cost and inconveniences associated with a traditional hospital. In addition, if the patient requires overnight observation, the new Fayetteville center will be able to provide this service. Together, these two services help Resurgens meet its goal of getting patients back to work – and life.
"Having a convenient, high-quality, surgery center close to home makes the procedure much easier and smoother for the patient," explains Dr. Mark Albritton, who specializes in sports medicine and comprehensive arthroscopic and reconstructive surgery of the shoulder and knee. "Our center is extremely efficient. It's easy-in, easy-out, and we have a great team in place, all hand-picked by our physicians. Patients consistently rave about the center and the excellent staff makes that possible."
Dr. John Andrachuk, who specializes in hip arthroscopy, sports medicine, and arthroscopic and reconstructive surgery of the knee and shoulder, agrees. "The dedicated facility actually creates a safer environment for most patients," he adds. "Because it's purely an orthopedic center, we can focus on including the best possible equipment and technology for orthopedic surgeries, and our staff is highly knowledgeable and specialized."
According to Dr. J. Bernard Bush, who specializes in cartilage restoration as well as sports medicine and arthroscopic and reconstructive surgery, the Resurgens Orthopaedics surgical center is a wise choice for about ninety to ninety-five percent of all surgeries that can be performed on an outpatient basis.
"Our practice is very focused on providing patients with everything they need in one place," he says. "The surgery center in Morrow – and the new one coming to Fayette this year – are an important part of delivering that single-source experience. So are our rehabilitation centers. Rehabilitation is critical because it can reduce recovery time and improve overall outcomes by strengthening muscles and increasing range of movement. Everything we do, from diagnostics to non-surgical treatment to surgery and rehabilitation, are all part of helping patients get back to full function."
In fact, Dr. Albritton reports that patients who complete rehab post-surgery are often stronger than they were before their injuries. Dr. Andrachuk also points out that physical therapy can be key for people who either don't need surgery or aren't quite ready for it. "Rehab and physical therapy are critical to ensuring the best possible outcome," says Rick Buck, P.T., who manages Resurgens' Fayetteville physical therapy clinic. "We work closely with the specialists and we offer early and late appointments that will work with almost any schedule. We also make sure we're adequately staffed so that you can get the appointments you need. Our staff is highly trained and experienced, too. I've personally been in physical therapy for almost 25 years and I can honestly say we have a terrific practice."
As always, Resurgens Orthopaedics specialists and staff say their top priority is helping patients live the lives they want.
"People come to us with limitations, either in athletics or in their daily lives," says Dr. Bush. "We want to remove those limitations. Getting you back to the things you love to do is the 'why' behind everything we do."
Sponsored by Resurgens Orthopaedics • 1336 Hwy. 54 W, Building 500, Fayetteville • resurgens.com • 770-461-1238