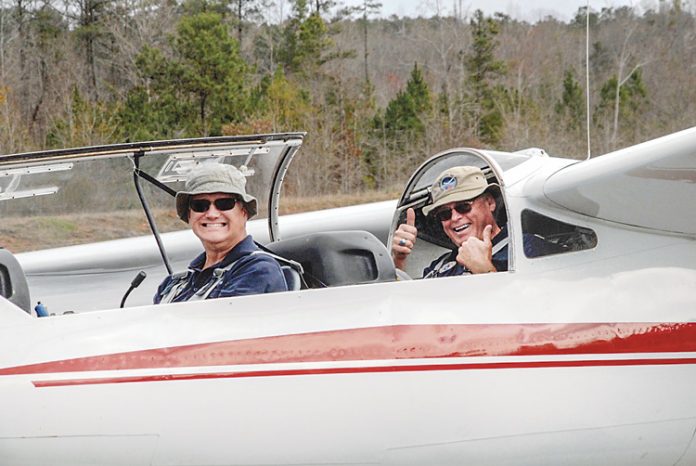 Georgia Wing of the Civil Air Patrol Glider Operations was training in Warms Springs Roosevelt Airport Saturday.
Lt. Col. David Mitchell, Glider Operations Director said, "Great job by volunteers at Warm Springs Saturday with new and recurrent qualifications for Cadet Orientation Glider Pilots and Tow Pilots.
Of special note is the completion of Major David Serafin's CAP glider rating as a CAP Glider Pilot and Cadet Orientation Pilot. Dave began his glider training in the Georgia Wing Glider Training Clinic held in 2015 at Warm Springs where he soloed a glider for the first time. Continuing to accumulate solo flights with CAP towards the required twenty flights for a Commercial Glider add on to his pilot's license.
Major Serafin completed his certificate a few months back and now is fully qualified with CAP and anxious to start introducing cadets to aviation in our glider.
"Since I joined Civil Air Patrol in 2007 I know of no other pilot who started flying gliders with CAP and took it all the way to becoming an asset for our cadets."
Saturday's volunteer team included, pilots Maj. James King, Capt. George Woods, Maj. David Serafin and Lt. Col. Greg Clasen are members of the Peachtree City Falcon Field Composite Squadron, Maj. Greg Browning is from the Griffin Composite Squadron.
Lt. Col. David Mitchell, added, "There are planned glider Cadet Orientation flights for this coming Saturday, March 18 at Warm Springs Roosevelt airport, with several cadets who have been canceled the last three attempts due to weather. Hopefully the weather will be great. We will be publishing a schedule shortly to fly cadets out of Warm Springs throughout the remainder of the fiscal year now that the glider is through the sixteen year mandatory inspection/replacement cycle."
The Civil Air Patrol offers free orientation Glider flights to introduce cadets to the thrill of the purest form of flying. It is part of the three missions of Civil Air Patrol, Aerospace Education, Cadet Programs and Emergency Services, all this can be experienced locally at the Peachtree City Falcon Field Composite Squadron.
If you would like to know more about Civil Air Patrol, Peachtree City Falcon Field will be hosting an Open House on April 27 at 6:30 p.m. at ATP Flight School Hangar, 1120 Echo Court, Peachtree City. Ages 12 and up are welcome to attend.
Currently, GA-116 meets every Thursday at 6:30 p.m. at the ATP Flight School at 1120 Echo Court. Ages 12 and up are welcome to join. Find out more about GA-116 at www.GA116.org or find us on Facebook- Peachtree City Falcon Field Composite Squadron GA-116, Civil Air Patrol.
Civil Air Patrol, the longtime all-volunteer U.S. Air Force auxiliary, is the newest member of the Air Force's Total Force, which consists of regular Air Force, Air National Guard and Air Force Reserve, along with Air Force retired military and civilian employees. CAP, in its Total Force role, operates a fleet of 550 aircraft and performs about 90 percent of continental U.S. inland search and rescue missions as tasked by the Air Force Rescue Coordination Center and is credited by the AFRCC with saving an average of 78 lives annually. Civil Air Patrol's 56,000 members nationwide also perform homeland security, disaster relief and drug interdiction missions at the request of federal, state and local agencies. Its members additionally play a leading role in aerospace education and serve as mentors to more than 24,000 young people currently participating in the CAP cadet program. Performing missions for America for the past 75 years, CAP received the Congressional Gold Medal in 2014 in honor of the heroic efforts of its World War II veterans. CAP also participates in Wreaths Across America, an initiative to remember, honor and teach about the sacrifices of U.S. military veterans. Visit www.capvolunteernow.com for more information or www.ga116.org.