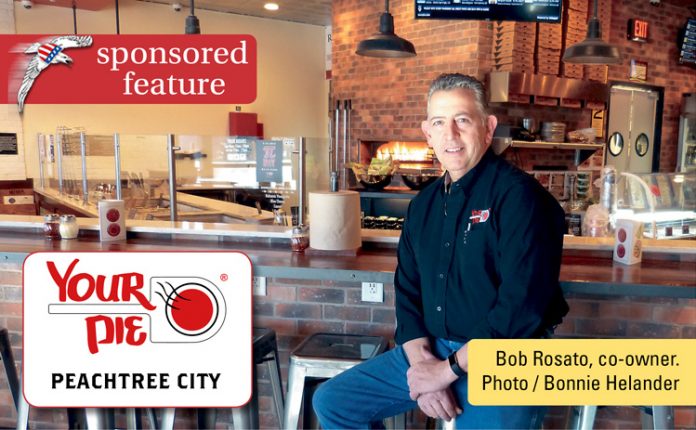 Sponsored Feature
Everyone knows what March 14 is right? No? It's Pi(e) Day, the world's annual celebration of one of the best-known digits in history. And where better to celebrate Pi(e) Day than at Peachtree City's Your Pie – especially since they'll be offering their fresh, custom, handmade pizzas with unlimited toppings for just $3.14 all day!
"We love fun," says Bob Rosato, co-owner of Your Pie and a Fayette County resident for many years. "And we love offering great deals on great food. So a Pi(e) Day celebration just fits with who we are. It's fun, it brings people together, and it's a perfect time to enjoy your perfect pie or try us out for the first time."
Due to the anticipated volume of customers, on Pi(e) Day, there will be a three-pizza limit per customer, call-in and online orders will be suspended for the day, and gluten-free will only be available for dietary (non-allergy) preference at the normal up-charge. While Pi(e) Day is a nationwide phenomenon – and a traditional celebration for the entire Your Pie chain – Bob and his partners will also be running a unique-to-Peachtree City March Madness special beginning March 1 and running through the end of the Final Four on April 5 (except Pie(e) Day). During this time, diners can enjoy an adult-size pizza and a draft pint for just ten dollars. All of the restaurant's national and local craft brews are included in the offer.
The store will also hold a drawing to give away a 65" Hitachi 4K-Ultra HDTV, the winner to be announced the week following the Final Four games. Guests will only need to purchase an entrée to be eligible to enter the giveaway.
"We've been overwhelmed by the community support since we opened last year," says Bob. "That kind of acceptance means a lot, particularly because we all call our community home, too. We're always looking for different, unique ways to say 'thank you,' to connect with the community and with our individual customers. We've started Pint Nights on Thursdays and trivia on Tuesdays and they've both become really popular. We've hosted community nights in support of local non-profits and we're planning more of those. We are sponsoring the Fayette Care Clinic Spring Fling, a fundraising gala for the 501c3 organization providing health services to folks in need here in Fayette County. We feel we've been given an opportunity to bring people together and that's a special thing."
The Your Pie promise is that customers will get a hand-crafted, brick-oven pizza, in seven to ten minutes, at a flat price, no matter the toppings – and that it will be "off-the-charts good." Customers can also build their own chopped salads or paninis, and sample the brand-new house specialty: a root beer float made with draft and gelato.
"When it comes to food," says Bob, "we're all about variety, customization, and freshness. But we also provide great value and top-notch service. We're very proud of our staff, most of whom are local. They've gotten tremendous reviews and compliments from customers."
Though they've only been open six months, Bob says the support and interest they've received has been incredible.
"We've always had great respect for this community," he says, "and we had a very clear vision that we wanted to become a neighborhood hub. We never thought it would happen this fast or with so much passion. Honestly, we've sort of started a love affair with the community and we couldn't be happier or more grateful. Fayette is a great place to be – on Pi(e) Day and every day!"
 "As small business owners who live in the community, we love bringing people together for fun events, great food, and really valuable deals." – Bob Rosato