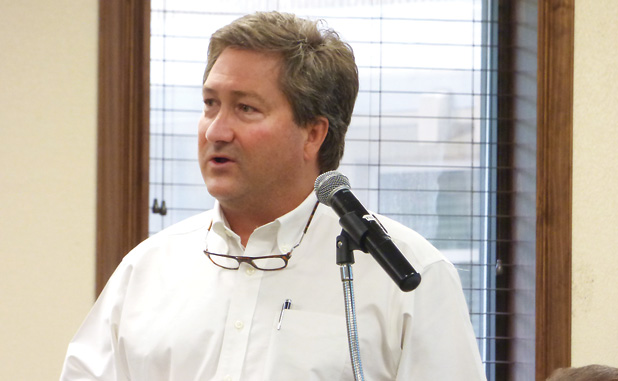 It was in mid-2016 that developer Bob Rolader proposed a residential development on Fayetteville's south side. Now nine months and several public meetings later, Rolader on Feb. 27 filed a lawsuit to have a judge rule on the Southside Master Plan that has been at the center of the dispute between Rolader and neighboring subdivisions.
The suit also alleges that some of the actions of former Planning and Zoning Commissioner Steven Gulas were inappropriate.
Rolader-Sheffield Fayette Ventures filed suit against former Fayetteville Planning Commissioner and developer Steven Gulas, his wife Deborah, Sheffield Estates Community Association, Summit Point Homeowners Association and the city.
Rolader is asking for a ruling from Fayette County Superior Court on the Southside Development Agreement and whether it remains enforceable or if it is null and void.
Neighbors of the nearly 100-acre site, on which Rolader wants to construct 203 homes south of the Ga. Highway 92 Connector, have maintained to the Fayetteville Planning and Zoning Commission that the Southside Development Plan remains in force and prevents the development of anything other than the 300,000 sq. ft. of retail and a number of townhomes originally established in the plan.
Rolader, who has owned the property for 46 years, disagrees, as does city attorney David Winkle.
"This is a development agreement. It's not a declaration of restrictive covenants," Winkle said at a Nov. 16 town hall meeting on the issue. "Zoning can change if (the property) is not economically useable by the owner. It's been zoned for commercial and multi-family for 15 years."
Rolader has noted in numerous meetings that the market shows that the property is no longer marketable for commercial purposes.
The city has held town hall meetings and the issue has come before planning commissioners on several occasions during the past nine months. It was during one of those meetings that Deborah Gulas read what was essentially a legal brief on the issue.
Meantime, neighbors hired former Fayette County Attorney Scott Bennett to represent their position on the rezoning matter.
In essence, Rolader and Winkle have said that the development agreement is null and void. Homeowners and their attorney disagree.
Bottom line, Rolader wants a ruling on whether the Southside Development Agreement is, or is not, enforceable.
The suit also noted that Steven Gulas in 2013 was an unsuccessful bidder on a portion of the subject property when it was sold at auction. That property, subsequently under contract to Rolader, includes approximately 35 acres behind the Ingles shopping center and wraps around to front a portion of the Hwy. 92 Connector. The suit alleges that Gulas in 2014 attempted to purchase it but his attempt was declined.
Then a member of the Planning and Zoning Commission, the suit said, "Mr. Gulas sent numerous emails both in his personal capacity and in his capacity as a commissioner seeking to influence the city's decision-making process regarding plaintiff's pending rezoning application. Specifically, on multiple occasions, Mr. Gulas voiced opposition to rezoning expressly based on his personal interests as an owner of real property subject to the Southside Development Agreement. In his emails to city personnel, Mr. Gulas repeatedly asserted that restrictions on development and rezoning set forth in the Southside Development Agreement are binding on the city and plaintiff."
Deborah Gulas, the suit maintains, submitted a "position paper" during the rezoning process in which she identified herself as an owner of property subject to the Southside Development Agreement.
Finally, the suit states that the Sheffield and Summit Point HOAs maintained that their members own property subject to the development agreement and that the agreement is binding on the city and plaintiff.