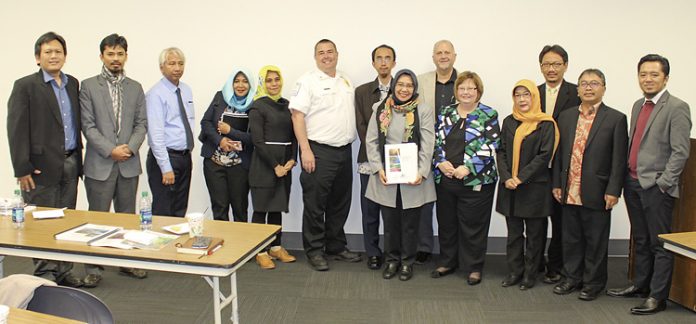 An international entourage of visitors from Indonesia recently visited Peachtree City to learn about best practices in governmental accounting.
Peachtree City Financial Services Director Paul Salvatore said the entourage included various heads of state, auditors and lecturers who are members of the Indonesian State Accountability Revitalization (STAR) Commission.
The visitors were participating in a program sponsored by Georgia State University's Andrew Young School of Public Policy that focuses on comparing and contrasting the U.S. and Indonesian best practices in the accounting and internal audit sector, said City Clerk Betsy Tyler.
Salvatore said that Peachtree City was selected by GSU as an example of how internal controls and accountability were implemented and handled by a city in the U.S., and staff hosted a meeting with the visitors to discuss those topics.
Mayor Vanessa Fleisch and Mayor Pro Tem Mike King greeted the delegation upon their arrival. Salvatore, Assistant Finance Director Kelly Bush, and Phillip Abbott of Cpak, the city's Information Technology contractor, delivered the presentations and other staff members participated in the subsequent discussions, Tyler said.
Salvatore said the visitors planned to lecture on what they learned at universities and organizations in their own country, as well as in other countries they would visit. After leaving Peachtree City, the STAR group planned to visit Jordan and Malawi to provide training for legislators.
"Peachtree City is very proud to have been chosen to participate in this program and to have the opportunity to share our knowledge on these important subjects that the visitors will spread worldwide," Salvatore commented.