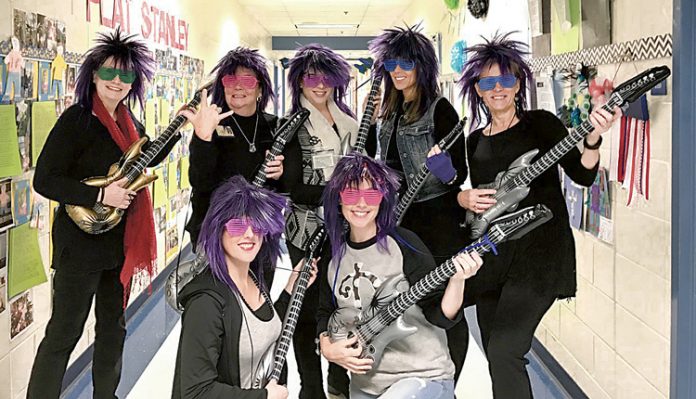 Students and staff from Peeples Elementary School in Fayetteville participated in the national Great Kindness Challenge for the third year in a row! Peeples chose the theme "KINDNESS ROCKS" and enjoyed a week full of assemblies, activities and information! The week was kicked off with a magic show that focused on positivity and kindness.
The 3rd-5th grade students enjoyed a presentation from the Peachtree City Police Department's Officer Smilley.
He spoke to the students about online safety and responsibility. The K-2nd grade students enjoyed a visit and reading from Stan Tucker of Camp Southern Ground.
The middle of the week allowed students and staff to let their hair down as they dressed up like Rock Stars to drive home the theme of Kindness Rocks. Each day the students drew pictures and left kind messages on a giant mural that will be split up and sent overseas to the troops.
One of the largest impacts the students made on their local community was collecting food for the Real Life Center. Throughout the week, students brought in non-perishable food items, collecting a grand total of 2,496 pounds of food!
Peeples finished off the week with the annual kindness tunnel. Police, fire & rescue, parents, mascots and community members welcomed the students to school in a tunnel with high fives and shouts of praise to remind the students to keep it kind 365. For the third year in a row, Peeples was nationally recognized as a Certified Kind school.