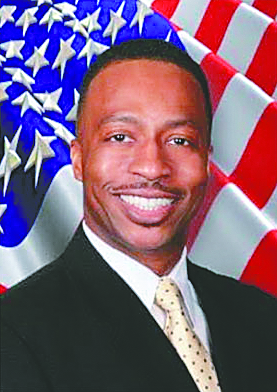 Newly elected District 64 state Representative Derrick Jackson (D-Tyrone) was sworn into office as a member of the Georgia House of Representatives on Jan. 9.
"I am humbled and honored by each of the 21,251 votes I received to represent the citizens of District 64 and this great state," said Jackson. "As a public servant, I pledge that each vote I cast under the Gold Dome will be dedicated to improving the quality-of-life for all Georgians."
After being sworn-in, the Georgia House of Representatives' Committee on Assignments named Jackson to the Defense and Veterans Affairs; Energy, Utilities and Telecommunications; and State Planning and Community Affairs committees.
"I am appreciative of all of my committee assignments, as I am confident that these committees will leverage both my expertise and passion and allow me to better serve my constituents," said Jackson.
District 64 includes Tyrone, northwest Fayette County and portions of the College Park area in south Fulton County.
Jackson prior to taking office said, "In the end, no legislation (bill) should be passed that will adversely impact Georgians, their quality of life, or the business community that has positioned Georgia as 'the best state' to do business."