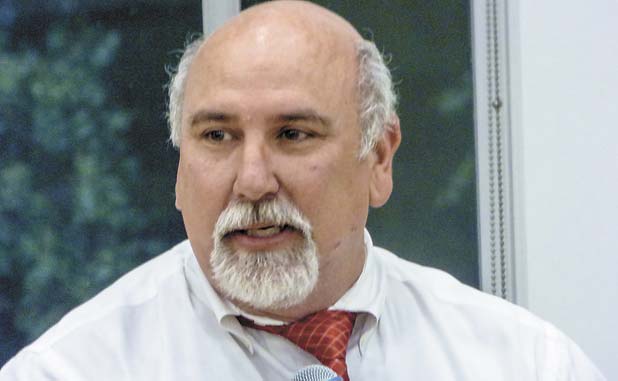 Oddo gets 2 votes to retain chairmanship; one-time chair Brown nominates Maxwell: 'I don't want it'
Eric Maxwell has been back on the Fayette County Board of Commissioners almost a week, and his calendar is full.
The biggest reason for that is the fact that, less than ten minutes after being sworn in last Thursday night, he was elected by his peers to be the board's chairman for 2017.
"Until Thursday night I did not know what my position would be," Maxwell said Monday in an interview. "I thought I had as good a chance as anyone else. I'm very honored to be in that position."
For the past two years Charles Oddo of Fayetteville had the votes to be chairman. For the two years before that, Steve Brown of Peachtree City had served as the face of the county governing board.
Maxwell, a local attorney who succeeded David Barlow after winning election in November, is in a unique position in that he is the new guy on the board in its current configuration but the job is not new to him. He was first elected in 2006 and served four years, leaving office in 2010 just as Brown, the longest-tenured current commissioner, took office.
Brown had run as much against Maxwell in 2010 as against his actual opponent on the ballot, then-Chairman Jack Smith. "I think we can get a team together to defeat Smith and Maxwell," Brown was quoted as saying in a May 2010 story before the Republican Primary, which saw the ouster of both incumbents.
This year, Brown nominated Maxwell to be chairman, a reflection of the sometimes contentious relationship between Brown and Oddo the past few years.
Maxwell has served with none of the current board members. In fact, he really didn't know many of them before taking office except perhaps to say hello. In contrast, some of the commissioners he served with previously were people he knew fairly well.
"I made a point to meet with each commissioner one-on-one in the past month," said Maxwell. "I've never worked with them in the past, so there is a process of learning about them and what is important to them."
With the county's employees it is a different situation. "Most of the department heads are the same ones who were on staff six years ago," he said. "That's very refreshing."
Maxwell set aside time last month to meet individually with each department head in his or her own office to get a better feel for what that division of county government is all about.
"I got an awful lot out of those meetings," he said. "It was exhausting, but I felt like it needed to be done."
That is just one of the things he learned the first time around.
"There was a huge learning curve during that four-year period," he said. "I learned an awful lot. Hopefully I'll approach it differently this time."
Maxwell was the first commissioner sworn in last Thursday night, followed by Charles Oddo and Randy Ognio, who won their respective elections and returned to office.
In his opening remarks, Maxwell sat in his wheelchair and pointed to the ramp that leads to the dais and said he had it installed during his previous term. "I told them not to take it out when I left office," he said. "I'm glad it's still there."
He recognized his parents on the front row and told the audience how they had bought property in Fayette County in 1969 and the family moved into a new house in 1973 when he was 12 years old. They have lived in Fayette ever since.
Maxwell, county attorney Dennis Davenport and Superior Court Judge Scott Ballard all graduated from Fayette County High School in 1977, Maxwell said, and he is glad to see that all three have become attorneys and remained in the local community.
During his remarks, Maxwell read his county cell phone number aloud to the audience, including those watching the meeting online, and encouraged citizens to call him when necessary.
"I knew that not everyone is always going to vote for me, but I'm going to do the best I can so that next time everyone does vote for me," he said.
Oddo told the audience that he was honored to serve and considered it a privilege, especially after winning the first-ever countywide seat under the new voting system and doing so without a runoff.
"It's very humbling," he said. "This office is humbling."
Ognio thanked those who supported him and said, "It's an honor. I look forward to the next four years."
As is the custom at the beginning of every calendar year, Davenport called the organizational meeting to order and asked for nominations for chairman. Brown nominated Maxwell, Charles Rousseau nominated Oddo, and Oddo nominated Ognio.
When Davenport asked if there were any more nominations, Brown, who served as chairman in 2013 and 2014, said loudly, "I don't want it."
After the nominations were closed, Brown moved to elect Maxwell and Rousseau seconded that motion. It passed 3-2 with Oddo and Ognio voting against.
"Mr. Chairman, I will defer to you," Davenport said to Maxwell as the audience members applauded.
Maxwell asked for nominations for vice chairman and there were two — Oddo and Ognio. Rousseau made a motion to appoint Oddo but it failed to garner a second. Brown then moved to appoint Ognio and it passed 5-0.