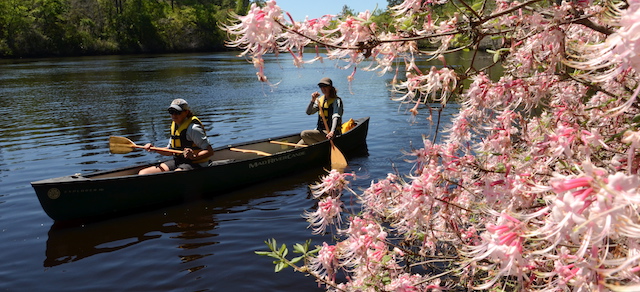 If your New Year's resolution involved spending more time outdoors or exercising more, Georgia River Network and Satilla Riverkeeper have dialed up just the adventure for you—a 2-day, 28-mile canoe/kayak/paddleboard adventure on southeast Georgia's Satilla River set for April 1-2.
Registration for the event is open at www.garivers.org/paddle_georgia/springonthesatilla.html
The statewide river advocacy group is hosting Paddle Georgia-Spring on the Satilla along with local watershed group Satilla Riverkeeper to raise awareness about this meandering Coastal Plain river and to raise funds to help protect it. The event will also highlight Satilla Riverkeeper's efforts to establish a recreational boating trail on the river.
Over the course of two days, participants will cover 28 miles of the Satilla's winding course through lowland swamps and floodplain forests while camping at a rustic private getaway overlooking the river in the Camden County community of White Oak.
"This will be our second Spring on the Satilla trip," said Paddle Georgia Coordinator Joe Cook. "Last year we were treated to native azalea in full bloom; it's a time when the river is really coming to life."
The trip is more than just a paddle trip. Event organizers plan catered breakfast and dinners at the riverside campsite along with sack lunches for the river. Interpretive programs on local cultural history, opportunities to become a certified Georgia Adopt-A-Stream citizen water monitor as well as games and other activities will also be offered.
Satilla Riverkeeper has been instrumental in organizing the Satilla River Water Trail with intensive technical assistance from Georgia River Network. The Satilla River Water Trail is a recreational boating trail with designated public access points along a 175-mile stretch of the river.
The water trail was officially established in in the fall of 2016 with the development of signage, brochures, maps, a website and more.
"The water trail not only serves as an important source of tourism and economic development for local communities but also a way to bring attention to the river as an valuable resource that needs protection," said Gwyneth Moody, GRN's Director of Programs and Outreach.
Participants on Spring on the Satilla will see this work firsthand.
"Many people have not yet discovered the charms of this blackwater beauty," said Cook. "The primary goal of the trip is to introduce people to the river and help them start a love affair with it. That's when people take action to protect the Satilla and the rest of the state's rivers."
Registration fees are $115-$230 per person and include all meals for the weekend, tent campsite, shuttles to the river and all education programs. Organizers are planning for around 100 paddlers and expect a broad range of ages.
"Typically, our Paddle Georgia events attract lots of families," Cook said. "We've had paddlers as young as 4 and as old as 84."
For those without their own boats, canoe and kayak rentals will be offered through event sponsor, Southeast Adventure Outfitters in St. Simons.
In addition to Spring on the Satilla, Georgia River Network is planning two Hidden Gem paddling camping trips on established water trails including: Georgia's Little River Water Trail near Clarks Hill Wildlife Management Area on May 20-21 and St. Mary's Water Trail on Cumberland Island Nov 11-12.
GRN will also hold Paddle Georgia 2017, an epic 7-day journey on the Etowah River in northwest Georgia from June 17-23 and Fall Float on the Flint, a three-day adventure on the southwest Georgia's Flint River Oct. 7-9.
Since the first Paddle Georgia in 2005, GRN has led about 4,000 paddlers on week-long adventures on more than a dozen Georgia rivers, raising more than $400,000 for river protection in Georgia.
Proceeds from Spring on the Satilla will support GRN and Satilla Riverkeeper.
Georgia River Network is a statewide organization working to ensure a clean water legacy by engaging and empowering Georgians to protect, restore and enjoy our rivers from the mountains to the coast.
Satilla Riverkeeper's mission is to protect and restore the river while educating citizens to help ensure a Satilla River that is fishable, swimmable and drinkable for all to enjoy.