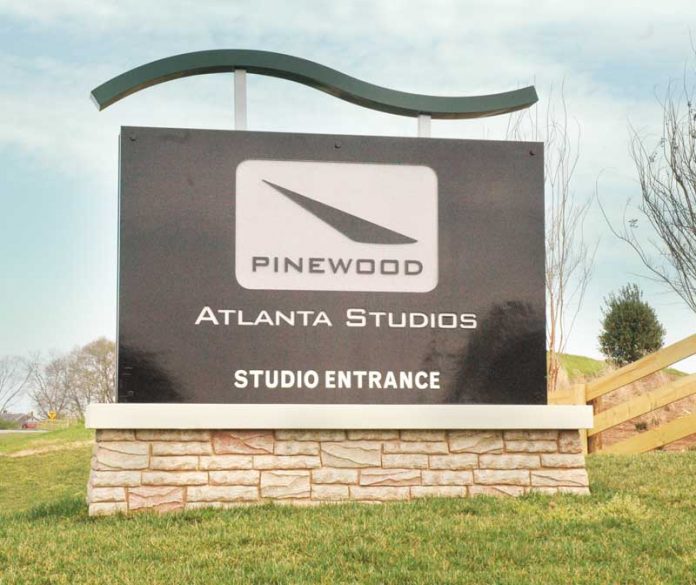 Pinewood Atlanta's expansion makes it 2nd largest U.S. movie site
It was just a few short years ago that a 288-acre tract on Veterans Parkway in Fayetteville was mostly weeds and pasture. Today, it is the home of Pinewood Atlanta Studios and nearly 1 million square feet of soundstages, workshops, office and warehouses and at least two blockbuster-budget Marvel movies in production this month.
With the most recent phase of construction complete, Pinewood in Fayetteville is the largest studio complex in the United States outside of Hollywood, according to Pinewood Studios Senior Vice President Eoin Egan in a recent statement.
This newest portion of the expansive studio project added six soundstages, a workshop building and more office space toward the south side of the 288-acre studio property along Veterans Parkway and directly across the roadway from the location of the large Pinewood Forrest residential and commercial development.
Phase 3A included a 40,000 sq. ft. undivided soundstage, currently the largest on the property, along with two soundstages at 20,000 sq. ft. each, two soundstages at 15,000 sq. ft each and a final soundstage at 18,000 sq. ft. Included in the recent phase was additional office space.
Taken as a whole to date, Pinewood Atlanta Studios boasts 989,100 sq. ft. of usable space, including 361,000 sq. ft. of soundstages (18 in total), 175,600 sq. ft. of office space, 185,000 sq. ft. of workshops and 267,500 sq. ft. of vendor warehouses, according to Pinewood Atlanta. For comparison, that's the equivalent of nearly 23 acres under roof, or 17 football fields sideline to sideline.
For all the ongoing construction activity at Pinewood Atlanta, the current soundstage, office and workshop offerings are far from complete.
When it comes to movies shot in Fayetteville, the first was a Marvel Studios project, "Ant-Man" and was followed by "Guardians of the Galaxy Vol. 2" and "Captain America: Civil War."
Marvel is continuing its presence at Pinewood Atlanta, with "Avengers: Infinity War" and "Black Panther" set to get underway this month.