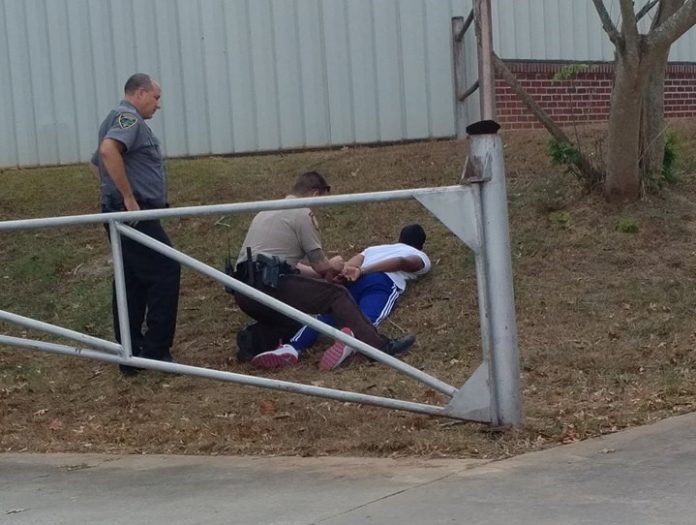 A Stockbridge man is in custody after a Thanksgiving Day chase that began after a traffic stop in north Fayette County. There were no serious injuries in the incident,
Kevon Gustavus Carnell, 24, is charged with felony fleeing and eluding, reckless driving, giving false name, obstruction, striking a fixed object, stop sign violation and driving on the wrong side of the road, according to Fayette County Sheriff Barry Babb.
Babb said the incident occurred after 3 p.m. and began as a traffic stop. Carnell, who is wanted on outstanding warrants in Clayton and Fulton counties on ID fraud, failure to appear on drug charges and probation/parole violation, gave the deputy a false name and subsequently fled the scene in his BMW.
Carnell drove into Clayton County by way of Ga. Highway 85 then fled back into Fayette a short time later, Babb said.
A deputy at Ga. Highway 279 and Kenwood Road deployed stop-sticks, said Babb. Carnell had his tires flattened and continued on the roadway near the intersection of highways 279 and 85 where his vehicle was disabled.
Babb said the maximum speed during the chase was 70-80 miles per hour.
Carnell was arrested, taken for medical treatment and released, then transported to the Fayette County Jail.
Babb said a deputy in pursuit prior to Carnell's tires being flattened by the stop-sticks did not hear of the deployment and chose to leave the roadway to avoid colliding with anything. The deputy was treated for minor injuries and released.
The Fayette County Marshal's Department assisted in the incident, said Babb.
"We're just thankful that everybody's fine," Babb said.