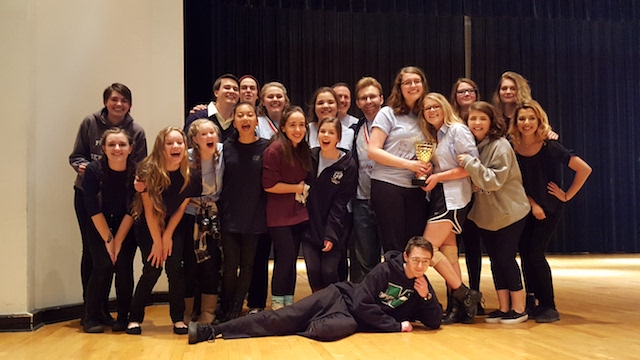 McIntosh Drama's production of "Women of Lockerbie" won second place at the state AAAAA one-act play competition Nov. 12 at Perry High School. This is McIntosh's highest placing in the state finals.
Additionally, Kenzie Knudson was awarded Best Actress for her portrayal of Olive, the leader of the women and the moral center of the play.
At the regional competition Oct. 22, the play won first place and swept all of the acting awards. Kenzie Knudson was named Best Actress and Joshua Sussman won Best Actor for the role of George, a cynical American agent whose actions result in the main conflict of the play.
Named to the All Star Cast were Claire Hemenway, who plays a grieving mother, and Wylie Watlington, who plays a cleaning woman who is smarter than she first appears. This marks Hemenway's second time in the All Star Cast, after being named to it in 2014 for her work in the play "Five Kinds of Silence."
In addition, the entire cast, including Jacob Mewborn as a father struggling with grief, and Claire Avery and Sydney Brazile as women of Lockerbie, was named Best Ensemble. In the technical roles, both Audrey Landrum, lighting designer, Cullen Finnerty, light operator, and Mykala Johnson, sound designer, and Lynde Macleod, sound, were praised by the judges.
"Women of Lockerbie" was directed by McIntosh drama teacher Ken Buswell with Sophie Roggermeier as stage manager. On crew were Christa O'Reilly, Kaitlyn Rodriguez, Julian Soper and Tynan Fortune. The understudy was Hannah Dowdy. Make up crew consisted of Sydney Suggs, Kat Elliott, and Katt Rock. McIntosh Drama's publicist and designer is Tynan Fortune.
The drama department's next production will be the musical "Cinderella" Feb. 2-4. There will also be a "Tea Time with the Princesses" Jan. 28. For more information, visit McIntoshTheater.org.