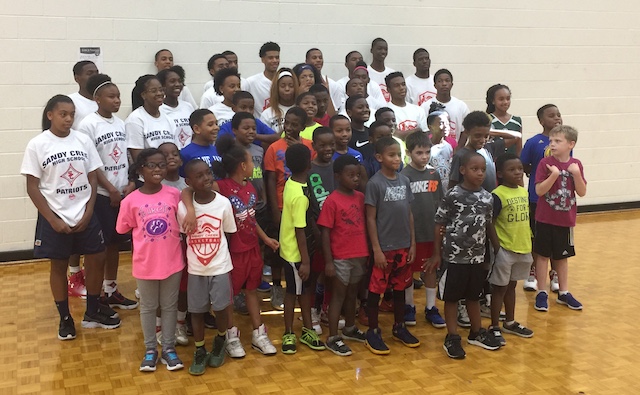 The goal of the recent Jr. Patriot Basketball Camp, according Sandy Creek High School head boys basketball coach Anthony McKissic, "is to expose the youth in our community to the fundamentals of basketball and give back to the community. It is also an opportunity for the youth to bond with the varsity players."
Based on the turnout and feedback from the youth and the players, the camp was an overwhelming success.
More than 50 students from Burch Elementary and North Fayette Elementary participated in drills that were led by the Sandy Creek girls and boys basketball coaches. The girls and boys varsity basketball players served as mentors for the students.
When asked about the camp, senior Kasey Toles said, "The kids were very cooperative. It was a conducive environment because the kids were very coachable. It meant a lot to us to be able to give back to the community."
"It was fun," said senior Morgan Curry. "I enjoy working with people who are younger than me and I love sharing what we have learned over the years."
"It is good to be able to teach people," said sophomore TJ Bickerstaff. "I remember when I was their age and it felt good to give back. I want to follow them to see how they blossom in the future."
TJ is the grandson of longtime NBA coach Bernie Bickerstaff and the the nephew of JB Bickerstaff, former interim head coach for the Houston Rockets.
"I like helping out the little kids," said senior Evan Jester. "I like seeing them having fun and growing in their basketball skills. It is great to see the future generations."
"It was fun working with the kids. It is also great to work in conjunction with the boys team," said senior Logan Bolton. "We normally work separately from the boys team and the synergy from working together was awesome."
The feedback from the campers was positive as well.
"I enjoyed doing the drills. I really liked working on defensive drills," said second-grader Jackson Phillips. "I enjoyed the camp and I will be here again next year."
"It was good. I enjoyed running and shooting the ball," said second-grader Simone Antoine. "I normally play basketball at my house and at my grandma's house."
Janie Hodges, Sandy Creek's new girls head coach, said she and her associates are excited about the camp turnout and will host the campers again during Jr. Patriot Night, scheduled for Jan. 21, during the Patriots' home game against Troup.