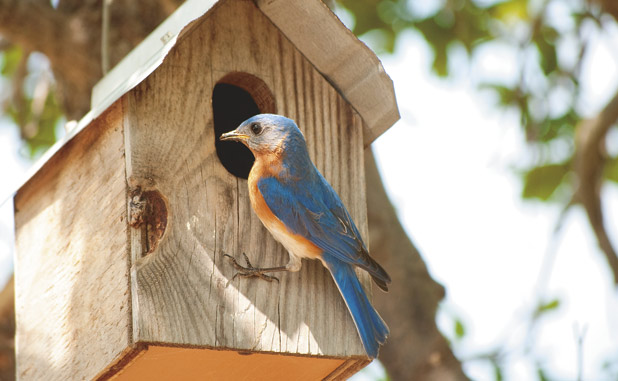 'Birdhouse of the Month' award planned by Fayette Commission
Local residents will soon have another way to express themselves artistically and get the attention of others in the community.
The Fayette County Board of Commissioners voted at its Oct. 27 regular meeting to approve a proposal from the Public Arts Committee regarding a community-wide birdhouse project. The concept was approved in September and the most recent vote approved the budget for the project.
"The Birdhouse Project is a signature project for all citizens in the county. It will be an ongoing project and is an opportunity for all ages and all levels of artistic skill," according to a spokesperson. "Birdhouses are a natural fit for Fayette County with its rural character. Birdhouses also provide a safe nesting place for birds and protection from the elements. The birds in turn provide insect control. It also facilitates bird watching and encourages education about birds."
The committee has developed the guidelines and registration tracking information and with approval will develop promotional materials providing details about the project. The group will partner with libraries, recreation departments and other entities to provide education regarding birds and birdhouses, as well as assisting with scheduling "Decorate Your Birdhouse" events.
The summary budget is estimated for $2,000. This will allow for the purchase of identification tags, production of guidelines, registration materials and promotional materials.
Donna Thompson, representing the committee, told the board that each person who registers will get a numbered tag to put on his or her birdhouse. This will allow the group to record the location and track it for maintenance and other purposes. A birdhouse can be placed on private property or donated to a public space, she said.
Each participant will receive a birdhouse certificate. The process will not obligate county inspectors or any other staff unless the county wants to be involved, Thompson said, as there are volunteers ready to handle placement and other duties.
Photos will be taken when birdhouses are registered and a Birdhouse of the Month will be selected regularly.
A number of places are being designated as drop-off and registration locations, Thompson said.