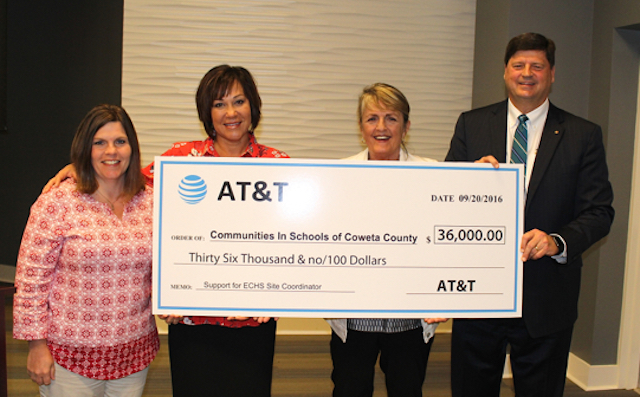 AT&T announced its continuing support of Communities In Schools of Coweta County through a $36,000 contribution that is designed help sustain the activities of the CIS site coordinators at East Coweta High School.
CIS of Coweta County is continuing its programs and services at East Coweta High School for the third year in the 2016-2017 school year, and AT&T has been a consistent supporter of the work of the CIS site coordinators at East Coweta High School.
"We're grateful to AT&T – and for all support we receive from the business community – as we work to strengthen and support public education in Coweta County," said CIS of Coweta County's executive director, Gina Weathersby. "AT&T offers an example of a corporation that not only provides connectivity and resources for our residents and businesses but also invests in our community and in our future, by supporting our students."
Dr. Steve Barker, superintendent of Coweta County Schools, also thanked AT&T, saying, "Student success happens one student at a time and AT&T, through this generous donation to the Communities In Schools Program at East Coweta High School, is helping students succeed. With this donation, CIS will be able to continue providing the wraparound services that allow students to reach their potential by reducing distractions and removing obstacles. AT&T continues to set a strong example of meaningful collaboration with our school system and with our community."
Communities In Schools of Coweta County provides school-based site coordinators who help connect students at risk of dropping out of high school with academic support, mentoring, counseling, after-school programs, career development, intervention, health care and other resources.
Communities In Schools surrounds students with a community of support, empowering them to stay in school and achieve in life.
"AT&T has an historic commitment to supporting a strong education system, and this commitment is certainly reflected in our ongoing support of the schools – and the many community organizations that support the students and teachers – in Coweta County," said Don Barbour, regional director for AT&T Georgia. "We are proud to continue to support CIS in Coweta County as they invest in students, especially those who need it the most, so they can walk across the graduation stage better prepared for a promising future."