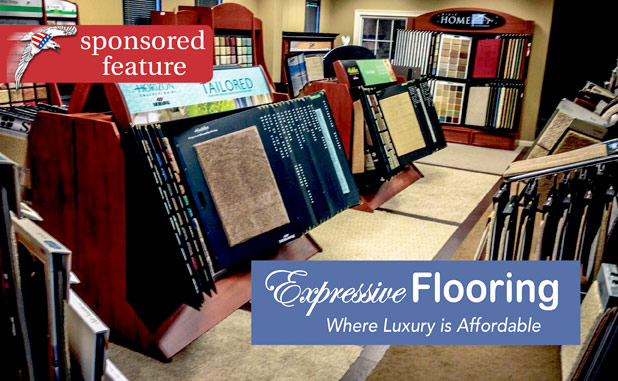 Sponsored Feature
Today's homeowners have more flooring choices than ever before. The professional experts at Expressive Flooring are dedicated to helping customers understand the options and to helping them make the right choice – at the best price.
The company, which maintains showrooms in Fayetteville and Peachtree City, sells and installs carpet, hardwood, laminate, vinyl, ceramic and porcelain tile, and more. They also work with commercial and industrial projects and have completed jobs for clients including Piedmont Newnan Hospital, the Fulton County Detention Center, and the Fayetteville Library as well as several fire stations, churches, preschools, and more. The company also offers many special perks, such as free estimates, free area rugs with qualifying purchases, and fifty percent off area rugs every day.
"You won't find the combination of variety, quality, and pricing we offer anywhere else," says owner Michael Mehio, who launched the business out of his home in 1999. "Flooring is our business and we take that business seriously."
Michael says that, while solid wood continues to be a top seller and the hand-scraped texture is incredibly popular right now, his store also carries a relatively new product that's taking the market by storm: luxury vinyl plank (LVP). This product combines the affordability and scratch-resistance of laminate with the water-resistance of vinyl, making it a versatile, attractive solution, especially for families with children and pets and for commercial applications.
"Customers are always surprised by how nice the product looks and how durable and high-quality the construction is," says Michael. "Plus, it's easy to install and very easy to maintain. We always show LVP to customers shopping for laminate because it's such a great alternative and more and more people are choosing this product.
Expressive Flooring also carries a new product from Shaw: water-resistant carpeting.
"This carpet is amazing," Michael says. "Spills are easy to wipe up and they don't soak through to the carpet and subfloor. It's another great options for busy families and businesses."
Michael's ability to stock exciting new products has everything to do with his reputation in the industry and with the manufacturers. He has been in business for 17 years this year and has worked hard to maintain high levels of customer satisfaction. He says he also personally holds virtually every available product certification in the industry, including regional, national, and even some international credentials. Plus, he's one of only six people in the state to serve as both a hardwood and carpet inspector for most of the major mills — and he's the only one who owns a retail shop.
"Our special relationships with the mills come with another major benefit," he points out. "They help us guarantee that our customers receive the best product pricing."
Expressive Flooring also offers complete installation services, most often by their professional in-house team. When Michael does have to sub out a job, he still knows it will be done right because the few subcontractors he uses have been working with him for years.
"We're really passionate, not just about offering great products at the best prices, but about providing the best possible service in our store and in your home," he says. "Our number one rule is honesty. We always, always want what's best for the customer. That's why we have literally thousands of loyal customers and why our reputation is so strong.
"We understand that you want your home or business to look great, but that you also have to live or work there and that you need to be comfortable. We want to help you find the right combination and always make the experience even better than you expected."