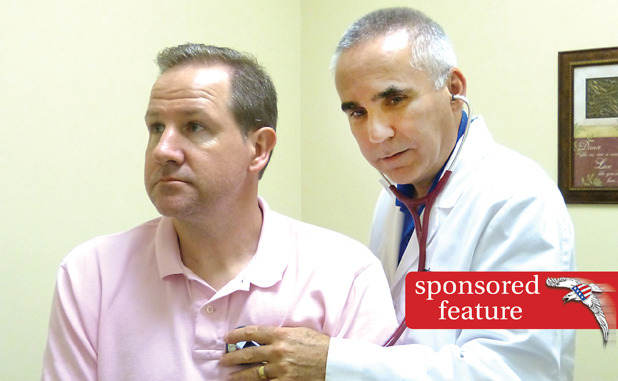 Sponsored Feature
After 30 years as an internist in Fayette County, Dr. Byron Harper is transforming his primary care practice from a traditional practice model to one that's more personal, with focused care and unique and attractive benefits. He has decided to affiliate with MDVIP, a nationwide personalized healthcare and wellness program that puts decisions back in the hands of patients and their doctors.
"Healthcare was very different when my father was practicing," he recalls. "He knew his patients well and he was able to form real relationships with them. That allowed him to provide very personal care. I went into medicine intending to practice the same way and, for many years, I did."
He's found that in today's high-volume healthcare system, however, maintaining that level of individualized, prevention-focused care is almost impossible. Office visits are far shorter than they used to be and wait times can be quite long. Dr. Harper believes it's important to spend more time getting to know patients and working with them on a holistic plan for improving and maintaining wellness — without the wait.
"Healthcare should not be a factory," he says. "There's a much better way and we need to get back to it because our overall health in this country is deteriorating, in part because of hurried care and because we're focused on treating symptoms rather than finding the root cause. We're reacting, not preventing. This new model changes the way we approach care by combining the scientific advances of modern medicine with the once-standard depth of patient relationships."
Since Dr. Harper is planning to limit his practice to about 300 patients as opposed to the typical practice's 2,000 or more, he'll be able to spend plenty of time getting to know each patient and working with them to help prevent disease, manage chronic illness, and assist in developing a diet and exercise plan. Appointments can be scheduled same or next day, start on time, and last 30 to 45 minutes if needed. The program also features an annual wellness program, which includes screenings and diagnostics so that he can work with patients to develop a wellness plan for the entire year.
"Many acute and most chronic illnesses actually can be avoided," he points out, "and I would far rather prevent an illness than cure one."
Dr. Harper's patients who travel and have an urgent healthcare issue will be able to see an MDVIP physician in the area. Patients also have 24/7 access to an online patient portal. In addition, MDVIP has formed relationships with leading medical centers such as the Mayo Clinic, Johns Hopkins, the Cleveland Clinic, MD Anderson Center, and others via their Medical Centers of Excellence program. Clearly, the program, which is complementary to Medicare and commercial insurance, has been effective. MDVIP cites 90 percent patient satisfaction and renewal rates each year and says patients in the program are hospitalized less – and readmitted less – than patients in traditional practices.
"Patients will truly love this program," he says, "but it involves a paradigm shift from sick care to true health care."
Dr. Harper, who also serves as Medical Director at Southwest Christian Hospice, feels investing in good health is critical.
"Our health in this country is deteriorating, partly because we often don't treat the root cause of a patient's problem. I want to change that."
"This really is a matter of investing in health, our most precious possession next to family and faith," he explains. "I've learned that, if you don't invest in prevention, you will eventually pay much more for disease and illness. And your health and quality of life will suffer in the process."
"You are not a number or a set of symptoms on a chart," he adds. "You are a person and this is your life."