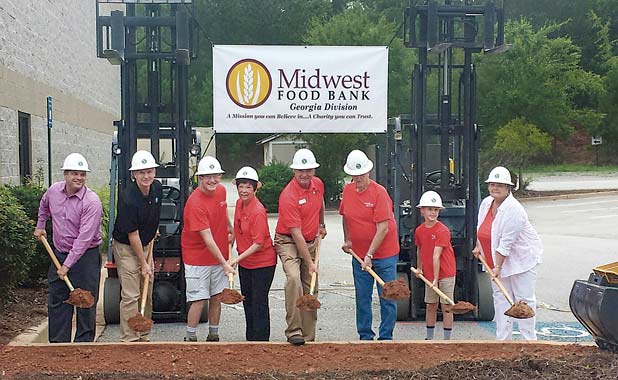 Midwest Food Bank – Georgia Division in Peachtree City is expanding to better serve nonprofit organizations working in the fight against hunger. The building project will provide two loading docks and an additional 5,000 sq. ft. of warehouse space.
The Georgia Division currently serves over 250 nonprofit organizations from 43 different counties each month. More than 50 organizations are on an ever growing waiting list to receive food.
Many local churches participate in food drives for donations to Midwest. Most recently, an entire truckload of food traveled from Salt Lake City, Utah, to the Peachtree City Midwest facility, with a donation from the LDS (Mormon) Church.
Over the past year, more than 200 semi-trailers of food were unloaded without the benefit of a loading dock. This building project will improve the operational effectiveness and efficiency of receiving food shipments and provide the storage space necessary to support more organizations.
"We are stepping out in faith to increase our capacity to serve," says executive director Will Garner. "We are blessed that $250,000 has already been donated to this project, but an additional $500,000 is needed to complete it. As Romans 12:12 says, 'Be joyful in hope, patient in tribulation and faithful in prayer.' I believe in my heart that this community is going to respond to this need."
Attending the ground-breaking were mayors Vanessa Fleisch of Peachtree City and Edward Johnson of Fayetteville as well as Fayette County Commissioner Charles Rousseau.
Assisting with the ground breaking were Elaine Bearden, representing donor Sigma Beta Sorority, private donor Kate Sweitzer, a third-grader from Landmark Christian School, and Midwest volunteers Herman Spinney, Terry Cole and Terry Beeson.
Chuck Ogletree and Steve Gulas from the building contractor South-Tree Enterprises, Inc., and Midwest Food Bank Executive Director Will Garner rounded out the ground-breaking crew.
Based in Bloomington, Ill., Midwest Food Bank's mission is to alleviate hunger and poverty by gathering and distributing food donations to nonprofit organizations and providing disaster relief without cost to recipients. Charity Navigator, an independent charity evaluator, has given Midwest Food Bank its highest rating of four stars, with 99.2 percent of all donations going to programs and services.
Tax deductible donations may be sent to Midwest Food Bank, 220 Parkade Court, Peachtree City, GA 30269, or visit peachtree.midwestfoodbank.org.
---
Breaking ground for the expansion of the Georgia Division of Midwest Food Bank in Peachtree City, are (L-R), Steve Gulas, Chuck Ogletree, Terry Beeson, Terrie Cole, Will Garner, Herman Spinney, Kate Sweitzer, and Elaine Bearden. The expansion will include two loading docks and an additional 5,000 sq. ft. of warehouse space. Photo/ Gobi Photography.