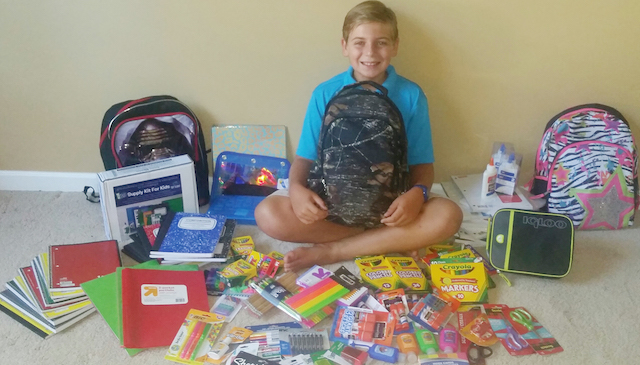 Braelinn Elementary fifth-grader Nash Glover was already in the giving spirit this summer when his family moved into their new home and donated a lot of items that they no longer needed.
With his birthday party approaching, he decided that it would be fun to give to others instead of having others give to him. So, in lieu of presents, he asked his friends to bring school supplies that would be donated to the school system's CARE (Children at Risk in Education) program, which would distribute the items to students whose families could not afford them.
"When we were planning his birthday party, he said that school is starting in a few weeks and normally kids are buying school supplies, new clothes, shoes and backpacks, but there are a lot of kids whose parents can't afford all those things," says Nash's mother, Krystin Glover, who is an assistant principal at Starr's Mill High. "He said what if all of my friends bring school supplies, and we donate them to kids who don't have them."
Nash collected over 600 items that included pencils, crayons, erasers, notebooks, and backpacks. Students who attend Braelinn Elementary and Rising Starr Middle donated the supplies.