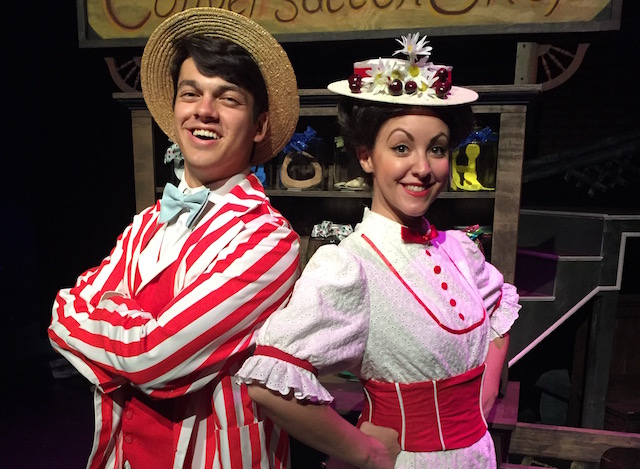 The Legacy Theatre is producing the family hit "Mary Poppins" to open Friday, July 8, and run through Aug. 7.
In 1964, Walt Disney transformed P.L. Travers' books into one of the most beloved movies of all time, "Mary Poppins.' The film, which starred Julie Andrews and Dick Van Dyke, delighted its audiences with the tale of a magical nanny and the troubled Banks children.
Now this favorite tale has been adapted into a fresh, new Broadway musical featuring classic songs like "Supercalifragilisticexpialidocious", "Spoonful of Sugar" and "Step in Time" alongside new musical numbers.
"We love doing these big Broadway shows," said executive producer Bethany Smith. "The energy is so high. It's a lot of work, but our audiences will love it. There are so many iconic songs in the show, and our cast is truly amazing."
Smith is also choreographing the production after recently appearing as The Witch in "Into the Woods" this spring.
"This show is spectacular and the story is timeless," said Mark Smith, artistic director of "Mary Poppins."
"If you enjoy the movie, you'll love the musical. It's definitely an experience for the entire family – grandparents, parents and kids. The story is such a redeeming one about the importance of family, and that message is told in such an entertaining and fun way. It's amazing to see how children react in awe to Mary not only because of her magic but also as the 'perfect' nanny."
The award-winning show features music and lyrics by the Sherman Brothers (who scored the 1964 film) with additional music by George Stiles and Anthony Drewe and a script by Julian Fellowes. It opened on London's West End in 2004 and made its Broadway debut in 2006 where it ran until 2013.
Starring as the title character is Atlanta native and Elon alumnus Savannah Sprinkle. She plays opposite Trevor McChristian as Bert, who is also from Elon.
The rest of the cast is an array of talent returning to Legacy including Paul Glodfelter (Into the Woods/Footloose), Ally Duncan (Rocket Boys/Nuncrackers), Fracena Byrd (Nuncrackers), D.J. Grooms (Into the Woods/Chicago), Catherine Cervone (Footloose/Music Man), Bert Lyons (Footloose), Caleb Peters (Footloose) and Kyle Williams (Footloose).
Making their Legacy debuts are Patrick Coleman, Carolyn Dorff, Arielle Geller, Casey Prins and Victoria Lee. Appearing as the Banks children are Alex Huff as Michael and Caroline Bach/Alexis Wiest who share the role of Jane.
Performances are Tuesday-Saturday at 7:30 p.m. and Saturday-Sunday at 3 p.m. Tickets are $30-$45 and can be purchased at www.thelegacytheatre.org or by calling the Box Office at 404-895-1473.
The Legacy Theatre is located at 1175 Senoia Rd. in Tyrone.