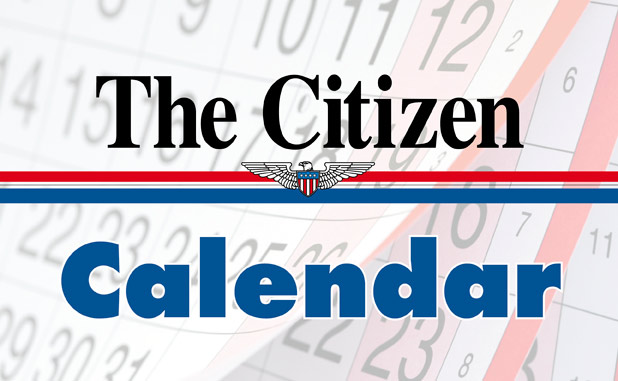 June
June 15
Piedmont Fayette Fitness Center will present a one-hour "Better Balance" seminar today at 1 p.m. in the Floy Farr Room of the Peachtree City Library.
The CDC recently reported that 2.5 million older people are treated in emergency departments for injuries related to falls and that one out of five falls causes a serious injury. Falls are also the most common cause for traumatic brain injuries. Lower body weakness and difficulties with walking and balance are two risk factors and classes like "Better Balance" aim to reduce those factors.
This event is free and open to the public. No registration is required.
Piedmont Fayette Fitness Center has partnered with Peachtree City Library this summer to offer free educational and fitness related events as part of the library's Summer Reading Program. For more details, visit www.peachtree-city.org/library.
First Presbyterian Church in Peachtree City is having a prayer vigil for the Orlando victims at 5:30 in the sanctuary. All are welcome.
June 16
The Greater Fayette Republican Women's Club will meet for lunch today at 11:30 a.m. at Crosstown Grill, 620 Crosstown Road in Peachtree City (in the Braelinn shopping center). The meeting theme is Flag Day, celebrated June 14, commemorating the adoption of the flag of the United States. The speaker will be Captain Janice Murphy, RN, who retired after 30 years in the National Guard and the Army Reserve. Captain Murphy served in Desert Storm, attached to the 1st Armored Division from Saudi Arabia to Iraq.
There will be a limited menu with a choice of Caesar salad with chicken or salmon, hamburger (with or without cheese) and fries, cold smoked salmon plate, Crosstown Chicken (grilled chicken breasts over mashed potatoes). All dishes are between $10-$15 without beverage, tax, tip. For more information, contact Debby Dickinson at 404-376-4132.
June 17
Fayetteville Main Street, along with Prime Bridal and Events, is hosting the second Lunch on the Lawn of 2016 this Friday. It takes place from 11:30 a.m. until 1:30 p.m. and everyone is welcome to participate in this community event. Firehouse Subs/Fayetteville will be selling box lunches for $5, or grab a lunch from around the square to bring over. Also, the MOM's Club of Fayetteville will offer homemade desserts, tea and lemonade to continue their fundraising efforts. Live music entertainment is provided by local artist Jason Bowen.This Friday marks the second of three Lunch on the Lawn events to be held this year. For info on other planned events in Downtown Fayetteville, please check the Main Street Calendar at www.fayetteville-ga.gov/events.
June 18
There will be a candlelight vigil honoring the victims of the Orlando shooting today from 7-8:30 p.m. in front of the old courthouse in the town square in Fayetteville. Attendees are asked to bring candles and blankets.
Georgia veterans of The Eighth Air Force will be at the Commemorative Air Force Dixie Wing Saturday, today at 11 a.m. to tell stories and answer questions about their role in disrupting the German war effort in World War II. The Eighth Army's heavy bombers and fighters played a key role and contributed substantially to the Allied victory in 1945.
Albert McMahan flew 25 missions as a ball and tail gunner in the early dark days of the Eighth Air Force, when there were no friendly fighter escorts. He flew with the famous 306th Bomber Group (the men the movie "Twelve O'Clock High" was written about). Henry Hughey flew with the 487th Bomber Group (Gentlemen from Hell) later in the war and completed 32 missions as a ball turret gunner. Henry was shot down once.
The Eighth Air Force was organized in Savannah Jan. 28, 1942. The largest force of its kind at the time, the "Mighty Eighth" was composed of 48 bomber groups, 21 fighter groups and three photo reconnaissance groups. The Eighth's headquarters, as part of the U.S. Army Air Forces (USAAF), moved to England In 1942, and remained there until the war's end. The fee to attend this Dixie Wing event is $10 for the public; admission is free to active military personnel. The Dixie Wing headquarters and museum are at 1200 Echo Ct., Peachtree City, adjoining Atlanta Regional Airport (Falcon Field). The Wing headquarters and museum will open at 9 a.m. For more information, or to schedule rides on Wing aircraft, visit www.dixiewing.org.
Today is the first Market Day event of 2016 on the grounds of the Historic Courthouse in Downtown Fayetteville. Fayetteville Main Street welcomes everyone to browse through a variety of vendors showcasing their homemade and homegrown products. The Market opens at 10 a.m. and closes at 2 p.m. Subsequent Market Days will be held on the third Saturday of every month, now through August, and on the fourth Saturday of September and October. Any vendors wishing to participate in future Market Days should call 770-719-4173. For info on other planned events in downtown Fayetteville, please check the Main Street Calendar at Fayetteville-GA.gov.
June 23
Cyberbullying protection, bullying and teen suicide, model school intervention programs, and community anti-bullying initiatives are among the issues that will be addressed in Auburn University's sixth international Anti-Bullying Summit.
The Summit, hosted by Auburn University's Truman Pierce Institute and Office of Professional and Continuing Education will take place June 23-24 at the Wyndham Peachtree Conference Center in Peachtree City. Keynote presenters include Dr. Sameer Hinduja, Judge Steven Teske, Dr. Rebecca Ang, and Ms. Trish Prabhu. The Summit will also offer over 30 breakout sessions. The Summit is open to anyone, but registration is required. For more information or to register for the Anti-Bullying Summit, visit www.auburn.edu/antibullying or contact Ben Pierce (piercbs@auburn.edu or 334-844-5100).
June 25
Members of the Fayette County Amateur Radio Club will participate in the national Amateur Radio Field Day exercise June 25-26 at the Scout Hut behind the Fayetteville First United Methodist Church Office, 170 Lanier Avenue East in Fayetteville. This event is open to the public 4-5 p.m. Saturday and all are encouraged to attend.
Local hams also provide backup communications for local events such as walks, runs, cycling and even hot air balloon events. They are also involved with the Fayette County Emergency Management Center, the 911 Call Center, the Amateur Radio Research League and the National Weather Service. Over the weekend, the public will have a chance to meet and talk with Fayette County Ham Operators and see them communicating with other ham operators all over the United States. Last year over 35,000 hams participated. For more information on Fayette County Ham Radio Club's Field Day, June 25-26, please visit http://www.arrl.org/field-day.
June 26
A special Freedom Celebration is scheduled for today at 6:30 p.m. at Coweta County's Centre for the Performing and Visual Arts.
Guest speakers include: Lt. Col. (Ret.) Brian Birdwell, who survived the crash of Flight 77 on 9/11 as he was only 30 yards from impact at the Pentagon. He now serves as Texas state senator. Lt. Col. (Ret.) Barry Bridger, whose Phantom jet was shot down in North Vietnam and who spent six years as a POW at the Hanoi Hilton. The guest soloist is Tiffany Coburn, who after touring with Sandi Patty and TRUTH has been one of the staple members of the Voices of Liberty at Disney World's Epcot Center in Orlando.
The program will also feature the combined sanctuary choirs and orchestras of First Baptist Church in Newnan and Flat Creek Baptist Church in Fayetteville.
June 29
The Newnan-Coweta Chamber will host a "State of Education" Lunch Wednesday, today from 11:30 a.m.-1 p.m. at the Newnan Country Club, 1356 Highway 29 North in Newnan. Speakers will include Coweta County Schools Superintendent Dr. Steve Barker, University of West Georgia Provost Michael Crafton, Ph.D., and West Georgia Technical College President Steve Daniel. They will share our community's progress and achievements in education during the past year and highlight future goals. The Chamber's "State of Community" Lunch Series kicked off in March with a focus on local government and featured reports from city and county administrators.
The "State of Healthcare" Lunch is set for Oct. 5 and will feature CEOs from three local hospitals: Piedmont Newnan Hospital, Cancer Treatment Centers of America, and HealthSouth Rehabilitation Hospital.
The "State of Education" Lunch June 29 is sponsored by Newnan CEO. Registration for the lunch is $35 for Chamber members and their guests and $50 for general admission.
For more information, call 770-253-2270 or email info@newnancowetachamber.org.
July
July 6
"There's a Hack for That: Garden Edition" is today from 1-2 p.m. at Fayette Senior Services' Fayetteville location (The Life Enrichment Center, 4 Center Drive). There is always a way to simplify your gardening experience; you just have to figure out the right trick of the trade. Bonnie Helander teaches us the most useful hacks to use around our garden. Learn easier, simplistic, and less expensive hacks to use from home remedies, keeping critters away, how to create less stress on our bodies and more.This program is free but pre-registration is required at 770-461-0813 or email register@fayss.org (include name, phone number and event title). FSS members and non-members welcome. For more information visit www.fayss.org.