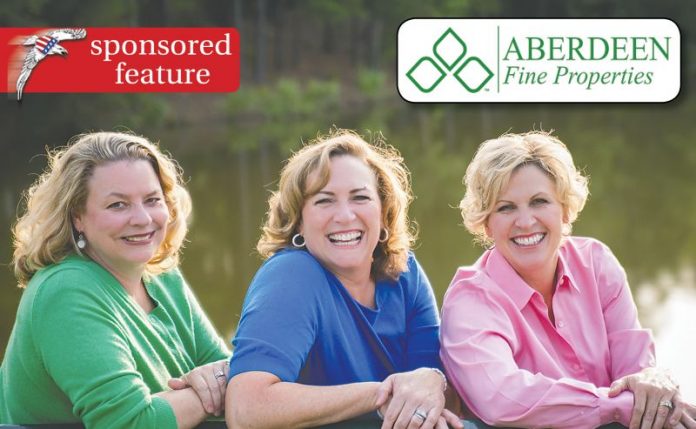 Sponsored Feature
Aberdeen Fine Properties is truly a family affair in Peachtree City.
In 2015, sisters Linda Sorrow, Lee McKinney and Kay Lloyd, formerly The Henson Team Realtors, began a new real estate brokerage firm, Aberdeen Fine Properties, Inc.
The name was inspired by one of Peachtree City's first villages where they grew up and know the area well. Today, Aberdeen Fine Properties enjoys success as a full service real estate brokerage firm selling homes and land throughout Fayette and Coweta counties. Serving clients involved in settling estates and assisting seniors is a specialty. Linda is the Broker and a Senior Real Estate Specialist and enjoys helping mature buyers and sellers find options to downsize.
Aberdeen Fine Properties offers professional service in helping sellers price their homes correctly when listing for sale. Lee is an appraiser and can assist sellers with this important process and advise buyers when making an offer on a home.
"Selling or buying a home is not an everyday occurrence for our clients and we appreciate the important financial and emotional decisions made during this time and work hard to make it a pleasant experience," says Lee McKinney. "Lee answered every one of my questions (and being a first time home buyer, I had many), and notified me immediately of any changes or news that came about the home I was trying to buy," shared Lacie.
Linda and Lee were recently recongized by the Fayette County Board of Realtors with the Circle of Achievement Award for 2015.
Kay, a Delta Air Lines flight attendant, is also an enthusiastic realtor and Accredited Buyer Representative working with Aberdeen Fine Properties. "From the initial property visit through negotiations and successful closing, Kay was helpful and a truly valuable resource in purchasing a short sale property. I could not have asked for better service, and I highly recommend Aberdeen Fine Properties." said clients Sharon and Mike.
The local real estate market is strong in Fayette and Coweta counties, call Aberdeen Fine Properties today with your real estate needs. Visit the website at www. AberdeenFP.com or Aberdeen Fine Properties on Facebook and see their 5-star reviews on Zillow.com.
Pictured above, sisters Linda Sorrow, Lee McKinney and Kay Lloyd work together in Aberdeen Fine Properties.