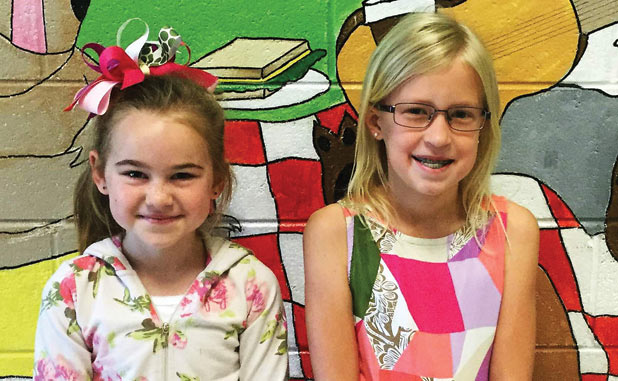 Three Coweta County School System students, from Canongate Elementary School and the Central Educational Center's eighth grade academy, have been named as regional winners in the Young Georgia Author's writing contest.
Sara Lyle won the eighth grade level of the regional competition for her poem "The Bird of Sapphire Wings." Lyle is a student in CEC's eighth grade academy and Arnall Middle School.
Canongate Elementary School's Reigan Justice won among first grade students region-wide for her story "President for a Day," and Canongate student Lila McDowell won among second grade students region-wide for her story "The Machine."
West Georgia RESA recently announced regional winners for the 2016 Young Georgia Authors Writing Competition. The Young Georgia Authors Writing Competition is held statewide each year to encourage students to develop enthusiasm for and expertise in their writing. The competition is sponsored by the Georgia Council Teachers of English, said school system spokesman Dean jackson.
In the annual competition, Coweta County schools select student winners for each grade level on their merits of original writing submission of any medium. School grade-level winners are then eligible to be selected as grade-level winners representing the county in the regional contest.
The three students announced as region winners were among the 13 Coweta County winners representing each grade level, Kindergarten through 12th grade, from entrants among Coweta's 19 elementary schools, six middle schools and three high schools.
County winners were selected in March. They were:
• Kindergarten – Eastside Elementary, Gage Morris, for "This is My Parents"
• First Grade – Canongate Elementary, Reigan Justice, for "President for a Day"
• Second Grade – Canongate Elementary, Lila McDowell, for "The Machine"
• Third Grade – Jefferson Parkway Elementary, Faith Rideout, for "Orange"
• Fourth Grade – Brooks Elementary, Ariel McCollough, for "Here I Go"
• Fifth Grade – Canongate Elementary, Julia Stewart, for "A Slightly Strange Spy"
• Sixth Grade – Evans Middle School, Whitney Wallace, for "The Gift"
• Seventh Grade – Madras Middle School, Mable Gangi, for "Cracks in the World's Cold Heart"
• Eighth Grade – Central Education Center, Sara Lyle, for "The Bird of Sapphire Wings"
• Ninth Grade – Northgate High School, Kassie Wall, for "An Untraditional Love Story"
• 10th Grade – Northgate High School, Sammer Heuvel, for "Perspective"
• 11th Grade – Northgate High School, William Henry, for "Beyond What You Can Dream"
• 12th Grade – Northgate High School, Kristen Foley, for "The Death Grip