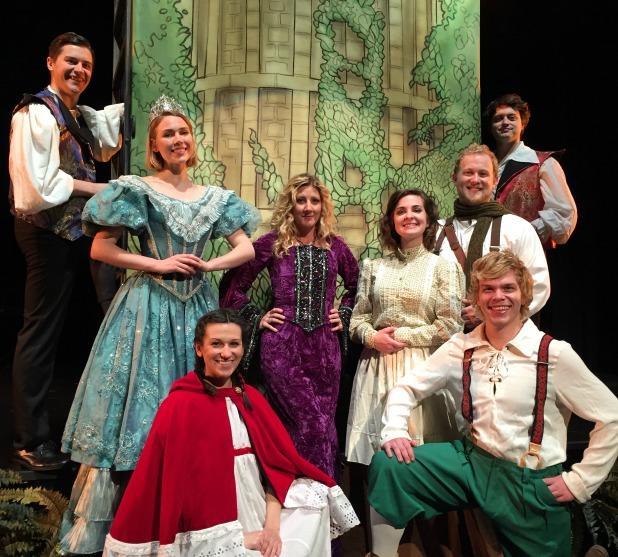 The Legacy Theatre opens the musical "Into the Woods" April 15 and the production will run until May 8.
This Broadway show, made even more popular by the 2014 movie, follows fairytale characters seeking love, family and their hearts' desires. The Baker and his wife wish to have a child, Cinderella wants to find her prince, and Jack (of beanstalk fame) simply wants his cow to give milk. When the Baker and his wife learn they've been victims of a witch's curse, they set out to break the spell. Their journey begins into the woods where the wishes are granted, but with disastrous results.
This is the first time we've produced a Sondheim show," said executive producer Bethany Smith, "It's a big undertaking, but we've got an amazing cast and crew. I can't wait to share this story with our audiences."
Smith, who is also the resident choreographer, dons another hat in this production: a pointed one. Bethany will be starring as the Witch, a role previously played by icons including Bernadette Peters, Vanessa Williams and Meryl Streep.
The show is directed by Mark Smith, the Legacy's artistic director. "This show is a fairy tale for modern audiences," said Smith. "The themes are universal and even though audiences will recognize the characters, it's not your typical happily ever after ending. The music is incredible and the show is full of humor. It has something for everyone."
In addition to Bethany Smith, The Legacy's professional production stars regular Legacy performers including Nick Crawley, Paul Glodfelter, Jeremiah Parker Hobbs, Katie Patterson, Nancy Riggs, Justin Thompson, Sarah Vinson, Chance Wall, and Leah Parris, who is making her Legacy debut. The show is accompanied by musicians Becky Clark, Bert Groover and Paul Tate.
Performances are Fridays and Saturdays at 8 p.m. as well as Saturdays and Sundays at 3 p.m. Tickets are $30-$45 and can be purchased at www.thelegacytheatre.org or by calling the box office at 404-895-1473. The Legacy Theatre is at 1175 Senoia Rd. in Tyrone.