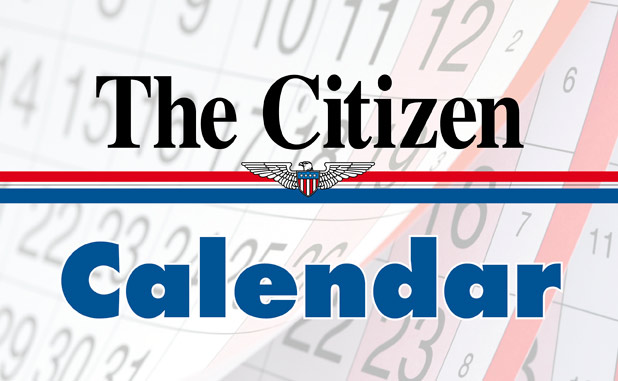 April
April 7
The Greater Fayette Republican Women's Club will be meeting for dinner at Tim's Country Kitchen, 221 Banks Station, Fayetteville, today at 6 p.m.. The guest speaker will be Ginger Howard, who is running for RNC National Committeewoman from Ga. The buffet dinner is about $10 per person including beverage, dessert, and tax. For more information, contact Debby Dickinson (ptcdebby@bellsouth.net/404-376-4132.
April 8
"One More Generation" will be spotlighted today from 1-2 p.m. at Fayette Senior Services' Fayetteville location (The Life Enrichment Center, 4 Center Drive).
Carter and Olivia Reis are two incredible kids with a heart of gold and passion for a cause that is making a difference all over the world. Olivia (then 7) and Carter (then 8) founded the nonprofit One More Generation that helps protect animal species around the world. With the help of their family this nonprofit has grown exponentially since beginning, with coordinators and help all over the globe. Hear the incredible journey of these two amazing kids and what they are doing to make a difference. This program is free but pre-registration is required at 770-461-0813 or register@fayss.org (include name, phone number and event title). FSS members and non-members welcome. For more information visit www.fayss.org.
April 9
In celebration of one of America's favorite pastimes, the Southern Crescent Storytellers will perform a storytelling concert at First United Methodist Church, 175 E. Lanier Ave., Fayetteville today at 2 p.m. The popular local storytelling group will present entertaining tales about the game of baseball and its players. The program includes special recognition of currently active tee ball, baseball, and softball players in our community. Admission is free, ball park refreshments are free, and the prize drawing is free! For further information about Southern Crescent Storytellers, please visit www.southernorderofstorytellers.org and Facebook pages, "Southern Crescent Storytellers" and "Georgia Storytelling Events."
New Coweta County homeowners can discover what local gardeners have known for years: the Coweta County Master Gardener Extension Volunteers' (MGEVs) Spring Plant Sale Saturday, April 9, is a great place to buy plants that will make their yards look great.The sale takes place from 8:30 a.m. until 1 p.m. at the Coweta County Fairgrounds Agriculture Building, 275 Pine Road in Newnan. All plants for sale have been propagated or grown by MGEVs. Preparations for the sale provide MGEVs with hands-on experience in plant care that they pass on to the community.
April 12
In recognition of April as National Lawn Care Month, the UGA Extension Office in Fayette County is hosting a free class on warm season lawns scheduled today from 9 a.m.-noon in Suite 210 of the county administrative complex (next door to the Extension Office). The class is limited to 30 participants. RSVP at uge2113@uga.edu and provide the name(s) of those attending and a phone contact, or call the office at 770-305-5412.
April 13
The Line Creek Civitan Club and Georgia District Civitan Foundation are sponsoring the 11th annual Civitan "Leave No One Behind" golf tournament to benefit community charities supporting developmentally challenged youth and adults. The event is today at 9 a.m. at Braelinn Golf Club, 500 Clubview Drive in Peachtree City.
Registration includes 18 holes of golf, cart, range balls, refreshments and post-tournament lunch. A two-year use of a 2014 Lexus RX350 SUV is offered by Lexus of South Atlanta and a golf cart is offered by Bulldog Supply of Peachtree City for the hole-in-one contests.
The tournament is a four-person/Ft. Lauderdale scramble format. Entry fee is $100 per player or $350 per team for a four-person team registration if paid before March 15.
For pre-registration and additional information, contact: Will Griffin (678) 409-5626 lccc.wg@gmail.com., Rick Howell, (404) 450-3618 rick.howell@gmail.com., Mike Lossner (770) 631-8757 mdlossner@yahoo.com., Wayne Howell (770) 716-0571 hwhowell@me.com. or Debbie Clanton (770) 4016944 debbie_clanton@att.net.
April 16
Join us today at Huddleston Elementary School for this year's Huddleston Hustle. The Kids' Fun Run (.5 mile) begins at 8 a.m. followed by the Kids' Marathon (1 mile). The 5K race will begin following both of these events. Registration is $12 for the Fun Run, $15 for the Kid's Marathon and $20 for the 5K event. A no T-shirt option will be $15. For more information and sponsorship opportunities, go to www.huddlestonelementary.org. Registration by March 31 will guarantee a T-shirt. Race packets may be picked up April 15 from 3:15-6 p.m. in the school gym or the morning of race day.
AVPRIDE is saying "Aloha!" again this year at its annual Hawaiian Run Thingy. This uniquely-named community gathering combines Hawaiian shirts and grass skirts, tastes of Hawaii, and fun activities for everyone. It will all take place today beginning at 4 p.m. at Shakerag Knoll, 192 McIntosh Trail in Peachtree City.
This year, AVPRIDE has added a certified 10K race. AVPRIDE will again feature a 5K race, and a 1-mile fun run, walk, and roll (for wheelchair racers).
One of last year's exhibitors, TCBY Yogurt, will be back again this year. SNAZ" – Special Needs Accommodation Zone – will be on site at Run Thingy, providing a safe environment for comfort and care of families. Truett's Luau will be at the grill preparing fresh Hawaiian burgers and yummy sides for dinner.
For more information and to register for the 10K, 5K, 1-mile fun walk/run or the 50-yard roll, visit www.runthingy.com.
Peachtree City's eighth annual Monopoly tournament is scheduled for today at Partners II Pizza, 215 Northlake Drive. Registration is now open by contacting PTCMonopoly@gmail.com. Each contestant must provide his or her name, age, email address, phone number and physical address. Entrants should also let organizers know whether they wish to have lunch at Partners. All players will receive an email reply confirming registration. This year the first 128 to register will be guaranteed a seat in the tournament.
For more information, visit the "Peachtree City Monopoly Group" page on Facebook.
April 21
"A Day at the Races" fashion show and dinner is scheduled for today from 5:30-8 p.m. at Fayette Senior Services' Fayetteville location (The Life Enrichment Center, 4 Center Drive).
The Derby Days of spring are upon us so put on your best hats and gallop over for an all new look to your spring wardrobe. Learn all about the new spring fashions, enjoy an elegant dinner prepared by Chef Bonnie, and join the fun. Models feature men and women alike – Fayette Women cover ladies and FSS members, volunteers, and community icons. The show promises to be full of door prizes, laughter, food and fun. Sponsored by Serenity Hospice, Christian City, and Accounting Resources. This program is $25 and includes dinner. Pre-registration is required at 770-461-0813 or stop by any location to purchase a ticket. FSS members and non-members welcome. For more information visit www.fayss.org.
A nonprofit organization known as Fayette County Grandparents and Kin Raising Children is hosting a special event today for grandparents, connected caregivers, relatives and professionals. "Chat, Chew & Chime In" is scheduled for today from, 9:30 a.m.-1:30 p.m. at Covenant Presbyterian Church, 819 Hwy. 314 in Fayetteville.
Several guest speakers are scheduled. A number of vendors will be on hand representing various local agencies with information that is helpful for families.
Lite breakfast and lunch provided. To RSVP, contact Angelica Cope at 678-552-5296 or Queen Gordy at 770-716-9711.
April 23
The Fayette County Chess Tournament will take place today from 9:30 a.m.-2:30 p.m. at Inman Elementary School, 677 Inman Road in Fayetteville.
Inman teacher Charlie Harper, sponsor of the school's chess club, came up with the idea of having a Fayette County tournament last year. Registration is $20 per person on the day of the tournament, or $15 per person by pre-registering online at http://tinyurl.com/inmanchess. The registration fee includes two slices of pizza and a drink. Payments of either cash or check will be collected at the door. No credit or debit cards accepted. Check-in and registration is from 8:30-9:30 a.m. Pre-event briefing and pairings will begin at 9:45 a.m., the first round will start promptly by 10 a.m. The tournament is open to players of any age, skill-level, and county of residence. All players will participate in five rounds of competition regardless of performance. Game clocks will be used with rounds lasting 40 minutes with no delay.
Awards will be given to the top five placements in each section. All players will receive a certificate of participation.
More information is available at http://tinyurl.com/inmanchess or by contacting Charlie Harper at harper.charles@mail.fcboe.org.
April 24
Join us for our annual Sorority Information Session sponsored by the Atlanta Southern Crescent Alumnae Panhellenic Association. Open to ALL interested high school senior and junior girls and their moms and dads. Learn more about sorority membership, get help with your recommendations and hear tips for a successful recruitment from current sorority members! The Keynote Speaker is Kitty DeKieffer, Alpha Chi Omega. The event is free and will be held at St. Paul Lutheran Church and School, 700 Ardenlee Parkway, PTC. For questions or more information check the website: www.ascapa.org or send an email to Cele Eifert at ron-cele@att.net or Donna Duff at ptcduff@aol.com
April 26
"Virtual Vacation" is scheduled for today from 10-11 a.m. at Fayette Senior Services' Peachtree City location (McIntosh Place, 191 McIntosh Trail.
Take a [virtual] leap across the pond for a visit to learn all about ancient Rome. Ellen and John Minette share their expertise on one of their favorite European cities. Learn about the most popular hot spots, the stunning architecture, and history landmarks that are a must-see. This virtual trip will have you feeling like you are on a tour of this beautiful city.
This program is free but pre-registration is required at 770-461-0813 or register@fayss.org (include name, phone number and event title). FSS members and non-members welcome.
For more information visit www.fayss.org.
April 29
"Declutter Your Life" is scheduled for Friday, today from 11 a.m.-noon at Fayette Senior Services' Fayetteville location (The Life Enrichment Center, 4 Center Drive).
It's time for spring cleaning. Mary and Danielle with Go 2 Girls will cover that is needed to know about decluttering and organizational tips to put your spring cleaning into full gear. Get tips on maximizing the most of the space in your home and ways to make your home more functional and clutter free in no time.
This program is free but pre-registration is required at 770-461-0813 or register@fayss.org (include name, phone number and event title). FSS members and non-members welcome.
For more information, visit www.fayss.org.
April 30
The Coweta County GOP and Coweta County Republican Women are sponsoring a candidate forum today from 9 a.m.-noon at the Carnegie Library, 1 LaGrange Street in Newnan. Candidates running for the U.S. Senate, the U.S. House of Representatives' Third Congressional District and State Senate District 28 have been invited to attend.
This event will be open to the public and free of charge. Everyone is encouraged to come hear and meet the candidates. Have a specific question for the candidates? Send them to CCRWomen@yahoo.com with "candidate forum question" in the subject line. All questions will be considered but only limited number can be chosen.
The Fayette County Band Boosters are having their annual charity golf tournament today This annual tournament raises money for the band general fund, and this fund will be used for a variety of needs, from purchasing new instruments to offering scholarships to students who would be otherwise unable to afford to be in the marching band. Registration is at noon, with ashotgun start at 1:30 p.m. at Whitewater Country Club. Information and registration is available at fayetteGolf2016@eventbrite.com.
May 15
Promise Place is hosting its first annual "Promise Place Scavenger Hunt" Sunday, May 15. Participating teams will drive around the city of Fayetteville following 10 clues and the top three teams will be awarded prizes.
The scavenger hunt begins at 5 p.m. at Heritage Park in Fayetteville, and will conclude when the last team reaches the final destination. Tickets are $30 per person, and individuals are encouraged to form teams.
For tickets, visit www.promiseplace.org or call Wendi Bozeman at 770-461-3839 ext. 112.
May 28
The Coweta Community Foundation will host the Saturday Down South Sporting Clays and Southern Supper today from 12:30-10 p.m. at Blalock Lakes Sporting Club. The Sporting Clays portion of the day begins with lunch at 12:30. Participants and guests are welcome for a hunter casual evening of awards, a Southern supper, auction and music beginning at 5:30 p.m. To purchase tickets or sponsorships or to register teams online, visit www.cowetafoundation.org or call 770-253-1833 or email info@cowetafoundation.org.
The Coweta Community Foundation is a publicly supported 501(c)3 organization that helps focus local philanthropy on the community's changing needs. The Foundation manages individual gifts and bequests as an endowed pool of assets, distributing grants to a wide variety of organizations that enhance and support the quality of life in Coweta County, while maintaining the charitable intent of the donors. For more information, call the Foundation at 770-253-1833.