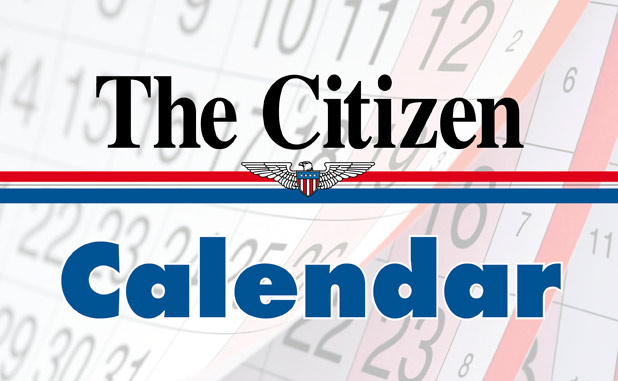 April
.April 20
"Come Fly Away" is today from 11 a.m.-noon at Fayette Senior Services' Peachtree City location (The Gathering Place, 203 McIntosh Trail).
Come fly away with Carol Gaddis of Hartsfield Jackson International Airport as she gives us insight and tips into making our airport travels safer and smoother. Get an overview of the ways of the airport from ground transportation and parking, airport amenities, pre-check, security and travel tips and make your airport travels easier.
This program is free but pre-registration is required at 770-461-0813 or email register@fayss.org (include name, phone number and event title). FSS members and non-members welcome. For more information visit www.fayss.org.
April 21
"A Day at the Races" fashion show and dinner is scheduled for today from 5:30-8 p.m. at Fayette Senior Services' Fayetteville location (The Life Enrichment Center, 4 Center Drive). The Derby Days of spring are upon us so put on your best hats and gallop over for an all new look to your spring wardrobe. Learn all about the new spring fashions, enjoy an elegant dinner prepared by Chef Bonnie, and join the fun. Models feature men and women alike – Fayette Women cover ladies and FSS members, volunteers, and community icons. The show promises to be full of door prizes, laughter, food and fun. Sponsored by Serenity Hospice, Christian City, and Accounting Resources. This program is $25 and includes dinner. Pre-registration is required at 770-461-0813 or stop by any location to purchase a ticket. FSS members and non-members welcome. For more information visit www.fayss.org.
A nonprofit organization known as Fayette County Grandparents and Kin Raising Children is hosting a special event today for grandparents, connected caregivers, relatives and professionals. "Chat, Chew & Chime In" is scheduled for today from, 9:30 a.m.-1:30 p.m. at Covenant Presbyterian Church, 819 Hwy. 314 in Fayetteville.
Several guest speakers are scheduled. A number of vendors will be on hand representing various local agencies with information that is helpful for families.
Lite breakfast and lunch provided. To RSVP, contact Angelica Cope at 678-552-5296 or Queen Gordy at 770-716-9711.
April 22
Fayetteville Main Street, along with Heritage Bank, is excited to kick off the spring season with its first Lunch on the Lawn program of 2016.
Capping off "Georgia Cities Week," this Friday, Lunch on the Lawn will provide a wonderful opportunity for local employees and residents to get outside on their lunch break, and enjoy the beautiful weather and music on the Historic Courthouse lawn.
Lunch on the Lawn takes place from 11:30 a.m. until 1:30 p.m. and everyone is welcome to participate in this community event.
Chick-fil-A box lunches are $6, or grab a lunch from around the square to bring over. Also, the MOM's Club of Fayetteville will offer homemade desserts and lemonade to continue their fundraising efforts. Live music entertainment is provided by The Goodfellas Band, pictured above.
This Friday marks the first of three "Lunch on the Lawn" events to be held this year. For info on other planned events in downtown Fayetteville, check the Main Street Calendar at www.fayetteville-ga.gov/events.
The McIntosh Choral Department is expecting another sell out this year for its upcoming Spring Gala. This year's show is entitled "Broadway" and will feature both song and dance routines and run April 22-23. Once again, professional choreography has been incorporated into the musical performances, elevating the quality of the entertainment. The event also features a live professional band. The production includes some of the best loved songs from Broadway. In addition to the performances, there will also be a silent auction that includes a lot of bargain opportunities on dining, vacations, concerts and much more. Since the Spring Gala performances sold out last year, the Choral Department is urging that tickets be purchased in advance over the Internet to avoid long lines and losing out on available seating. Showtimes are 7 p.m. Friday and Saturday, April 22-23, as well as 2 p.m. Saturday. Tickets prices are $7 for students and $10 for adults. The best seats will be in the reserved seating option sold online. Purchase your tickets online at https://ticketriver.com/event/19377.
April 23
The Fayette County Chess Tournament will take place today from 9:30 a.m.-2:30 p.m. at Inman Elementary School, 677 Inman Road in Fayetteville.
Inman teacher Charlie Harper, sponsor of the school's chess club, came up with the idea of having a Fayette County tournament last year. Registration is $20 per person on the day of the tournament, or $15 per person by pre-registering online at http://tinyurl.com/inmanchess. The registration fee includes two slices of pizza and a drink. Payments of either cash or check will be collected at the door. No credit or debit cards accepted. Check-in and registration is from 8:30-9:30 a.m. Pre-event briefing and pairings will begin at 9:45 a.m., the first round will start promptly by 10 a.m. The tournament is open to players of any age, skill-level, and county of residence. All players will participate in five rounds of competition regardless of performance. Game clocks will be used with rounds lasting 40 minutes with no delay.
Awards will be given to the top five placements in each section. All players will receive a certificate of participation. More information is available at http://tinyurl.com/inmanchess or by contacting Charlie Harper at harper.charles@mail.fcboe.org.
Officials in Tyrone invite the community to join them for the Wounded Warrior Project Soldier Ride scheduled for today.
The event starts at 9 a.m. at Southern Crescent Church. Warriors will ride down Senoia Road at 10:15, ending at 11:30 at Southern Crescent Church. Attendees are encouraged to bring family and friends as well as flags, signs and spirit to cheer on WWP alumni. Soldier Ride is a four-day cycling experience that provides WWP Alumni with the unique opportunity to use cycling and the bonds of service to overcome physical, mental, and emotional injuries.
For more information about Soldier Ride, visit soldierride.org.
The 2016 Spring Sampler, a fundraising event benefiting the Starr's Mill High School band program, is today from 11 a.m.-2 p.m. at the Frederick Brown Jr. Amphitheater in Peachtree City (performances will conclude at 2:30).
Tickets are $10 in advance or $12 the day of the event. The Spring Sampler gives local restaurants and businesses the opportunity to showcase "samplers" to advertise and promote themselves while supporting high school band students. The 2015 inaugural Spring Sampler featured over seventeen restaurants and over 700 attendees. Ticket holders are allowed six samples and one soft drink while enjoying live music on the main stage provided by Starr's Mill High School musicians. Featured music groups include various a Capella choirs, student-led music groups, and our state-recognized Swingin' Starrs Jazz Band.
The annual Fayette County Earth Day Festival is today from 10 a.m- 3 p.m. at Shakerag Knoll in Peachtree City.There will free on-site shredding, green market vendors, children's educational activities, entertainment, food and fun. For vendor or visitor Information visit www.fayettecountyearthday.org.
April 24
Join us for our annual Sorority Information Session sponsored by the Atlanta Southern Crescent Alumnae Panhellenic Association. Open to ALL interested high school senior and junior girls and their moms and dads. Learn more about sorority membership, get help with your recommendations and hear tips for a successful recruitment from current sorority members! The Keynote Speaker is Kitty DeKieffer, Alpha Chi Omega. The event is free and will be held at St. Paul Lutheran Church and School, 700 Ardenlee Parkway, PTC. For questions or more information check the website: www.ascapa.org or send an email to Cele Eifert at ron-cele@att.net or Donna Duff at ptcduff@aol.com.
The seventh annual American Cancer Society's Fayette County Bark For Life event is scheduled for today from 1-4 p.m. at Shakerag Knoll, 201 McIntosh Trail in Peachtree City.
This family-oriented event features good food, music, a demonstration from the Fayette County K-9 Unit, games, contests, door prizes, doggie games and lots of fun activities, including an agility course for your dog. Teams and sponsors are invited to participate and have their own table at the event. Individual registrants receive a T-shirt, a bandana for each dog and a "swag bag" full of great doggie items and coupons.
Bark For Life is an official Relay For Life event that honors the lifelong contributions of our canine companions and how their unconditional love and support can be so important in our lives, especially when facing a devastating disease like cancer. Every dog lover and person who has been close to a cancer experience in their life is invited to participate. All proceeds go directly to the annual Fayette County Relay For Life goal and, your Relay For Life team will receive credit for all funds raised during Bark For Life.
For more information, visit www.relayforlife.org/barkfayettega.
April 25
The South Metro Rose Society meets todayat 6:30 p.m. at The Heritage Bank at 440 N. Jeff Davis Drive in Fayetteville. All rose growers from novice to expert are invited to attend free of charge. This month's program features Cindy Dale speaking about how the American Rose Society classifies roses and how each rose class can best be used in your landscape. Her talk will be illustrated by lots of photos. If you've always wanted to grow roses but don't know where to start, help is here! As always, Consulting Rosarians will be available to answer questions on any rose topic. For more meeting information call 770-776-7123.
April 26
"Virtual Vacation" is scheduled for today from 10-11 a.m. at Fayette Senior Services' Peachtree City location (McIntosh Place, 191 McIntosh Trail.
Take a [virtual] leap across the pond for a visit to learn all about ancient Rome. Ellen and John Minette share their expertise on one of their favorite European cities. Learn about the most popular hot spots, the stunning architecture, and history landmarks that are a must-see. This virtual trip will have you feeling like you are on a tour of this beautiful city.
This program is free but pre-registration is required at 770-461-0813 or register@fayss.org (include name, phone number and event title). FSS members and non-members welcome.
For more information visit www.fayss.org.
Prevent Child Abuse (PCA) Fayette, a program of FACTOR, is preparing for its seventh annual benefit dinner scheduled for today. This year's event, "Turn on the Lights: The Magic of Prevention", will feature Eric Anderson – The Magician with a Message. The evening will also include dinner, entertainment by the Starr's Mill Jazz Band, plus opportunities to win prizes. Wait staff for the evening will include judges, school principals, attorneys, fire fighters, and more. These community leaders have volunteered as a way to support the children of Fayette County. And new this year, guests can pick their favorite server! By visiting www.fayettefactor.org/events and casting a vote, guests can help one lucky server receive a prize the night of the event.
The event will be at Spring Hill Elementary School, 100 Bradford Road in Fayetteville. Doors open at 6:30 p.m. Proceeds from the event will help fund "Darkness to Light – Stewards of Children" child abuse prevention training for 1,000 adults in Fayette County.
Guests can purchase individual or couples tickets, or sponsor 4- or 8-seat tables. For more details, call Becky Smith at 404-291-1602. To learn more, visit www.fayettefactor.org.
April 28
The Fayette County branch of the NAACP, along with associated political parties and civic organizations, will sponsor a candidate meet-and-greet today from 6-8:30 p.m. at the Fayette County Public Library, 1821 Heritage Park Way in Fayetteville. Candidates for local, state and national offices are being invited in an effort to help local citizens become more informed voters. Light refreshments will be served. "Meet and greet candidates for upcoming May 24 primary," according to a statement. "Find out firsthand their position on pressing issues. Discover how they plan to help you and your community. See where they stand on issues important to you and your family." For more information, visit www.fcnaacp.org.
April 29
"Declutter Your Life" is scheduled for Friday, today from 11 a.m.-noon at Fayette Senior Services' Fayetteville location (The Life Enrichment Center, 4 Center Drive).
It's time for spring cleaning. Mary and Danielle with Go 2 Girls will cover that is needed to know about decluttering and organizational tips to put your spring cleaning into full gear. Get tips on maximizing the most of the space in your home and ways to make your home more functional and clutter free in no time.
This program is free but pre-registration is required at 770-461-0813 or register@fayss.org (include name, phone number and event title). FSS members and non-members welcome.
For more information, visit www.fayss.org.
April 30
The Coweta County GOP and Coweta County Republican Women are sponsoring a candidate forum today from 9 a.m.-noon at the Carnegie Library, 1 LaGrange Street in Newnan. Candidates running for the U.S. Senate, the U.S. House of Representatives' Third Congressional District and State Senate District 28 have been invited to attend.
This event will be open to the public and free of charge. Everyone is encouraged to come hear and meet the candidates. Have a specific question for the candidates? Send them to CCRWomen@yahoo.com with "candidate forum question" in the subject line. All questions will be considered but only limited number can be chosen.
The Fayette County Band Boosters are having their annual charity golf tournament today This annual tournament raises money for the band general fund, and this fund will be used for a variety of needs, from purchasing new instruments to offering scholarships to students who would be otherwise unable to afford to be in the marching band. Registration is at noon, with ashotgun start at 1:30 p.m. at Whitewater Country Club. Information and registration is available at fayetteGolf2016@eventbrite.com.
Promise Place is hosting its first annual "Promise Place Scavenger Hunt" Sunday, May 15. Participating teams will drive around the city of Fayetteville following 10 clues and the top three teams will be awarded prizes.
The scavenger hunt begins at 5 p.m. at Heritage Park in Fayetteville, and will conclude when the last team reaches the final destination. Tickets are $30 per person, and individuals are encouraged to form teams.
For tickets, visit www.promiseplace.org or call Wendi Bozeman at 770-461-3839 ext. 112.
The Fayette Master Gardener Association is hosting a plant sale today from 8 a.m.-2 p.m. at the county's Stonewall Avenue government complex.
A wide variety of plants will be available for sale. They can be ordered in advance for pickup at the event. Contact the association at fayettemga@gmail.com before April 26 and the plants will be reserved until 11 a.m. Quantities are limited.
The Greater Fayette Republican Women's Club will host its 2016 Candidate Event today from noon-3 p.m. in Fayetteville at The Gazebo. This will be an outdoor meet-and-greet centered around the downtown gazebo with balloons, ice cream, and hot dogs. Anyone wishing to participate as a candidate or volunteer contact GFRWCGA@gmail.com. More details can also be found at www.greaterfayettegarepublicanwomen.org and on the group's Facebook page.
May
May 10
The theme for the Coweta County Master Gardener Extension Volunteers' Backyard Association meeting in May is "Liliaceous Gone Wild." It is scheduled for today at 7 p.m. at UGA Extension-Coweta County, 255 Pine Road in Newnan.
The guest speaker is Jim Rodgers from Nearly Native Nursery in Fayetteville. The rare and beautiful Cahaba Lily, also known as the "shoal lily," is being re-introduced into the Chattahoochee River near Columbus. Jim Rodgers will discuss the program to bring these lovely plants, which grow only in Georgia, South Carolina and Alabama, back to the Chattahoochee.
Admission is free. You need not register in advance to attend.
Phone 770-254-2620 or email uge2077@uga.edu to register for door prizes. Registration is not required but is preferred.
"Generations Online" is May 10, 12 and 17 from 10 a.m. until 11:30 a.m. at Fayette Senior Services" Peachtree City location (The Gathering Place, 203 McIntosh Trail).
This three-part series is your introduction to the iPad and internet., Grant Dow with Home Helpers of Georgia will teach us what we need to know about using the iPad. From the very basics to the web, email, and figuring out those apps, pictures and more you will leave with a better understanding. We will download this tutorial app for free for you to use at home after class is complete. This program is for the very beginner users. Limited to Apple iPad users and you must bring your iPad with you to class. This program is free but pre-registration is required at 770-461-0813 or email register@fayss.org (include name, phone number and event title). FSS members and non-members welcome. For more information visit www.fayss.org.
May 13
The American Cancer Society's Relay For Life is celebrating its 20th year in Fayette County. This year's Relay For Life event is today at Sandy Creek High School. Relay For Life is a community event. This year's theme is: "Paint Your World Purple".
Relay For Life is a fundraising event to benefit the American Cancer Society. Opening Ceremonies will start at 6:45 p.m. with the ceremonial Torch of Hope being brought into the track area and taken around the track by this year's Torch of Hope participants. There will be the celebratory Survivors' Lap, followed by the Caregivers joining their Survivor for another lap around the track, Interested in forming a team, registering as a cancer survivor, or finding out more information about Relay For Life? Please visit our event site at : www.relayforlife.org/fayettecountyga our Facebook page: www.facebook.com/RFLFayetteCo.GA or our Twitter page: www.twitter.com/fayetterelay
May 14
The Fayette County Spring Symposium is today from 9 a.m.-3 p.m. on the third floor of the Old Fayette County Courthouse on the square. Sessions will include:
Beneficial Insects and their Identification
Protecting Bees and Pollinators from Pesticides
Fayette County's Do's and Don'ts with Honeybees
Building Native Bee Condos for your Backyard
Cost is $25 and includes lunch, breaks and bee condo supplies. There will be door prizes, educational tables, and pesticide recertification opportunities. Lunch is sponsored by Truett's Luau. For more information and to register, call the Fayette County Extension Office at 770-305-5412.
May 16
The Coweta-Fayette Auburn Club will hold its annual social and dinner meeting today at Due South Southern Cuisine in Peachtree City. Travis Williams, Auburn University's linebacker coach, is the scheduled guest speaker. Williams played football for Auburn four years, winning All-SEC honors during the Tigers' unbeaten 2004 season and winning all-conference honors again in 2005. In 2004, he led Auburn in tackles, was second in 2005 and third in 2003. He won the Pat Dye Leadership Award for defense in 2004 and 2005.
The social hour will start at 6 p.m. with a southern buffet dinner at 7. A silent auction to benefit the "Whupper Lee Scholarship" fund will feature many desirable items. A football signed by Coach Gus Malzahn and other Auburn collectibles will be raffled. The cost is $35 per person if paid by May 6 and $50 after that date. Children 12 and under are $15 each. Reservations are required and can be made by mailing a check to: Coweta Fayette Auburn Club, P.O. Box 2346, Peachtree City, GA 30269.
For more information contact the club at cowetafayetteauburnclub@gmail.com or 678-467-3870. All Auburn fans are invited to attend.
May 28
The Coweta Community Foundation will host the Saturday Down South Sporting Clays and Southern Supper today from 12:30-10 p.m. at Blalock Lakes Sporting Club. The Sporting Clays portion of the day begins with lunch at 12:30. Participants and guests are welcome for a hunter casual evening of awards, a Southern supper, auction and music beginning at 5:30 p.m. To purchase tickets or sponsorships or to register teams online, visit www.cowetafoundation.org or call 770-253-1833 or email info@cowetafoundation.org.
The Coweta Community Foundation is a publicly supported 501(c)3 organization that helps focus local philanthropy on the community's changing needs. The Foundation manages individual gifts and bequests as an endowed pool of assets, distributing grants to a wide variety of organizations that enhance and support the quality of life in Coweta County, while maintaining the charitable intent of the donors. For more information, call the Foundation at 770-253-1833.