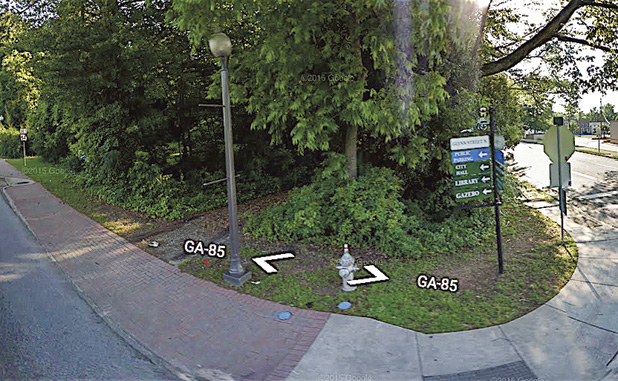 80 units just off Courthouse Square would feature 'affordable housing' with renters' incomes in $35K-$58K bracket, planners told
The Fayetteville Planning and Zoning Commission in April will hear a request that would establish 80 apartments and retail space on a 4.6-acre site just northwest of the Courthouse Square in downtown Fayetteville.
The proposal was a staff information topic at the March 22 meeting. The proposal is expected to get a formal hearing in April.
The proposal by Rea Ventures Group would establish a three-story building to house 80 apartments along with retail on the first floor facing North Glynn Street. The property is situated on 4.6 acres downtown, between Lafayette Avenue to the north, the 100-block of North Glynn Street to the east and a short distance from Lanier Avenue to the south. That's immediately south of Arby's and Captain D's restaurants and diagonally across the street from Dunkin' Donuts.
The request for the property would have it rezoned from C-1 (commercial) to PCD (planned community development).
The layout calls for 1-bedroom/1-bath units at 750 sq. ft., 2-bedroom/2-bath units at 1,055 sq. ft and 3-bedroom-2-bath units at 1,225 sq. ft. Plans call for 93 percent of the apartments to be one or two bedroom units. Rents will run from $640 per month to $1,200 per month.
The development is seeking an EarthCraft Communities certification, a "green" building program similar to LEED (Leadership in Energy and Environmental Design) that emphasizes energy efficiency and responsible development practices, according to Rea Ventures.
Amenties would include an art/studio space, business center, fitness center, a community garden, Energy Star appliances and washer-dryer hookups.
Access to the development would be by way of Lafayette Avenue only, according to city planning staff. That's the short street that runs by Arby's and the old Fayette County High School campus.
Rea Ventures Group partner Trey Coogle on Tuesday spoke on the strict requirements for living in Abbington Square.
Renters must have income levels between $35,000 and $58,000. Other requirements mandate that, via a credit report and background check, there can be no foreclosures or bankruptcies in the past two years and no felony convictions in the past three years. Beyond that, any resident experiencing a criminal arrest will be evicted, Coogle said.
Rents would be set at both market rates and at capped below-market "affordable" housing rent levels. Rea Ventures founder Bill Rea said the idea is to provide "workforce" housing with a target population consisting of teachers, police officers, firefighters and retail personnel.
"This is not a giveaway program," Rea said.
Though he did not reference specifics, the reality is that police officers and firefighters in Fayette County and teachers early in their careers are in the mid-$30,000 salary range and many live in counties other than Fayette due to home prices.
Responding to questions surfacing in the city about the Abbington Square being a Section 8 development with rent vouchers, Coogle said that is not the case. Abbington Square is designed to be a mixed income housing development with a tiered rent structure. Section 8 properties are run through a housing authority.
"This is a private development with no rent vouchers," Coogle said, adding the Rea Ventures has no Section 8 properties.
Abbington Square would be part of a state and federal housing tax credit program as an equity source for investors. Coogle said the application is submitted in June with awards announced in October or December.
The Abbington Square proposal will be heard by planning commissioners in April and will go before city council members in May and June.