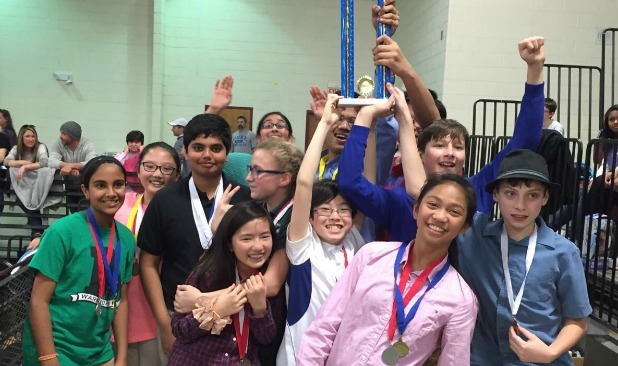 Three middle school teams and one high school team have qualified to advance to the Georgia State Science Olympiad by securing the top two placements in their regional competitions.
Middle school teams that have qualified for the 2016 state tournament are J.C. Booth Middle (pictured above), Bennett's Mill Middle and Flat Rock Middle. Booth competed at the regional tournament March 5 at Northgate High School. Both Bennett's Mill and Flat Rock competed at the regional tournament March 5 at Columbus State University.
Booth has won the state title 22 times since 1992. The school's last state victory was in 2014. Bennett's Mill and Flat Rock will be looking for their first state victories this year. Last year, Bennett's Mill and Flat Rock took 12th and sixth place, respectively, at the state competition. The middle school state Olympiad is March 19 at Lambert High School in Suwanee.
McIntosh High is the only high school in Fayette advancing to the state competition. The team competed in the regional tournament Feb. 27 at the University of Georgia. McIntosh placed first in the state tournament in 2000, 2001, and 2002. The school placed seventh at the state tournament last year. The high school state Olympiad will take place April 16 at Emory University in Atlanta.
The middle and high school teams taking the top two placements at the state tournaments will advance to the National Science Olympiad May 20-21 at the University of Wisconsin-Stout.
Science Olympiad competitions are like academic track meets, consisting of a series of 23 team events in each division (Division B is middle school; Division C is high school). Each year, a portion of the events are rotated to reflect the ever-changing nature of genetics, earth science, chemistry, anatomy, physics, geology, mechanical engineering, and technology. By combining events from all disciplines, Science Olympiad encourages a wide cross-section of students to get involved. Emphasis is placed on active, hands-on group participation.