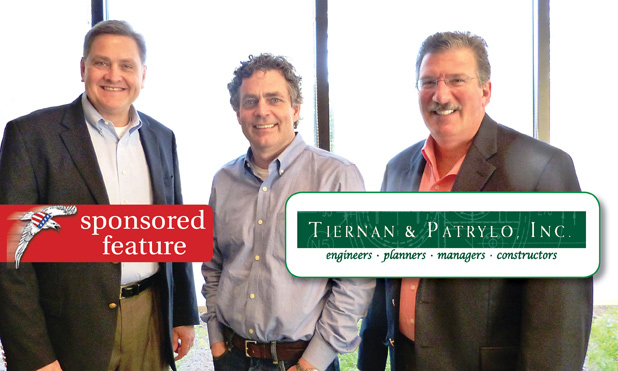 Sponsored Feature
So what, exactly, does a developer do? In the case of local design-build company Tiernan & Patrylo, the answer is simple: they improve the local economy and bring new jobs and business to Fayette by revitalizing out-of-date, out-of-use, and sometimes dangerous commercial and industrial properties.
In 2015 alone, the company salvaged two hazardous locations and turned them into customized campuses that brought in the U.S. headquarters of two multi-national corporations.
"I believe these projects were the business story of 2015 in Peachtree City," says Senior Vice President of Business Development Mark Wright. "Two long-vacant, environmentally contaminated sites, adjacent to Lake McIntosh, were fully remedied, elevated to Class A industrial properties, and then occupied by significant international businesses. Tiernan & Patrylo continues to be not only a top design-build firm but a ground-breaking, visionary developer as well."
The projects certainly weren't easy. Each required the firm's full suite of services and extensive consultation with the Georgia EPD. Add in the sheer size of the properties – one is 105,000 square feet on 10 acres and the other is 163,000 square feet on 20 acres – and you have a massive undertaking that not every firm could handle.
"As the program manager for both projects, it was gratifying to watch blighted sites transform into revitalized state-of-the-art industrial facilities," explains Larry Aronson, executive vice president and COO.
For Tiernan & Patrylo, the outcome was well worth the work. Not only are these sites now safe, attractive, and usable, they're bringing growth to the community. One has become the new U.S. headquarters for Wencor Group, which owns Dixie Aerospace. The other enticed Assa Abloy, the parent company of MegaDoor, to relocate its national headquarters here. Both Dixie Aerospace and MegaDoor are long-time Peachtree City companies. For Tiernan & Patrylo, this kind of economic and environmental improvement is what the business is all about.
"We have been privileged to be a contributor to Peachtree City's growth and success for more than 30 years," says John Tiernan, the firm's president and CEO. "We're absolutely invested in this county and in its future."
We are proud of our team's consistent effort to create new jobs and increased opportunities for our community.
Highlights:
Tiernan & Patrylo is a full-service design-build company celebrating 32 years in Fayette County. Offering services from survey to architectural design to engineering to build-out, the company's key focus is on improving appearance, use, and value of commercial and industrial properties with the ultimate goal of improving the local economy.
30 years of local history
Intense focus on area revitalization
Environmental remediation services available
Full suite of design-build services
Instrumental in bringing jobs and business to Fayette through renovation of disused, dangerous, and outdated properties
Current/recent projects include environmental remediation and rebuild of two former Photocircuits buildings, now relocated national headquarters for Wencor Group and Assa Abloy, as well as the expanded Sigvaris campus, which will house its new national headquarters
Pictured above, from left: Mark Wright, Senior Vice President; John Tiernan, P.E., President and CEO; Larry Aronson, Executive Vice President and COO
Sponsored by Tiernan & Patrylo  •  665 Highway 74 South, Suite 100 Peachtree City  •  (770) 632-0828  •  www.tpdesignbuild.com