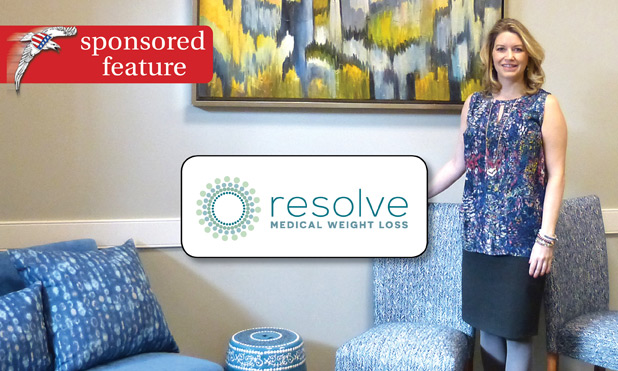 Sponsored Feature
Launched in October 2015, Peachtree City's Resolve Medical Weight Loss helps people meet their weight loss goals and improve their overall health and wellness. Owned and operated by Nurse Practitioner Jennifer Robinson, the center focuses on client education and offers a comprehensive approach including personalized planning and treatment and one-on-one counseling with Jennifer.
October marked the realization of a long-held dream for Jennifer Robinson. After more than 15 years in nursing and as a family nurse practitioner, she opened Resolve Medical Weight Loss in Peachtree City. She couldn't be happier with her new venture.
"I became passionate about medical weight loss about ten years ago because I saw how frequently losing weight helped or eliminated other health problems like diabetes, high blood pressure, back and joint issues, and more," says Jennifer. "I'm excited about Resolve and thrilled to be helping people in a way I feel is truly meaningful."
Jennifer admits that the word 'medical' confuses people sometimes.
"People aren't sure what to expect or are concerned we will be impersonal, judgmental, or cold," she explains. "That's not who we are at all. My staff and I offer a warm, welcoming environment where clients feel supported."
Unlike many weight loss programs, Resolve Medical Weight Loss doesn't use a standardized approach, but rather designs personalized plans based on a client's medical history, lifestyle, and goals. Initial consultations include a state-of-the-art body composition and metabolic analysis, medical history review and brief physical, and a detailed nutrition and lifestyle evaluation. Each client's plan is comprehensive and includes an individualized diet and nutrition plan, exercise plan, and, at times, a prescription for weight loss medications.  All appointments include one-on-one counseling with Jennifer at every visit.
"Education is one of the most powerful tools in medicine," Jennifer says. Now she has the opportunity to spend time giving each client the attention they need.
In addition, as part of their commitment to patient education, Resolve Medical Weight Loss is pleased to be partnering with Fitness 54.  Jennifer will be leading classes at Fitness 54's location on Monday evenings, providing medically based weight loss and nutrition instruction to their members.
"We help people lose weight and keep it off, but we aren't looking to just change the number on a scale," she explains. "We also help people change their lives by improving their overall health. And we use methods that have been clinically-proven to be safe, healthy, and effective."
I went into the medical field to educate people and help them live better lives. That's exactly what we do here. — Jennifer M. Robinson
Highlights:
Warm environment with a compassionate and supportive staff
Not a set "program," but rather a personal, individualized plan
Includes nutrition, health, and exercise education, state-of-the-art body composition and metabolic analysis, and one-on-one counseling
Clinically-proven safe and healthy methods, including FDA approved medications
Weight loss is proven to improve many health conditions such as high blood pressure and diabetes
Also carries pharmaceutical grade skin care products
Sponsored by Resolve Medical Weight Loss  •  1212 N. Peachtree Parkway, PTC  •  770-487-3200  •  www.resolveweightloss.com