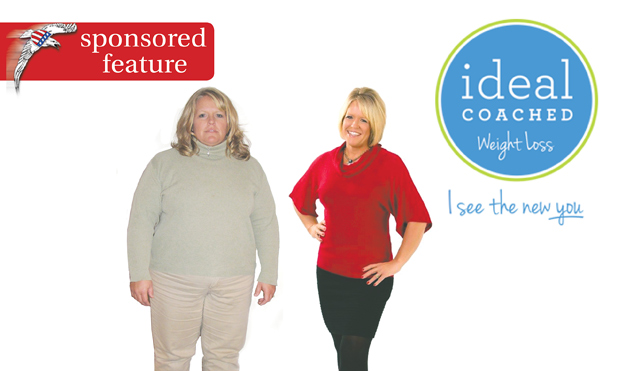 Sponsored Feature
There are a lot of ads out for diet plans. They have before and after pictures, and in the tiny print it will say, "Results not typical." That caption is never found in an Ideal Coached Weight Loss promotion, because the results that Chief Nutritionist Tracy Gardner gets with her clients are typical.
Ideal Coached Weight Loss utilizes the Ideal Protein protocol, rated the top diet by dietsinreview.com. Gardner explained the protocol through the story of one of her clients. Marcy had been heavy all her life. The mother of two boys, Marcy was also a softball coach and a school speech pathologist. Even with a busy schedule, Marcy lost 80 pounds in eight months through the Ideal Protein protocol and Tracy's coaching.
"It's the first time she was able to lose weight and keep it off," said Tracy Gardner who operates Ideal Coached Weight Loss in Peachtree City. Ideal Protein's first phase includes eating three Ideal Protein packaged foods each day – simple and low in carbs – as well as four cups of vegetables and eight ounces of protein, like a breast of chicken. Supplements and weekly coaching are also a big part of the process.
"The ease of Ideal Protein is that the food tastes good," said Gardner. "One concern for Marcy was in feeding her family. Her boys became more interested in eating right. They weren't on the diet, but they enjoyed the meal planning and learning to fuel their bodies." Marcy's husband, also not on the program, lost weight. The whole family got healthier.
Since Marcy was a coach, she wanted to have a coach. Coach Tracy Gardner, said that preparation is key, especially cutting up veggies. "We would plan her week in advance together, based on her schedule. We would map out her social events, and her sports schedule. It got us around her obstacles," said Gardner. Ideal Protein also has grab and go options, like bars and chips.
Marcy was not a big vegetable eater. She put zucchini in her shake in the morning to help get her vegetables in. "Marcy's kids saw her, and they were so proud of her. They saw her self esteem go up. They kept encouraging her."
Marcy also encouraged her high school softball girls to eat healthier snacks, leading by example. "She impacted a generation of young people," said Gardner.
Coach Tracy Gardner offers two free wellness seminars in February: on Tuesday, Feb. 9, and Wednesday, Feb. 24, both at 6:30 p.m., featuring simple ways to change habits, increase energy, lose weight and be healthier. Ideal Coached Weight Loss is located inside Renaissance Plastic Surgery, 200 Westpark Dr., Suite 200B in Peachtree City. Attendees of workshops receive $50 off their coaching fee. Seats are limited, please reserve your place in a seminar or schedule a one-on-one consultation, by calling 678-827-3770 or email tracy@idealcoached.com.
"My neighbors in Peachtree City tell me they want to lose 20 or more pounds. And there are some simple ways to integrate healthy weight loss," Chief Nutritionist Tracy Gardner at Ideal Coached Weight Loss. Here are her Top 10 Tips for Weight Loss.
Tracy Gardner's Top 10 Tips to Lose Weight
1. Add more protein to your diet. It suppresses hunger signals from your brain. Increasing your protein intake by 10 percent will keep you full much longer.
2. Get more fiber. Women need 25 grams of fiber per day, and men need 38 grams per day.
3. Write it all down.  Document your food intake. If you count your calories it will help you get a better idea of what you are eating throughout the day and will make it easier for you to cut down on unhealthy food.
4. Reduce your plate size. It is hard to turn down food when it is right in front of you, so eating out of a smaller plate will help you reduce the amount of food you eat.
5. Get enough sleep. Sleep deprivation increases appetite, making it harder to lose weight.
6. Don't skip breakfast. It helps keep blood sugar levels regular and gives your metabolism a boost to burn more calories throughout the day.
7. Stock the fridge with healthy food. This will help you have lots of fruit and veggies at hand for when you get hungry. Keep healthy snacks at hand for when you're in a hurry.
8. Eat slower. That is chew more slowly. The faster you eat the less time  your body has to register that you are full, this leads to you eating more than you need. And wait 20 minutes before you reach for more food.
9. Watch out for the sugar you eat. Ditch added sugar and make sure that your favorite products don't contain 'hidden' sugar.
10. Hire a Health Coach.  Be Accountable. Tracy Gardner at Ideal Coached Weight Loss is available now for appointments.
For seven additional key weight loss tips, email tracy@idealcoached.com.
Schedule a one-on-one consultation, by calling 678-827-3770 or email tracy@idealcoached.com.
Sponsored by Tracy Gardner, Ideal Coached Weight Loss • 678-827-3770