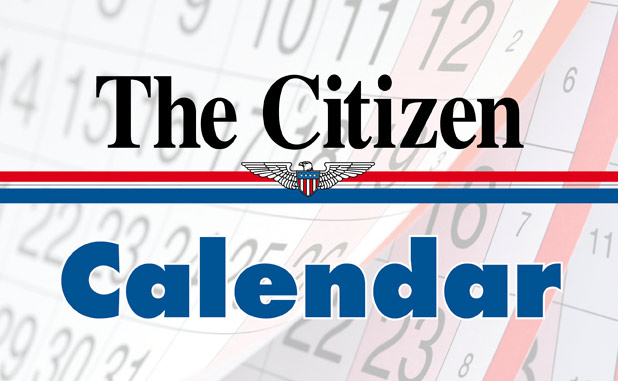 December
December 3
Volunteers, community leaders and the local art community are coming together to host the ninth annual Chair-ity Event benefiting children who live in the cottages at The Children's Village at Christian City. Artists are transforming chairs into unique works of art which will be the highlight of the silent auction. A live jazz trio will entertain with renditions of holiday favorites while guests enjoy drinks and culinary creations from the Dolce's kitchen. The festivities are today from 5:30-7:30 p.m. at the Dolce, 201 Aberdeen Parkway in Peachtree City. Tickets are $30 each. For more information, visit www.christiancity.org.
The community is invited to "Starry Night in Newnan – A Celebration of the Season" from 4:30–7:30 p.m. at Piedmont Newnan Hospital, 745 Poplar Road in Newnan. The family-friendly event designed to kick off the holiday will feature photos with Santa and kids' activities including train rides along with refreshments (hot chocolate, hot cider, milk and cookies) and carolers. The event will conclude with the lighting of the star on top of the hospita Santa Claus will arrive at 4:30 p.m. for photos in front of the fireplace in the lobby and the hospital will provide a free commemorative photo.
December 5
The city of Fayetteville's Christmas tree lighting and parade is today at the Gazebo on the square and along the sidewalks in downtown Fayetteville.The 6th annual Downtown Christmas Parade starts at 5 p.m., followed by Fayetteville's Tree Lighting Program which will start
immediately after the parade. Call 770-719-4173 or email jwaits@fayetteville-ga.gov for more information.
Peachtree City's Hometown Holiday is today. The fun starts at 5 p.m.at The Fred with a musical program featuring Fayette Fiddlers, Dance Contempra, Lisa Kelly, Peachtree Wind Ensemble, and Starr's Mill Singers. Immediately following the program, take your golf cart and follow Santa through the Trail of Lights to City Hall for the lighting of the tree and visits with Santa. Each child participating in the Trail of Lights will receive a free glow necklace to wear on the journey. Presenting sponsors of Hometown Holiday are BB&T and Call 2 Cut. Supporting sponsors include Webb & Taylor, Parties for Kidz, The Fresh Market, and Big O's Golf Carts.
The annual "Light Up Senoia" event is today from 4:-8 p.m. complete with entertainment, food court, and a parade at 5:30 with Santa & Mrs. Clause. A wonderful family event with Santa's Workshop, face painting and more! See the Christmas tree lighting after the parade and plan a visit with Santa at the gazebo. Mrs. Claus will be there too giving out candy canes!
St. Andrew's Fine Art & Craft Christmas Fair, ECW Bazaar, Bake Sale & Golden Elephant is today from 9 a.m. to 2 p.m. at ST. Andrew's Episcopal Church in Peachtree City: 20 juried fine art & craft vendors featuring jewelry, textiles, wood sculpture, fine art, glass art, artisan chocolates, smocked clothing, hand made children's soft sculpture, angel art, pottery, soaps & lotions, and more. ECW bazaar features unique crochet wearable art, bake sale and treasures from the golden elephant sale.
Proceeds benefit ECW projects, and outreach. Information: 770-487-8414.
It's time to lace up those jingle bells and get ready for the 19th annual Jingle Bell Trail race today. Race organizers are expecting many kids and adults to come to school and participate in the 5-kilometer run, which is part of the Grand Prix Rotary Series, or the more leisurely 1-mile run/walk. A festive atmosphere is promised for all participants. This event is designed to boost community spirit, promote wellness, and raise money to support our school improvement focus for the students who attend Peachtree City Elementary. The students and staff look forward to this fun holiday event each year because it's a time to gather with friends and neighbors for a little holiday cheer, and it also gives us an opportunity to burn off some of those holiday goodies. Applications to enter Jingle Bell Trail are available in the school's front office, online at www.pces.org and will be distributed to locations throughout Fayette County. Applications will be accepted until the morning of the race.
The 5-K run will begin in front of the school at 9 a.m. while the 1-mile run/walk will start 10 minutes later. Participants are encouraged to arrive at the school, located at 201 Wisdom Road, at least 45 minutes early to allow time to park, enjoy the festivities, and warm up. Follow on Facebook (pcesjinglebelltrail) and Twitter (PCESJBT) for updates and information.
Sandy Creek High School's annual "Breakfast with Santa" is today, in the school cafeteria. Tickets are $8 for adults and $6 for children ages 3-18; children two and under will be admitted free. A pancake breakfast, with live Christmas music, will be served from 10 a.m. to 1 p.m. and a professional portrait photographer will be available to take photos of children with Santa during that time. This is a great opportunity for the little ones to tell Santa what they want for Christmas and to have their photo taken with him before he takes off for the North Pole. After 1 p.m. tickets will be reduced to $1 and will allow admittance to the Arts, Crafts, and Toy Shop. These local handicrafts offer a chance for some great Christmas shopping and will be available until 4 p.m. Vendor tables are still available for $25 each. In addition to the breakfast and shopping, holiday activities will be offered for the children. They can participate in the "Candy Cane Relay" race, write letters to Santa, have their faces painted, and decorate cookies. Also, the school is a dropoff location for the Toys for Tots campaign. You are encouraged to bring toys to help those less fortunate. This is a fundraising project of the Sandy Creek Chorus Booster Club. The school is located at 360 Jenkins Road in Tyrone. For more information, or to reserve a vendor table, contact Pat Powers at 770-632-9050, 847-354-0541, or powerscomics@bellsouth.net.
With floats, giant helium-filled balloons and marching bands, the Children's
Christmas Parade will be the largest holiday parade in the southeast. Along with a television audience of more than 500,000 viewers on WSB-TV, hundreds of thousands of spectators will be lined up along the streets eagerly awaiting the arrival of Santa and the official beginning of the holiday
season in Atlanta. The parade will begin at 10:30 a.m. today and step off at Peachtree Street and 16th St. and end at Peachtree St. and 5th Street. Watch as Midtown Atlanta will be transformed into Santa Claus Lane with the sights and
sounds of the season.
Hosted by WSB-TV, Channel 2 (ABC), the parade will air live from 10:30 a.m. to noon. Visit www.choa.org/parade for additional information and purchase bleacher seat tickets at www.choa.org/paradebleachers. All proceeds benefit Children's.
"Becoming: A Heart of Hospitality" is a women's ministry and your are invited to join the group for Saturday brunch at "In His Presence". The guest speaker is Celine Sparks, a renowned author, humorist and Christian Woman Magazine columnist. The event is today at Peachtree City Church of Christ at 201 South Peachtree Parkway at 9:30 a.m. Becoming is a monthly gathering of ladies aged middle school and up. Our vision is that women of all ages can be inspired during a time of fellowship outside our weekly worship and Bible study.
Bring your girlfriends. Be inspired. Learn to be like Him. Contact us for more information and to RSVP for this FREE event:
PTCBecoming@Gmail.com
C. E. Walz, local children's book author and composer, will be selling and signing her latest children's book at Sara Harp Minter Elementary School Who-liday Bazaar from 9 a.m. to 2 p.m.
"Mary's Treasure Box" is a children's Christmas book with a unique perspective featuring Mary, the mother of Jesus. Walz was inspired by a simple verse from the second chapter of the Gospel of Luke: "For Mary treasured all these things and pondered them in her heart." Walz imagined that Mary was like most mothers today. Perhaps she kept a few mementos from that first Christmas in Bethlehem – a bit of straw from the manger? a shepherd's flute? a piece of swaddling cloth? The story begins years later as Mary shares the contents of her treasure box and gives her own account of Jesus' birth. Walz's book is published by B&H Publishing Group in Nashville. Its illustrator, Bruno Merz, recently illustrated a children's book for Max Lucado, one of America's most prolific Christian writers. Visit www.cewalz.net to find links to book vendors that carry "Mary's Treasure Box" or stop by the school Saturday to meet the author. Each book comes with information on how to create your own treasure box, and for church leaders, there are tips on how to present the story of "Mary's Treasure Box" to congregations and children's groups. Included is free vocal sheet music to accompany a scene in the book where Mary sings a song. Walz's website also offers links to music vendors who sell her piano arrangements for worship.
December 6
Tyrone's Christmas tree lighting celebration is today from 4:30-7:30 p.m. at Shamrock Park.
Come join us for a joyous and festive evening. Take a horse driven sleigh ride around Shamrock Park. Enjoy cookies and sip hot chocolate provided by the Fayette Daybreak Rotary Club. Listen to holiday favorites performed by local schools, dance groups/classes and churches.
Take a picture with Santa as he arrives on his sleigh and count down with Mayor Eric Dial as he lights the Tyrone Christmas Tree.
Harry Norman Realtors will present the Fayette Humane Society Christmas Tour of Homes showcasing six homes in the county today from 1-5 p.m. Tickets are $30 and available at the Harry Norman Realtor office, 120 Peachtree East Shopping Center in Peachtree City. The homes to be showcased are located in six different subdivisions in the area, including Golfview, Smokerise Crossing, Meadowlark Trace, The Gates, Pleasance Grove, and Bradford Estates. All proceeds will go to providing food, shelter and medical attention for the animals in the care of the Fayette Humane Society. For more information on the event visit http://fayettehumane.org, go to the Fayette Humane Socitety Christmas Tour of Homes Facebook page, or stop by the office of Harry Norman Realtors and they will be more than happy to provide you information about this event.
Many patrons consider the annual "Christmas with the Southern Crescent Chorale" concert to be the official beginning of the holiday season. This year's concert will again be a fantastic way to begin your celebrations. Sponsored by Fayetteville Edward Jones Financial Advisor Bruce Dickerson, the concert is scheduled for 3 p.m. at First Presbyterian Church, 206 Willow Bend Road in Peachtree City Special guests will be the talented Starr's Mill High School Chanticleer. Among their many accomplishments, Chanticleer has performed at St. John the Divine Cathedral in New York City and the National Cathedral in Washington, D.C. The concert features holiday favorites such as "Masters in This Hall," "Joy to the World," and "Hark the Herald Angels Sing." Holst's stunning work "Christmas Day" will be a highlight of the concert. The chorale will be accompanied by a full professional orchestra. Tickets are $20 for adults, $15 for students and seniors (60 and over), and $25 at the door. Purchase tickets from any Chorale member, at the Fayetteville Library, at www.southerncrescentchorale.org or at the door.
December 7
Fayette County Post 105 will be hosting a brief public Pearl Harbor ceremony today commemorating the Japanese attack 74 years ago. The ceremony is at the American Legion "Log Cabin" across from the Fayetteville Fire Department and begins at 9:30 a.m..A 48 star American Flag will be raised in front of the Log Cabin and FDR's famous speech to the US Congress following the attack will be read. After the ceremony, the movie about the attack, "Tora Tora Tora" will be shown. The public and all interested veterans are invited. Free coffee and donuts will be provided by Post 105.
December 8
The Fayette Fiddlers will be performing the songs of Christmas in a free concert Tuesday, today at 6:30 p.m. at Carriage Lane Presbyterian Church.The public is invited to attend. For more information, contact fiddlerfry@bellsouth.net or 678-480-4900.
December 10
Cornerstone United Methodist Church in Newnan will share its drive-thru nativity, "The Greatest Gift," again this year. It will be presented this year from 6-9:30 p.m. nightly from Thursday through Sunday, Dec. 10-13. People will receive a narration CD (English or Spanish) at the entrance of the drive-thru, and each car will be guided on a ten-scene journey depicting the birth of Jesus. The scenes include the foretelling of the coming Messiah; the angel Gabriel's visit to Mary; Caesar's palace and the decree for the census; Mary and Joseph being turned away at the inn; the wise men on the way to Bethlehem; and the traditional nativity scene, among others.
A nightly cast and crew of 100-plus people will help tell the story. Coffee and hot chocolate will be served throughout the evening under the church pavilion. The event is at Cornerstone United Methodist Church at 2956 Hwy. 154 in Newnan (Thomas Crossroads, at the intersection of hwys. 154 and 34) There is no charge to attend. For more information, visit www.cornerstoneumc.com.
December 11
A pair of free public information sessions have been scheduled for homeowners and citizens to learn about asbestos and lead-based paint. They are today from 10 a.m.-noon and 1-3 p.m. at the Fayette County Library, 1821 Heritage Parkway in Fayetteville. Testing for lead content is free. You can bring a small painted object. Local representatives of the Georgia Environmental Protection Division will have displays and helpful informational handout materials about health effects, hazards and living with asbestos and lead paint at work and in the home. For more information contact Steve at 770-305-5127 or Joe 770-305-5130.
Local congregations of the Church of Jesus Christ of Latter-Day Saints will present the third annual Festival of the Nativity Dec. 11-12 at 101 South Peachtree Parkway in Peachtree City.
The event is scheduled for 6-9 p.m. Friday and Saturday, with a senior tour 1-3 p.m. Saturday. Enjoy nativity sets from around the world with live musical performances. For more information, visit www.festivalofthenativity.org.
"The Realities of Remarriage" is the title of a financial session scheduled for today from 1-2 p.m. at Fayette Senior Services' Peachtree City location (Gathering Place, 203 McIntosh Trail). Love is in the air – again. When remarrying, there are many factors to consider, especially in the financial world. William Stone with Raymond James Financial will discuss many entities to be aware of with finances and remarriage such as revisiting your financial past, who will be responsible for what, to share of not to share assets and debts, visiting retirement pensions, social security and other benefits again, estate planning, and more.This program is free but pre-registration is required at 770-461-0813 or register@fayss.org (include name, phone number and event title). FSS members and non-members welcome. For more information, visit www.fayss.org.
The Peachtree Wind Ensemble will be presenting its Christmas concert at 7:30 p.m. at St. Paul Lutheran Church, 700 Ardenlee Parkway in Peachtree City. Admission is free.The Peachtree Wind Ensemble is a non-profit community band with members from the surrounding areas.
See www.peachtreewindensemble.org for additional information.
All Fayette citizens and stakeholders are invited to attend a Fayette Visioning Summit to learn about the ongoing work and future goals of the Fayette Visioning Initiative. The theme for the summit is "Celebrating the Present; Embracing the Future!" The summit is today from 7:30 -9:30 a.m. at Dolce Atlanta-Peachtree, 201 Aberdeen Parkway in Peachtree City. The Fayette Visioning Board of Directors will also share goals for 2016 and beyond. The event is free, but registration is requested: http://2015fayettevisioningsummit.eventbrite.com.
December 12
The Centre for Performing & Visual Arts, 1523 Lower Fayetteville Road in Newnan, hosts "Amahl and the Night Visitors" today at 7 p.m. One of the most popular operas of all time, it tells the story of how a crippled, young shepherd boy's life changes forever when he sees an amazing star "as big as a window." When three foreign kings following the star in their search for a wondrous child encounter Amahl and his mother, the result is a timeless and inspiring message of how faith, charity, unselfish love and good deeds can work miracles. Cost is $12-15. Call 770-254-2787 or visit www.thecentre.net.
The city of Newnan's annual Christmas parade is today beginning at 6 p.m. The parade will include floats, walking groups, decorated cars and trucks, and marching bands.
Every year there is a float contest that goes along with the parade. This year the winner in each category (Large Business, Small Business, Church/School, Civic/Nonprofit) will receive a cash prize of $150. (People's Choice will be voted on Facebook by the public the next day and the winner will receive a plaque.) This year's honor of being Christmas Parade Grand Marshal will go to Newnan's very own Police Chief Douglas 'Buster' Meadows. Chief Meadows started working with the city in 1973; he worked his way through the ranks until he became police chief in 2002. He's been married 37 years to his wife Mary Lynn and they have one daughter April married to David Rathel. He is also a member of Sargent Baptist Church. Some of the chief's hobbies include woodworking, gardening and fishing.
Also, a portion of the parade proceeds this year will benefit the Coweta Community Foundation. In 2013, The Coweta Community Foundation and The Coweta Together Foundation merged under the name of The Coweta Community Foundation in an effort to better serve the citizens of Coweta County. Both organizations share a common ground and a common passion to serve the citizens of Coweta County. This merger allows both organizations to maximize their impact on the community. Both organizations have placed an increased emphasis on relationship building and networking opportunities between local organizations. The goal is connecting local organizations to ensure that more Coweta citizens receive the help they need and deserve.
You can download a parade application at www.cityofnewnan.org, pick one up at Newnan City Hall (25 LaGrange Street) or email sguarnera@cityofnewnan.org. The application deadline is Nov. 30. The entry fee is $35.
December 18
"A Walk in the Park" is scheduled for today from 1-2 p.m. at Fayette Senior Services' Peachtree City location (Gathering Place, 203 McIntosh Trail). There is so much that makes Fayette County a home to be proud of and its parks and nature areas are one of those to brag about. The Southern Conservation Trust will share the perks of all local parks in Fayette County and surrounding areas and what each has to offer. Take a walk into the gorgeous woods around your home This program is free but pre-registration is required at 770-461-0813 or register@fayss.org (include name, phone number and event title). FSS members and non-members welcome. For more information, visit www.fayss.org.
December 21
Fayette Senior Services will present "A Cowboy Christmas" from 1-2 p.m. at its Fayetteville location (The Life Enrichment Center, 4 Center Drive).Jim Scott will share a collection of stories and poems speaking to the miracle of Christmas and how it was celebrated by the men and women living and working on the ranches of the West. From stories of Shorty's Last Christmas and The Christmas Story to Fayetteville native Tom Kerlin's A Cowboy Christmas, we will hear a variety of holiday cowboy stories.This program is free and no pre-registration is required. FSS members and non-members are welcome. For more information, phone 770-461-0813 or visit www.fayss.org.