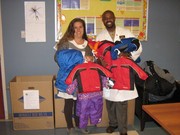 Battling cold winter temperatures is tough enough even with the means and resources to do so. For those who don't have the basic necessities, such as coats and blankets, it can be a long few months, and potentially life-threatening.
Recognizing this need, Dr. Gary Stewart of Resurgens Orthopaedics and Orthopaedic South Surgical Center started a coat and blanket drive, now in its seventh year, to benefit those in need.
The seventh annual coat and blanket drive runs now through Dec. 16. It will benefit neglected and abused women and children in need this holiday season. Items collected will be donated to The Haven House of Henry County (www.henryhavenhouse.org), a battered women's shelter. The overflow of extra items will be donated to nearby homeless shelters that partner with The Haven House.
To participate in the coat drive, simply drop off new or gently used coats or blankets (also accepted are hats, gloves and other cold weather gear) at one of five locations in South Metro Atlanta:
* Fayetteville: Resurgens Orthopaedics, 1336 Highway 54 West, Building 500.
* Morrow (two locations): Resurgens Orthopaedics (6635 Lake Drive), Orthopaedic South Surgical Center (6645 Lake Drive).
* McDonough: Resurgens Orthopaedics, 105 Regency Park Drive.
* Griffin: Resurgens Orthopaedics, 665 South Eighth Street.
In the winter of 2009, Dr. Stewart and Resurgens Orthopaedics partnered with Orthopaedic South Surgical Center to start the program, with donations going to homeless men, women and children at Calvary Refuge Center, a faith-based family shelter in Forest Park. The 2010, 2011, 2012, 2013, 2014 drives benefited The Haven House. More than one thousand coats and blankets have been collected and distributed in the first six years.
Dr. Stewart is happy to have found an easy, yet powerful way to give back, and hopes others come together with Resurgens Orthopaedics to accomplish this goal.
"We are hoping this year will be our best year yet but we need the help and support of the community," he said. "Many times the women and children at the battered women's shelter are left with only the clothes on their backs. A warm coat or blanket is a valuable gift."