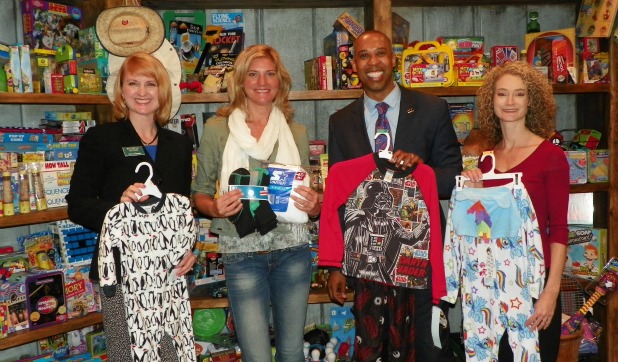 Local business owners in Fayette County are teaming up to collect basic clothing essentials (socks, underwear, and pajamas) for foster children who utilize The Bloom Closet in Fayetteville. The Bloom Closet, a free clothing resource center for foster children, has distributed clothing to more than 1,000 foster children from 60 Georgia counties in the past 12 months.
Originally started by Richelle Mathis of Edward Jones, the "And to All a Good Night" Clothing Drive has grown to include the involvement of Wings N Things in Fayetteville, the Edward Jones office of Floyd Gantt, The UPS Store in Fayetteville, and Advanced Physical Therapy of Fayetteville.
"We are asking for donations of new socks, underwear and pajamas for babies up through teens," said Mathis. "This is the second year for this clothing drive, and the business owners involved project it will once again be a big success thanks to the generosity of the community."
Bloom depends on donations from the community to keep the clothing closet filled with basic essentials like socks, pajamas, and underwear for the hundreds of foster children they serve during the winter months.
"Bundling up for winter isn't easy for children in state custody, and foster parents only receive a small stipend to cover clothing expenses for the entire year," said Lauren Powers, store manager for The Bloom Closet. "Every child who visits The Bloom Closet is given a week's worth of clothing and pajamas, as well as a new package of socks and underwear."
Individuals can drop off donations of new socks, pajamas, and underwear through Dec. 31 at the following four locations:
* Edward Jones office of Richelle Mathis, 935 W Lanier Ave, Ste 1000, Fayetteville.
* Edward Jones office of Floyd Gantt, 150 Hwy 314, Fayetteville.
* Advanced Physical Therapy, 135 Brandywine Blvd., Ste. D, Fayetteville.
* Wings N Things, 389 Fayette Place, Fayetteville.
For more information about Bloom, visit www.bloomouryouth.org or call 770-461-7020, ext. 306.