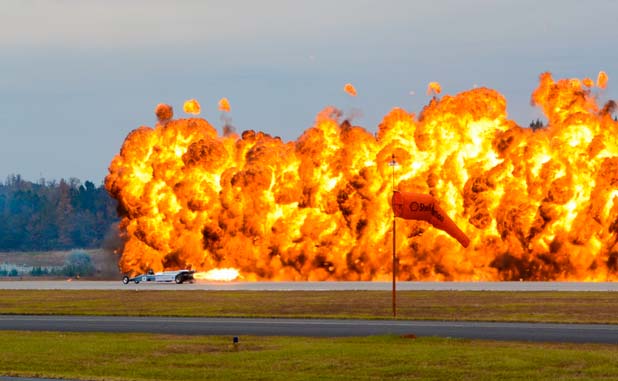 Parking problems, poor communication about cancellations are top complaints
The Great Georgia Air Show was off to a rousing start on Oct. 31. But things changed on Sunday after a rain event had its way, canceling some events and leaving some ticket holders upset.
Attempts to get responses from management members about the complaints were unsuccessful. Multiple phone calls were not returned.
The Great Georgia Air Show's management team on its website Monday offered a recap of the weekend's events. The first day of the event, Saturday, brought an estimated 45,000 people to Falcon Field. Hundreds of unpaid volunteers also were involved. Things were different on Sunday when rains took a toll on the schedule.
The big event that didn't happen was a scheduled precision flying demonstration by the U.S. Navy's Blue Angels on Sunday. The Saturday show went off as planned, but people were still buying tickets at the gate for the Sunday performance well after the show had been canceled.
"Our decision not to cancel was based on the decision tree we shared with all of you in our communications throughout Saturday. If there was no convective (unsafe) weather, we would remain open," the management team said.
For some ticket holders, the experience on Sunday left much to be desired and, in the words of a Newnan woman who wrote The Citizen, left her feeling misled about the show and its promises.
In a post on its website, the air show team admitted to a big problem involving parking. "While we experienced many little glitches, we had one major glitch. We had three bus stations for leaving the field and our large station plan did not execute well. We apologize for this as many people had to not only wait for a long time to leave the field and the lack of order to the flow was frustrating. We accept responsibility and apologize humbly," the website post said.
Attempts were made to contact Great Georgia Air Show Director Tony Dellatorre to obtain information pertaining to several questions about the weekend event. A Monday night text message from Dellatorre said he would contact The Citizen on Tuesday morning. That contact was not made.
For its part, the air show management team said more than 10,000 tickets were pre-sold for Sunday and, "We wanted to provide guests with the best experience they could have by providing as much entertainment as possible."
The Newnan mother referenced the excitement building up to seeing the Blue Angels in action on Sunday, only to learn that the group had canceled prior to the time some people bought their tickets for that day's event.
"They were canceled before people bought their tickets at the front desk, they were canceled before the sale of the ($5) schedules, they had been canceled all morning, but the Great Georgia Air Show never mentioned this to any of the ticket holders, or any of the people showing up to buy tickets. They never even sent a follow-up email," the Newnan woman said. "Patrons were lied to, manipulated into buying $5 schedules that they already knew were false, sold tickets to people at the desk, without notifying them that the show they were buying tickets for would not be going on."
A Facebook post by the Peachtree City Police Department Sunday afternoon said, "Airshow is over. Drive safely." The time of the post was 1:53 p.m.
Requests for refunds have been refused, with ticket-holders being told the ticket price represents a non-refundable donation to a charity.
Air show management on the website said they are aware that people want to speak with them, and they want to speak with patrons.
Noting the one-week time frame needed to break-down the site after the event, the management team said, "We will attempt to get to emails, post, messages and calls by Monday, Nov. 9. Our promise to you is that each and every single person that reaches out to us will receive a personal response from out team."
Below, the U.S. Navy's Blue Angels flying team shows Saturday air show onlookers what precision flying looks like in a low altitude pass over the Falcon Field runway in Peachtree City. Photo/Jeff Lange.
Peachtree City resident and photographer Jeff Lange described some of what he saw Saturday at the Great Georgia Air Show:
"Everyone who attended the air show in Peachtree City on Saturday saw a spectacular display of aerobatic excellence along with moving tributes to our men and women serving in the United States armed forces.
"The weather cooperated very nicely and I'm sure the final attendance numbers will break all records. I'd be willing to bet the population of Peachtree City was exceeded easily by those in attendance.
"I was lucky to take some photographs in trying to capture the spirit of the event … Among them are the Delta breast cancer awareness jet flyby, the Great Wall of Fire, Fat Albert (the C130 support plane for the Blues and piloted by their first female pilot), and the Blue Angels themselves."