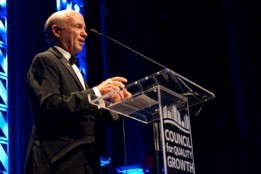 The Council for Quality Growth presented Dan T. Cathy, President & CEO of Chick-fil-A, Inc., with its 26th annual leadership award at the Four Pillar Tribute at the Georgia World Congress Center before an audience of more than 1,300 people.
The event was punctuated by appearances from Atlanta Mayor Kasim Reed; United Way CEO Donna Buchanan, Chick-fil-A Executive Vice President of Operations Tim Tassopolous, City of Refuge CEO Bruce Deel; and Master of Ceremonies and featured performer, Jeff Foxworthy.
Cathy has been a vocal proponent of investment and community improvement in Atlanta's underserved areas, especially its Westside neighborhoods. The evening's event highlighted organizations working in this area, including Bearings Bike Shop, City of Refuge, Friends of English Avenue, Peace Prep Academy, Raising Expectations, Westside Works. Interactive installations invited guest to learn about each organization's mission and work in Atlanta's Westside.
"It's time for those of us who are prospering to pay tribute to Atlanta. It's time to rise up Atlanta and wake up to the atrocious conditions people are living in on the Westside, said Cathy. "Why did it take us so long to respond? Let's start rebuilding the walls of our own Jerusalem. Look up Westside – help is on the way."
With that, Cathy announced that Chick-fil-A will soon open a new restaurant in Vine City. The company anticipates the 4,000-square-foot location to open in early 2017 and create a minimum of 50-60 new job opportunities for area residents.
"Dan is reshaping growth in Atlanta in a meaningful way, said Bruce Deel, CEO of City of Refuge. "He cares about the people. He cares about the Westside, where 60 percent of kids under 18 live in poverty. Where one third of houses are abandoned. Where it is known to be the heroin capital of the Southeast. We can continue to honor Dan by caring about what Dan cares about, by supporting the improvement of the Westside of Atlanta."
Event co-chairs paid tribute to Cathy for his demonstration of the "Four Pillars" of leadership: Quality, Responsibility, Vision and Integrity. The complete list of Four Pillar Tribute co-chairs include:
• Frank Blake, Former Chairman and CEO, The Home Depot
• Ted Blum, Managing Shareholder-Atlanta, Greenberg Traurig, LLP
• Paul Bowers, Chairman, President and CEO, Georgia Power Company
• Rodney Bullard, Vice President, Community Affairs at Chick-fil-A, Inc.
• Vince Dooley, Former Head Coach and Athletic Director, University of Georgia
• Larry Gellerstedt, President and CEO, Cousins Properties
• Jack Harris, President and CEO, Junior Achievement of Georgia
• Virginia Hepner, President and CEO, Woodruff Arts Center
• Muhtar Kent, Chairman and CEO, The Coca-Cola Company
• The Honorable Kasim Reed, Mayor, City of Atlanta
• H. Jerome Russell, President, H.J. Russell & Company
• John Stephenson, Jr., President and CEO, College Football Hall of Fame
• Dr. Charles Wilmer, M.D., Chief of Patient Outreach, Piedmont Heart Institute
"We are proud to support Dan and his vision to revitalize and rejuvenate the Westside, said Council for Quality Growth President & CEO Michael Paris. "We're thrilled that it's brought our Council members the opportunity to be a part of reinvestment in this historical and important part of Atlanta."