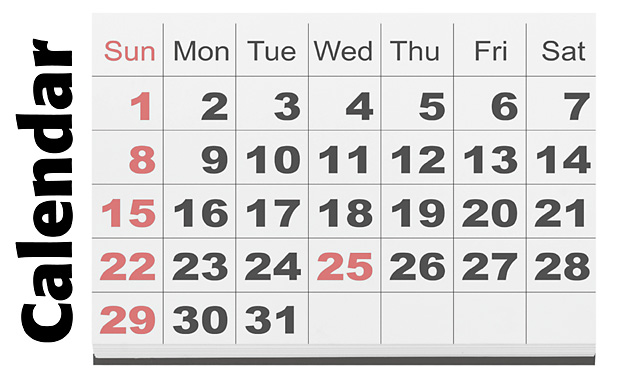 September
September 3
The Fayette County Retired Educators Association will host its first meeting of the year today at 10:30 a.m. at Fayetteville First United Methodist Church's Family Life Center. All Fayette County retired educators are invited to attend. Piper Hill, veteran and founder of Healing 4 Heroes, will provide the program with her service dog, Remi. Future Meetings are scheduled for Oct. 1, Nov. 5, Feb. 4, March 3, April 14 and May 12. All are on Thursday at the same time and place. For more information, contact FCREA president Sandra Watson at 404-630-8477.
Affinity and Beyond is an organization that teaches social skills at group meetings.
The group is appropriate for those in their 20s through mid-30s for individuals experiencing a development challenge. Each participant will be assessed upon registration to determine their social skills needs. Social skills ranging from learning interpersonal skills to appropriate work skills will be emphasized. All group topics will be tailored to meet individual needs. A meet and greet will be held at the Peachtree City First Presbyterian Church today from 4 p.m. to 6 p.m. At this time a class for young adult and one for middle schoolers will be added. For more information or to register, email AfinityandBeyond.2010@gmail.com or call 678-467-8964.
September 5
Downtown Newnan will be alive Labor Day weekend.
The Sunrise on the Square Road Race is a local favorite, and has been held annually in Downtown Newnan on the Saturday before Labor Day for over 25 years. The race begins in Downtown Newnan and spans through "The City of Homes", where runners will catch a glimpse of beautiful historic in-town neighborhoods and historic commercial district. The race is a USATF certified course (new in 2015) that includes participation opportunities for runners and walkers of all skill levels, including: a 1 Mile Fun Run, 5K route and a 10K route. Following the Sunrise on the Square Road Race, the monthly Market Day will be hosted from 10 a.m.- 2 p.m. We encourage all visitors to browse through the market after the run to see what unique specialty items our local artisans, artists, and farmers have to sell. The Main Street Newnan Market features handmade, homemade and homegrown products, with new vendors and new products each month. The Market features over 50 unique spaces, with a variety of one-of-a-kind gift items. Market Day favorites include: fresh locally grown produce, honey, jams & jellies, salsa, pottery, art, handmade children's clothes, hand-woven baskets, leather products, freshly baked goods, handmade furniture, handmade birdhouses, wood-art, fiber-art, wreathes and floral design, and much more! The Market Day is open to the public and there is no admission charge for visitors. Pickin' on the Square begins at 11 a.m. on around the Court House Square. Here, you can expect to enjoy the vernacular sounds of local musicians playing acoustic music around the Court House Lawn. We invite any musician with an acoustic instrument to join. In the past, Blue Grass musicians have found this opportunity to be especially appealing! Free public parking is available along downtown streets, and in the city of Newnan's public parking lots located at 13 Lagrange Street, 25 Lagrange Street, 22 Spring Street, 6 First Avenue.
September 10
The Peachtree City Police Department will be hosting a Adult Community Emergency Response Team class beginning today. This class will also be to celebrate the 10th year of this very successful program. The classes will be held each Thursday for 10 weeks concluding on Nov. 12.. The classes will begin at 6:30 p.m. and last until approximately 9 p.m. This will be a highly informative and interesting learning experience. The CERT Program will offer valuable insight into the first few critical hours following an emergency related event and how individuals can become empowered to better prepare to sustain themselves and their families. Additionally, due to this being our 10th anniversary class a special format will be used for this class making it an even more enjoyable experience. Prospective candidates must be at least (18) years of age and a resident of Georgia. Applicants will be required to sign a Waiver of Liability form and will be subject to a criminal history background check as a pre-condition to acceptance into the program. There is no charge to attend this class; however, the class size will be limited. More information about the Community Emergency Response Team can be obtained by visiting the Police Department's Facebook page or the CERT website: www.CERT-PTC.com or by calling 770-487-8866.
Applications are available on-line, or may be obtained from the Police Department..Application deadline is September 1.
The Greater Fayette Republican Women's Club will meet for lunch today at 11:30 a.m. at Crosstown Grill, 620 Crosstown Road in Peachtree City (in the Braelinn Shopping Center). The guest speaker is Martha Zoller, currently the state policy director on the staff of U.S. Sen. David Perdue. She will provide insight into the 2016 campaign particularly from the female voters' perspective. She is an author, radio host, and political commentator, who served as editor in chief for zpolitics.com and had a news show which was syndicated around the state. A native of Columbus, she graduated from the University of Georgia's Grady School of Journalism. Everyone is invited to attend. To make a reservation or for additional information, contact Alberta Lucas (lu210w@mindspring.com/770-719-0879) or Debby Dickinson (ptcdebby@bellsouth.net/404-376-4132).
September 12
Piedmont Fayette Hospital is a Registered Safe Sitter Teaching Site, offering comprehensive babysitting training for young teens (11 and up). Nationally, more than 600,000 graduates have completed the course and are able to stay home alone safely and handle emergencies when caring for younger children. The up-to-date curriculum provides hands-on practice in lifesaving techniques designed to prepare babysitters to act in an emergency. Babysitters also receive instruction on how a child's age affects how to care for them, how to prevent problem behavior and how to run their own babysitting business. They also learn basic first aid as well as how to perform infant and child choking rescue and CPR (CPR certification is not obtained during this course). To graduate from the Safe Sitter course and receive a completion card, students must pass a practical and written test that indicates their mastery of key concepts and life and safety skills. A one-day training course is today from 9 a.m. to 4 p.m., at Piedmont Fayette Hospital, 1279 Medical Building, Conference Room C, 1279 Highway 54 West in Fayetteville. Space is limited and held by registration and payment. The deadline to register is Sept. 1. The fee is $45 and includes the Official Safe Sitter Babysitter's Handbook and Safe Sitter Bag. To register, email maria.lepage@piedmont.org.
The Republican Party monthly breakfast is today at the FCRP Event Center, 174 Glynn Street, North, in Fayetteville. The regularly scheduled date of the first Saturday of the month has been changed because of the Labor Day Holiday weekend. Speakers at the breakfast will be the candidates running in the Special Election for the 5th District Commission position left vacant by the untimely death of Commissioner Pota Coston. The event is open to the public. A Continental Breakfast, for a $5 charge, will be served at 8:30 a.m., with the speakers beginning at 9 a.m.
The 26th Annual Native American Festival & Powwow, sponsored by the Butts County Historical Society, is scheduled for Sept. 12-13 at Indian Springs Hotel/Museum, 1807 Hwy. 42 S. in Flovilla.Festival hours are 9 a.m.-5 p.m. each day. Grand Entry will be at noon Saturday and 1 p.m. Sunday. Featured performers are Aztec Dancers Javier Alfaro and family; flutist Ryan Little Eagle and the Winged Ambassadors birds of prey. There will be Native Americans with stories, colorful regalia and traditional music, including drummers. Native American vendors will offer food, arts, crafts and demonstrations. The historic hotel, built by Chief William McIntosh in 1823, will be open for tours, including the lovely Elizabeth Harris Garden. A donation of $5 for ages 15 and older and $3 for ages 4-14 is requested; parking is free. For additional information, contact Trina Mansfield at 770-655-5905 or Butts County Historical Society at 770-775-3313.
The Quick-Turner-Stubbs reunion is today at the Birdie Clubhouse, 1660 Birdie Road, Griffin, from 11 a.m. to 3 p.m. Bring a covered dish and memorabilia to share. For more information call Mary Binion, 770-214-0934 or Linda Thigpen, 770-253-8021.
The 39th annual Tyrone Founders Day Festival will include a first-ever Amateur BBQ Cook-Off Contest from 3-8 p.m. at Shamrock Park, 947 Senoia Road. Contestants will compete in various categories for best BBQ, sauce and stew. The audience can participate in the People's Choice Award by purchasing $1 tickets for samples and voting for their favorite. BBQ may be purchased after entries have been turned in to the judges.The Strongman Contest will begin the activities of the day, followed by a Denim & Diamonds Pageant, old-fashioned games, a pie eating contest, fishing rodeo and Irish Dancers. Explore other people's treasures in the community yard sale. Bounce houses, sports games and mechanical rides available for all ages. The event is free to attend. Concessions will be sold. Some rides may cost a small fee to participate. To enter the contests or get more information on any Founders Day event, go to www.tyronefoundersday.org.
The Fayette County Sheriff's Office will host the fall session of its Sheriff's Citizen Academy starting today. It is a 12-week program which is designed to provide citizens with basic information about the law enforcement profession and the daily operations of the Fayette County Sheriff's Office. The ultimate objective is to establish and maintain positive communications and develop partnerships between the community and the Sheriff's Office through training and education.The classes will be held every Tuesday evening for 12 weeks from 6-8 p.m. at the Sheriff's office, at 155 Johnson Avenue in Fayetteville. Go to www.fayettesheriff.org to download the application and information packet. Deadline to return an application is Sept. 8. Register early; class size is limited. Applications must be delivered in person to Lt. Terry Black. If you have any questions concerning the application, contact Lt. Black at 770-716-4802. If you have any questions concerning the Sheriff's Citizen Academy, contact class coordinator Sgt. Ryan Phillips at 770-716-4894.
The public is invited to the Po Po Car Show, organized by the Fellowship of Christian Peace Officers Fayetteville Chapter No. 174. The event is today from 11 a.m.-3 p.m. at the Fayette County Justice Center, 1 Center Drive in Fayetteville. The agenda includes cars, music, food and raffles. All proceeds will help cover Detective Jonna Macpherson's medical bills for cancer treatment. Vehicle entry fee is $25. All show vehicles must arrive 8-10 a.m. and be in place by 10 a.m. Register the day of the event at the gate (exact cash or check payable to FCPO). Raffle tickets are $5 each. A raffle ticket is included in vehicle entry fee.Categories include Off-Road, Classic, Sport, Police and Motorcycles. Vehicles will be judged by people's choice votes with one vote per person per category. All judging will be completed by 2 p.m. and raffle drawing begins at 2:30. Anyone with questions should call Detective Israel at 770-719-4223.
The Starr's Mill Wrestling team is hosting a car wash fundraiser today from 1 to 4 pm at the SunTrust Bank Parking Lot in the Wilshire Pavilion, Highway 74 South. The cost is a suggested $5 donation. All funds raised will cover costs for the wrestling season such as: travel, tournament fees, transportation costs and uniforms.
September 13
The Newnan-Coweta Historical Society and Dunaway Gardens are pleased to welcome Dr. Charlotte Canning of the University of Texas at Austin as the guest speaker at a special event planned at 1:30 p.m. at the Dunaway Gardens in Roscoe. Dr. Canning will speak about the early days of theatre in the United States and the American Chautauqua Circuit, and especially the roles played by women such as Hetty Jane Dunaway, local founder of Dunaway Gardens and Chautauqua Circuit Performer, and Sarah Ophelia Colley Cannon, better known as "Minnie Pearl" of the Grand Ol' Opry and "Hee Haw" fame, who first developed her character in Newnan while with the Sewell Production Company in Roscoe. This event is part of a series of events sponsored by the Georgia Humanities through a grant. The series, called "The Reel Past," has focused on Newnan's Hollywood connections. The Sept. 13 event will also feature an abridged reading of Hetty Jane Dunaway's original play, "The Flapper Grandmother," starring Jennifer Dorrell and the Newnan Theatre Company players. Artifacts and photos from the early days of Dunaway Gardens and the Sewell Production Company will also be on a "one day only" display. For more information, visit www.newnancowetahistoricalsociety.com.
September 16
A Company of Friends Theatrical Productions will hold open auditions today for the Halloween musical "The Little Witch of Wichita." It is billed as a "colorful show that is perfect for the season without being scary at all." All ages are needed to bring this show to life. Ages 10-13 should arrive to auditions at 5 p.m., with ages 13-17 at 6:30 p.m. and ages 18 and up at 8 p.m. Auditions will consist of a simple dance combination, taught song from the show and cold reading from the script. If needed, callbacks will be Thursday, Sept. 17, 6-8 p.m. by invitation only.
Auditions and production will be held at the Fayetteville Train Depot at 250 Lanier Ave. E. in downtown Fayetteville. Performances are scheduled for Oct. 29-Nov. 1 with Halloween Day performances being matinees.
September 17
Pyke & Associates, P.C., Attorneys at Law will be conducting free seminars on the basics of estate planning. These seminars will be held at the Hilton Garden Inn in Peachtree City today and Sept. 22 from noon to 2 p.m. and 7 p.m.-9 p.m. both days. A catered meal will be served 30 minutes before the seminars. Contact: 770-507-2500 ext.2 or www.cpyke.com.
September 19
Peachtree City's 38th Annual Shakerag Arts & Crafts Festival is today from 10 a.m. to 6 p.m., and tomorrow from noon to 5 p.m. The event is at Shakerag Knoll, located at 191 McIntosh Trail, Peachtree City, GA 30269. This popular festival features over 100 arts, crafts, and food vendors, entertainers, and a variety of activities for children. Admission and parking are free, and the festival will go on rain or shine.
The Centre for Performing & Visual Arts, 1523 Lower Fayetteville Road in Newnan, hosts "7 Bridges: The Ultimate Eagles Experience" Saturday, Sept. 19, at 7 p.m. The program is a tribute to the music of the Eagles. Using no backing tracks or harmonizers, 7 Bridges faithfully re-creates the experience of an Eagles concert from the band's most prolific period. Every show features one brilliant hit single after another with some mighty Don Henley and Joe Walsh surprises sprinkled into the mix. Cost is $12-15. Call 770-254-2787 or visit www.thecentreonline.net.
The second annual Gospel Under the Stars Festival is today at 4 p.m. at 1565 Hwy. 92 N. in Fayetteville, hosted by Mount Olive Baptist Church. This tri-county, community-wide "outdoor" festival will include gospel music performances, tag-team preaching, youth Olympic-style games, bouncers, food, and vendors. The purpose of the festival is giving back to our communities and bringing families together. For ticket purchase information, vendor information and festival details call 770-892-7508 or 770-256-4656. The church website is www.mobcfayettevillega.com and the church's Facebook page is at facebook.com/mobcfayettevillega.
The Fayette Daybreak Rotary will present its seventh annual charity dog walk/run today at Shamrock Park in Tyrone. Single walk/run pre-registration is $25 and a family of four runners is $75. For participant, vendor or sponsor information, visit www.fayettedaybreak.org or phone 770-595-0691.
September 28
The South Metro Rose Society will meet at 6:30 p.m. at the Heritage Bank, 440 N. Jeff Davis Drive in Fayetteville. All rose growers from novice to expert are invited to attend free of charge. This month's program features SMRS member Betsy van der Hoek speaking on rose hybridizing. She is a member of the Rose Hybridizers Association and her program will describe how new rose varieties are created using simple techniques that any rose enthusiast can easily understand and may want to try in their own garden.As usual, master and consulting rosarians will be available to answer questions on any rose topic. For more meeting information, phone 770-631-3885.