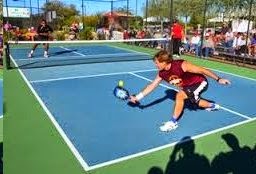 The Fayette County Parks and Recreation Department is offering pickleball this fall at the Kiwanis Park courts for ages 18 and older.
Play will be Thursdays and Sundays from Sept. 3-Oct. 1 (except for Sept. 6), 7-9 p.m. Cost for eight sessions is $25 for residents and $37.50 for non-residents.
Pickleball is a cross between tennis, badminton and table tennis, and it can be played indoors or outdoors.
Kiwanis Park has two outdoor courts and extra equipment.
Visit www.fayettecountyga.gov/parks_and_recreation for more information.