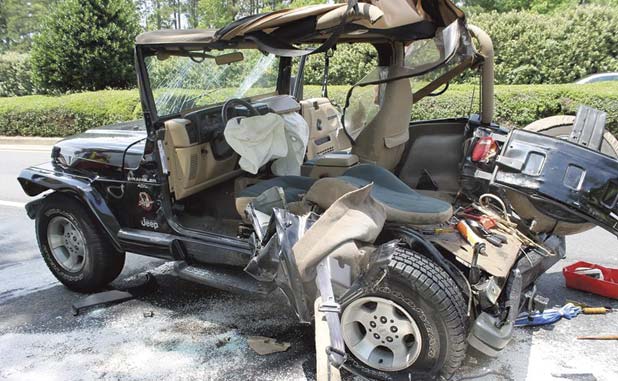 A Douglasville man was charged with following too close in a June 3 three-vehicle wreck on Ga. Highway 74 North in Peachtree City. There were no serious injuries in the accident.
Michael Heaslip, 24, was charged with following too close in the early Wednesday afternoon accident on northbound Hwy. 74 at Wisdom Road, said Peachtree City Police Department spokesman Matt Myers.
Myers said the traffic signal had turned red and northbound vehicles were close to stopping when the Isuzu box truck driven by Heaslip slammed into the rear of a Jeep Wrangler. There were no indications of breaking by Heaslip and his rate of speed was not confirmed, Myers added.
With his vehicle sustaining significant damage, the driver of the Jeep was extricated by firefighters but was not seriously injured. He did report back pain and was taken to Piedmont Fayette Hospital for evaluation, said Myers.
Myers said the impact of the Isuzu hitting the Jeep sent that vehicle forward where it struck another vehicle. The driver of that vehicle had minor complaints and was not transported for treatment, said Myers.