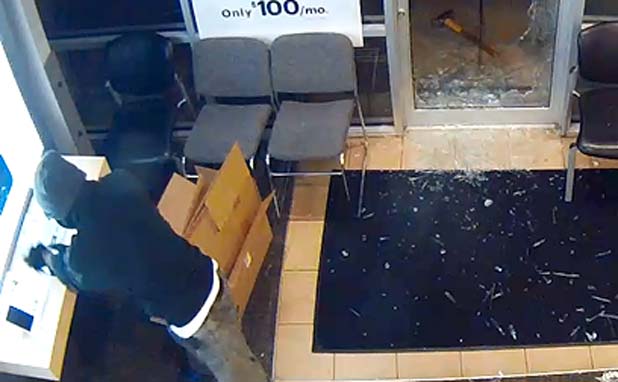 The Sprint store on Ga. Highway 85 North near the Fayette Pavilion in Fayetteville was the target of an after-hours burglary on May 27 that resulted in the theft of a number of phones and other devices in less than 30 seconds.
Fayetteville Detective Mike Whitlow said the burglary occurred at approximately 3:13 a.m. on May 27 when a black male described as 18-25 years of age, 5-feet-10-inches to 6 feet in height with a slender build entered the store by breaking the front door glass with a sledge hammer.
"After entry, the suspect went straight to a display and took Apple iPhones, iPads, Samsung cellular phones and a Samsung tablet," Whitlow said. "The entire incident took less than 30 seconds. The male then departed and is believed to have entered an unknown vehicle which was waiting nearby."
Whitlow said the man was wearing tan pants over blue pajama bottoms, a black pullover sweat shirt, a gray sock hat and very bright blue and black tennis shoes.
Fayetteville Police are reviewing surveillance cameras from the Sprint store as well as nearby businesses, said Whitlow.
Anyone with information is asked to contact Detective Shawn Albea with the Fayetteville Police Department at 770-719-4224.
Whitlow said the smash-and-grab was the first incident of its kind in the city in more than a year.
The Sprint store was struck three years ago, Whitlow said, adding that the crew responsible for the burglary was apprehended and is doing prison time.