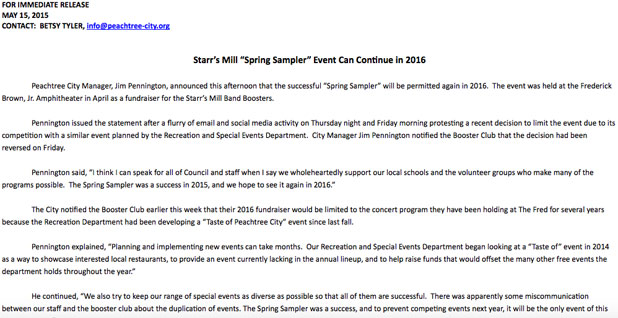 It was off, then it was on. A Starr's Mill High School Band Booster event planned for the Frederick Brown, Jr. Amphitheater in Peachtree City was turned down by Peachtree City's Convention and Visitors Bureau (CVB) only to have the decision reversed by City Manager Jim Pennington after a flurry of social media and email activity spread in protest.
"We … try to keep our range of special events as diverse as possible so that all of them are successful," Pennington said in a May 15 letter. "There was apparently some miscommunication between our staff and the booster club about the duplication of events. The (Starr's Mill) Spring Sampler was a success, and to prevent competing events next year, it will be the only event of this nature in 2016."
The issue began after band booster representative Carol Warner was told that the Starr's Mill boosters Spring Sampler event in 2016, that included food sampling, could not be held at The Fred as proposed.
Peachtree City Convention and Visitors Bureau Executive Director Nancy Price in an email response to the request said, "(The) Peachtree City Recreation Dept. and the CVB is going to host their first ever Taste of Peachtree City which will likely be held at the Shakerag complex. The date of the event is April 23 (2016). The plan was to start the festival this fall, but because of a potential conflict with the International Festival/ Dragon Boat Races, the event has been moved to April.
"What this basically means for you is that you can certainly still have a concert (as in past years) at The Fred, but the sampling aspect of the fundraiser will not be allowed. I hope you understand our position. We enjoy working with Starr's Mill and hope to see you back next year."
Warner in response sent a letter to the Peachtree City Council which stated:
"As many of the citizens of Peachtree City and Fayette County are aware, the Starr's Mill Band program had a fundraiser at the Fred April 25 called the Spring Sampler. Our request to Peachtree City to call it Taste of Peachtree City had been denied. As a matter of history, we have had a fundraiser on the last weekend of April at the Fred for over 10 years. In an effort to expand our event appeal, we added the food sampling this year. The event was successful and we have already started planning our Second Annual Spring Sampler on April 23 next year.
"Imagine our surprise when we were informed the Peachtree City Recreation Department not only stole the idea, but also the venue and the date. They intend to use the name they denied us — A Taste Of Peachtree City. Further, we have been informed that we may not have a similar function on any other date. Your Recreation Department has failed to operate in good faith and reflects poorly on themselves and this city. The Starr's Mill Band program worked very hard to make this concept work. It is unfair of Peachtree City to usurp our efforts, our venue, and our dates. Please reverse this decision."
It was at that point that Pennington weighed-in on the issue. Pennington reversed the decision on May 15.
City Clerk Betsy Tyler in a May 15 letter said, "Pennington announced this afternoon that the successful 'Spring Sampler' will be permitted again in 2016. The event was held at the Frederick Brown, Jr. Amphitheater in April as a fundraiser for the Starr's Mill Band Boosters."
Tyler said Pennington issued the statement after a flurry of email and social media activity on Thursday night and Friday morning protesting the decision to limit the event due to its competition with a similar event planned by the Recreation and Special Events Department.
Pennington noted that the city had been developing a "Taste of Peachtree City" since last fall.
"Planning and implementing new events can take months," Pennington said. "Our Recreation and Special Events Department began looking at a 'Taste of' event in 2014 as a way to showcase interested local restaurants, to provide an event currently lacking in the annual lineup, and to help raise funds that would offset the many other free events the department holds throughout the year."
Commenting on the now-settled dispute, Mayor Vanessa Fleisch said, "While 'Taste of' events are nothing new, Peachtree City didn't have one. Obviously two groups saw this opportunity, but our school programs take priority."