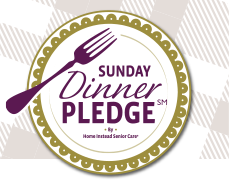 When was the last time you had a sit-down meal with your family? Do these dinners happen as much as they used to?
If not, you're not alone. Nearly 50 percent of families living near senior relatives recently shared that they do not have enough sit-down dinners with senior loved ones, and that this figure has decreased since their childhood. This is particularly worrisome as seniors tend to have a better mealtime experience – both nutritionally and emotionally – when they share a meal with a companion.
To help remedy this problem and reverse this trend, Home Instead Senior Care partnered with celebrity chef and mother of four Melissa d'Arabian to develop easy, nutritious recipes that all generations can enjoy. In addition, Home Instead of Peachtree City is offering free tools and resources to encourage deeper engagement within a family, including tips on how to involve seniors in meal planning, preparation and pre- and post-dinner activities, as well as conversation starters and activities to round out your Sunday evening.
Additionally, as an incentive to encourage families to commit to having a sit-down dinner with the loved ones, the Home Instead Senior Care Foundation will donate $1 to Meals on Wheels America for each person that commits to regularly sitting down to dinner with their family at SundayDinnerPledge.com, up to $20,000 in total. Through submitted pledges, locals will help ensure other aging adults will have a quality and nutritious meal, a friendly visit and a safety check delivered by Meals on Wheels programs across the country.
To learn more about how you can revive mealtime traditions and reconnect with the seniors in your life, visit www.SundayDinnerPledge.com or call 770-972-2273.